The October position report, released on 10th November by the Almond Board of California, showed October shipments totalled 247 million pounds. This represents the highest October shipment figure in three years, and a 15.3% year-on-year increase.
The shipment figure was on the higher end of industry expectations with market participants surveyed by Mintec, ahead of the release estimating October shipments, in the range of 220-255 million pounds, and the majority returning figures of 230-245 million pounds. The full results of the Mintec Pre-Position Report Survey can be found via this link.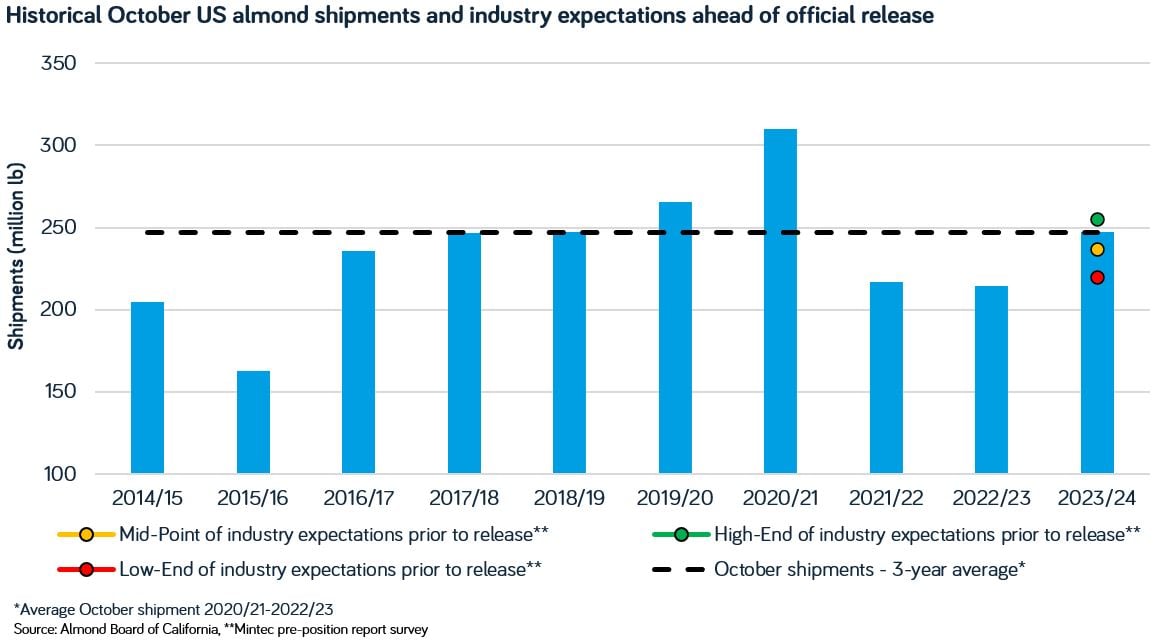 Crop receipts continued to lag previous years, due to the delayed harvest this season with 1.33 billion pounds confirmed by late October, down 19.5% from last season. Rejection levels remained above typical levels, at 3.99% for all varieties and 4.48% for nonpareil.
"The quality issues aren't going to ease as we get more of the crop coming in while the extent of the damage varies massively by field almost everything is trending above normal serious damage levels," a US huller said to Mintec.
To stay up to date on developments in the almond markets, subscribe to the Mintec Weekly Almond Report by emailing Nuts@Mintecglobal.com. The report, which is released each Thursday, provides in-depth information on pricing and market dynamics.