Market participants surveyed by Mintec at the end of October were expecting strong shipments ahead of the release of the October position report on 10th November. Estimates for the October shipment figure were reported in the range of 220-255 million pounds, with most respondents returning figures of 230-245 million pounds.
If realised, a figure of 240 million pounds would place shipments for the month as the highest since October 2020.
"I'm expecting a strong month. We've seen sellers manage to move a lot of old crop; the question is how high new crop sales are," a US trader said to Mintec.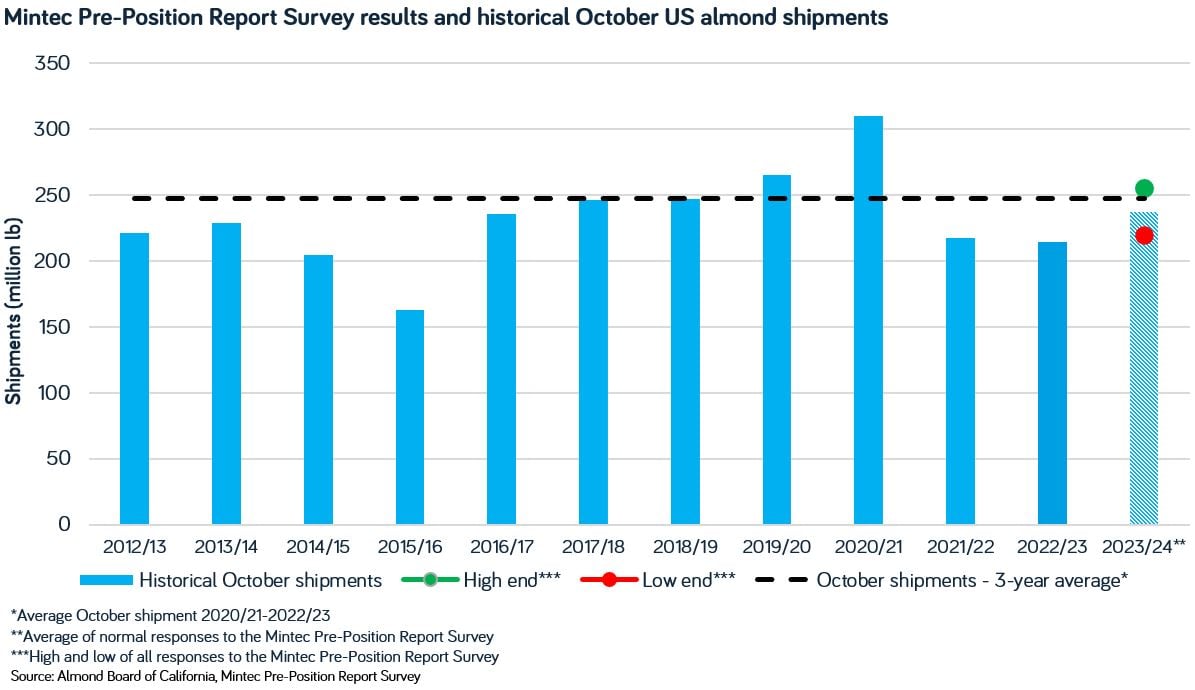 Market participants were expecting October new sales to come in close to 200 million pounds.
Reject levels are expected to continue to trend higher, with packers continuing to report problems with serious damage hindering operations.
"I've had several of the sellers I deal with have to roll shipments back a week due to how difficult it is to make loads with all the serious damage coming through," a US trader stated
This sentiment was echoed by an exporter who said, "we shipped over 20% of our October shipments in the last three business days due to how difficult it has been to pack orders of higher quality material. It's been causing major issues in the plant, and everything is being slowed down by how hard it is to sort out the sheer volume of serious damage coming through."
To stay up to date on developments in the almond markets, subscribe to the Mintec Weekly Almond Report by emailing Nuts@Mintecglobal.com. The report, which is released each Thursday, provides in-depth information on pricing and market dynamics.