Market participants surveyed by Mintec, ahead of the official release of the July position report on August 12th, were expecting the July shipment figure to have taken a major hit from the Oakland Port closures. The closures were caused by a trucker protest, which started on July 18th, against California's AB5 law and led to a complete halt in operations at the Port of Oakland on July 25th for five days, with longshoremen advised not to cross picket lines (click here to read more).
Estimates were reported in a range of 175-230 million pounds, with most market participants returning figures of 190-210 million pounds. Prior to the port closures, market participants were hoping for another record month of shipments.
"Before the protests [at Oakland], I was expecting a 250 million pound month in July, but since we lost almost a week of port throughput, I've had to lower my expectations to 200 million pounds. Honestly, that is also my optimistic estimate; I wouldn't be surprised if shipments end up coming in lower," a US almond exporter disclosed to Mintec.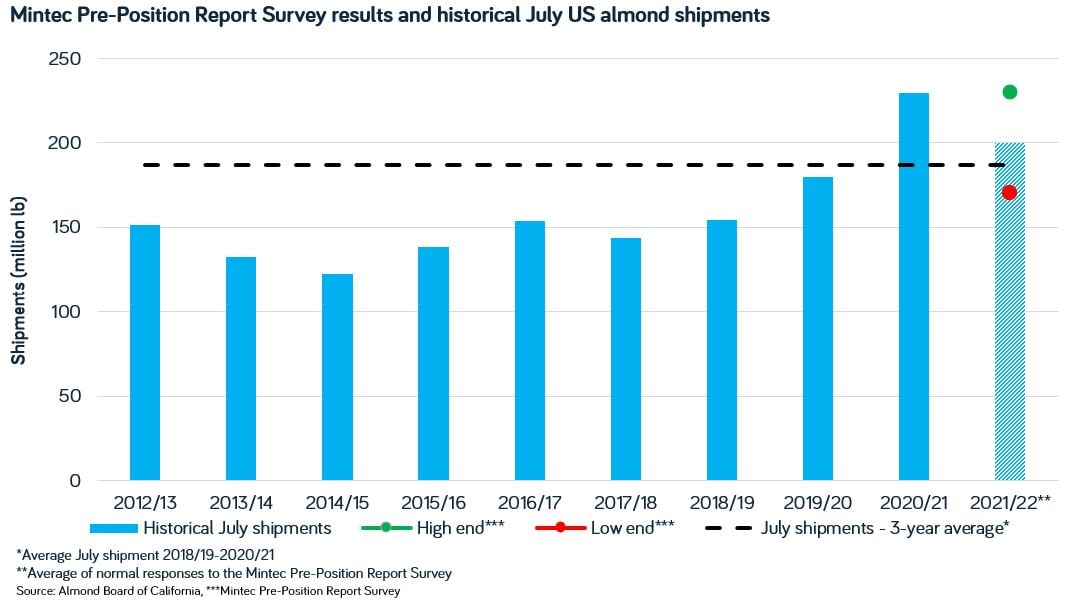 A July shipment figure of 200 million pounds would bring 2021/22 ending stocks to 800 million pounds, above the 750 million figure that many in the industry estimated over the past several months.
"We need to get the carry out below 800 million pounds for psychological reasons more than anything else; I'm hoping we will break 200 million pounds, but I'm honestly not certain. If we don't, I'd expect prices to take another hit," a US exporter stated.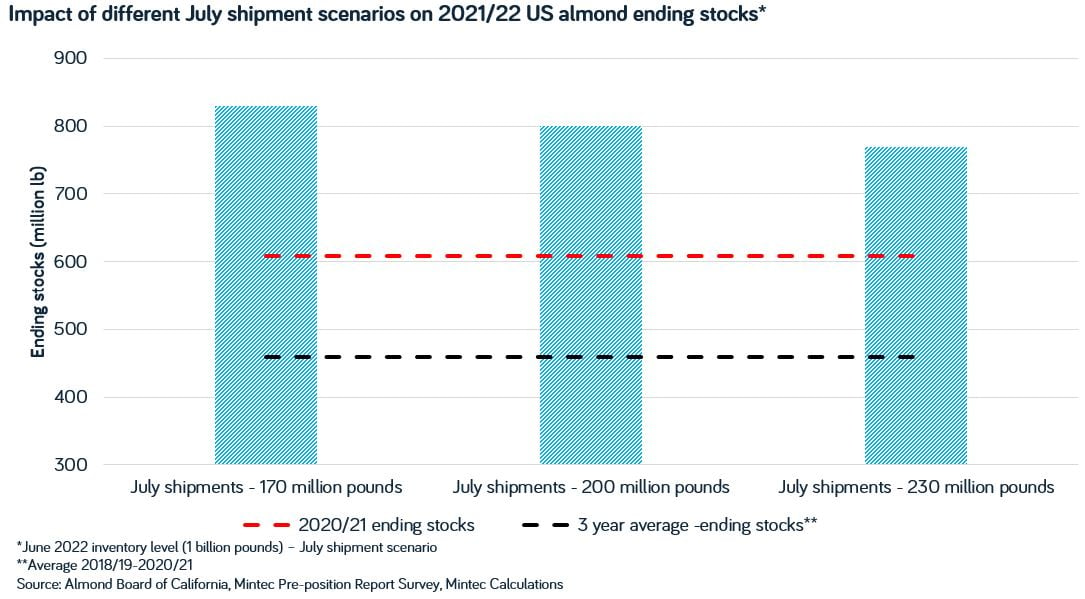 The size of the carry into next season is already weighing on prices, with reports of significant discounts being offered for current crop against new crop as exporters look to clear stores ahead of harvest. This is particularly the case for industrial grades, with the majority of the ending stocks estimated to be of industrial quality. The Mintec Benchmark Prices for standard 5% almonds FAS US [Mintec Code: NAL1] were assessed at $1.60/lb for prompt shipment on August 4th 2022, down 6 cents on the week and around 15 cents below prices for new crop material.
To stay up to date on developments in the almond markets, subscribe to the Mintec Weekly Almond Report by emailing PRA@Mintecglobal.com. The report, which is released each Thursday, provides in-depth information on pricing and market dynamics.