The March position report, released on 11th April by the Almond Board of California, showed that March shipments reached 281.07 million pounds, up 14.7% year-on-year (y-o-y), a record for the month and the highest monthly figure since October 2020. This was the third consecutive month of record shipments, placing Q1 2023 as the highest Q1 shipments on record.
The shipment figure exceeded industry expectations, with market participants surveyed by Mintec ahead of the release estimating March shipments in the range of 240-270 million pounds, with the majority of respondents returning figures of 245-255 million pounds. The full results of the Mintec pre-Position Report survey can be found via this link.
The strong performance was driven by buyers taking advantage of attractive pricing throughout the season, with almond prices at 20-year lows in the months leading into March.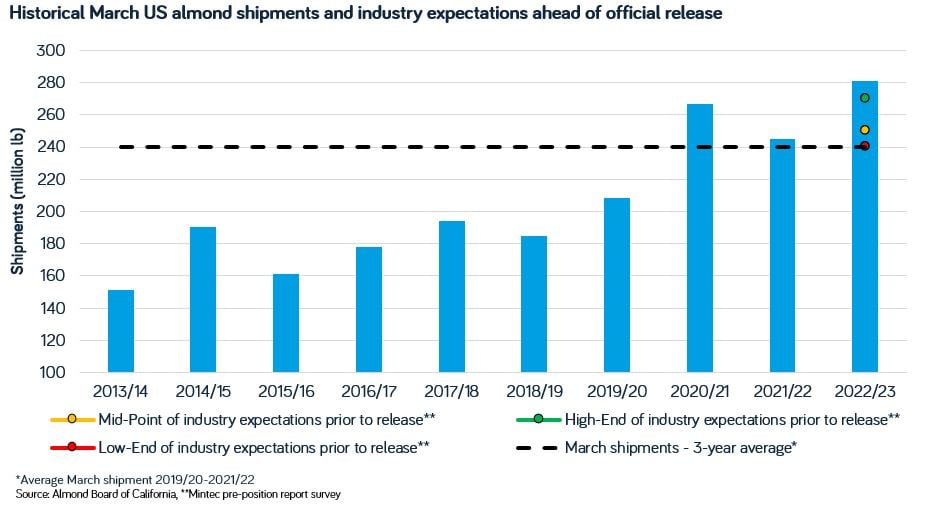 New sales were the lowest for the month since March 2018, at 143 million pounds. The total industry sold position came in at 72%, 11 percentage points below the three-year average (2020-2022) for this point in the season.
These low figures were unsurprising to industry observers, as many sellers pulled back from the market in March over concerns of the impact of poor weather conditions for the new crop (read more here).
"No one is surprised that the new sales figure was so light, given that no one was selling during the rally in March. The real question is how shipments will shape up over the next few months and what size the carryout will be this season. Given the potential shortfall in production next season, high ending stocks is probably a blessing in disguise to ensure continuity of supply," a US exporter disclosed to Mintec.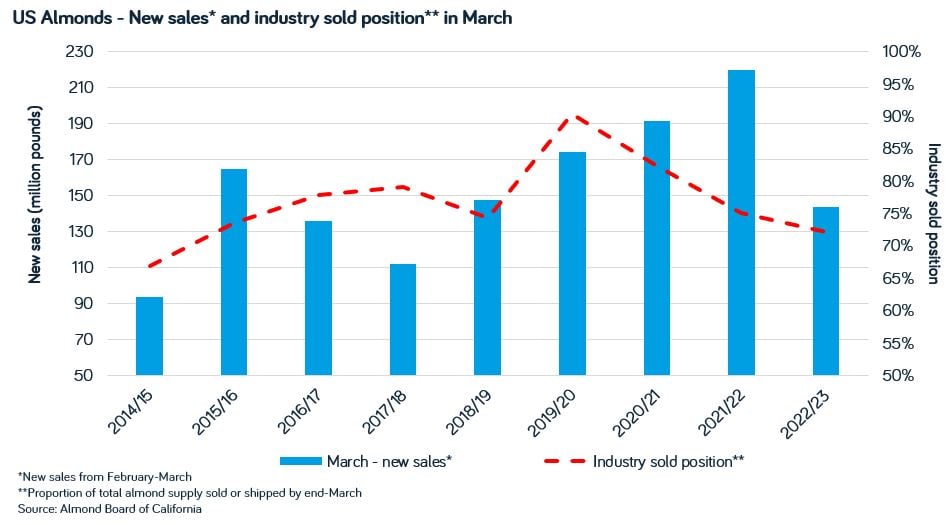 Many sellers expect prices to rise when the first set of production estimates are released over the coming weeks, which has led to a reluctance to sell large volumes for forward shipment. As such, many within the market expect the run of record-breaking shipment months to come to an end for the rest of the season.
Participants spoken to by Mintec are currently estimating that the ending stocks figure could end up within the 575-700 million pound range. For the upper end of these estimates to be realised, shipment volumes would need to average c.207 million pounds each month for the remainder of the season.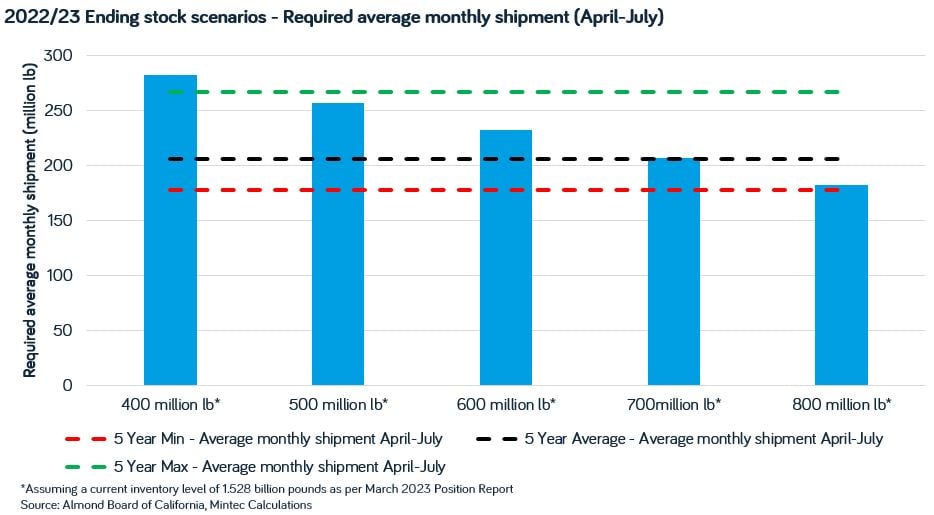 To stay up to date on developments in the almond markets, subscribe to the Mintec Weekly Almond Report by emailing Nuts@Mintecglobal.com. The report, which is released each Thursday, provides in-depth information on pricing and market dynamics.