The November Position Report, released by the Almond Board of California on 13th December, showed that November almond shipments amounted to 204 million pounds, down 7.5% year on year (y-o-y). While this is the lowest November almond shipment since 2016, the figure was in line with industry expectations.
Market participants surveyed by Mintec ahead of the release of the report estimated November shipments in the range of 180-220 million pounds, with most market participants returning figures of 190-205 million pounds. The full results of the Mintec pre-Position Report survey can be found via this link.
Immediately following the release, market participants reported seeing bids USc 3-5/lb lower than prior to the report, and several trades were reported at these lower levels later in the assessment period. Discussing the drop in prices, one trader said to Mintec, "The pattern we have seen in the last few reports is that sellers come down in price over the week following the release. I'd expect this to repeat over the holiday period. The fact of the matter is that there are simply too many almonds and not enough buyers."
The decline in prices ran contrary to the expectations of some sellers, with one US exporter stating, "The industry was expecting a figure around the 200 million pound mark, so I thought this would have been priced in already."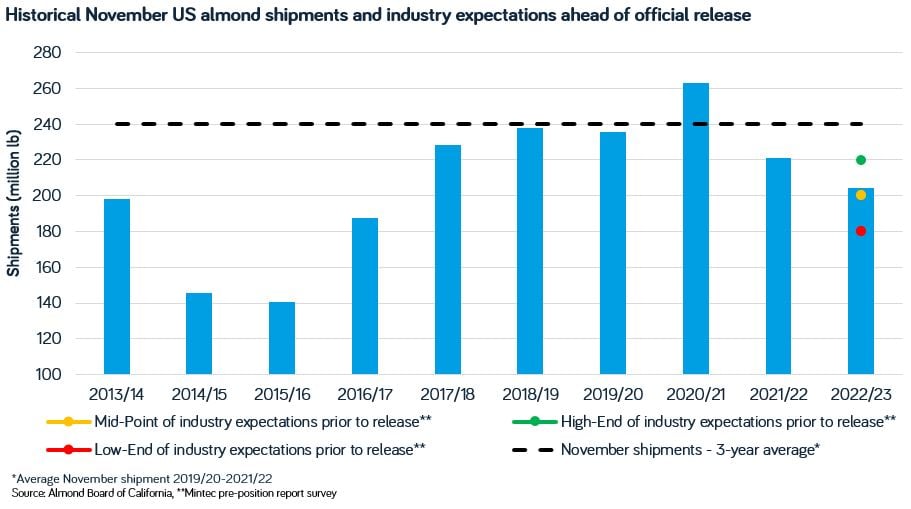 New sales remained below historical norms for this period of the season, with 201 million pounds of sales put on the books over November. This is 20 million pounds below the five-year average for the month of November. The total industry sold position was also lagging at 45%, down four percentage points on the year and 10 percentage points below the five-year average.
"While December is shaping up to be a poor month, we could see real improvements in January as we have started receiving noticeably more interest for shipments for January onwards," a US handler said to Mintec.
To stay up to date on developments in the almond markets, subscribe to the Mintec Weekly Almond Report by emailing PRA@Mintecglobal.com. The report, which is released each Thursday, provides in-depth information on pricing and market dynamics.