Market participants surveyed by Mintec, ahead of the release of the official position report on 13th December, expected November shipments to fall to the lowest levels for the month since November 2016. Estimates were reported in the range of 180-220 million pounds, with most market participants returning figures of 190-205 million pounds.
The wide spread in estimates shown in the survey was as result of the high variability in sales this season, as explained by market participants, with one US almond exporter stating, "The industry consensus is clustered around 200 million pounds, but it is very hard to come up with estimates this season. Sales and shipments are so variable between the handlers it feels a lot more random than in previous years."
Others were uncertain over the viability of the current industry estimate, with several Mintec sources indicating that shipments could slip below the 190-205 level. On this topic, a US exporter said to Mintec, "There is a real risk that we could see shipments slip under the 200 million pound mark that most people are expecting. I wouldn't be surprised to see a figure as low as 180 million pounds, I'm hopeful for 200 [million pounds], but I'm just not sure how realistic it is."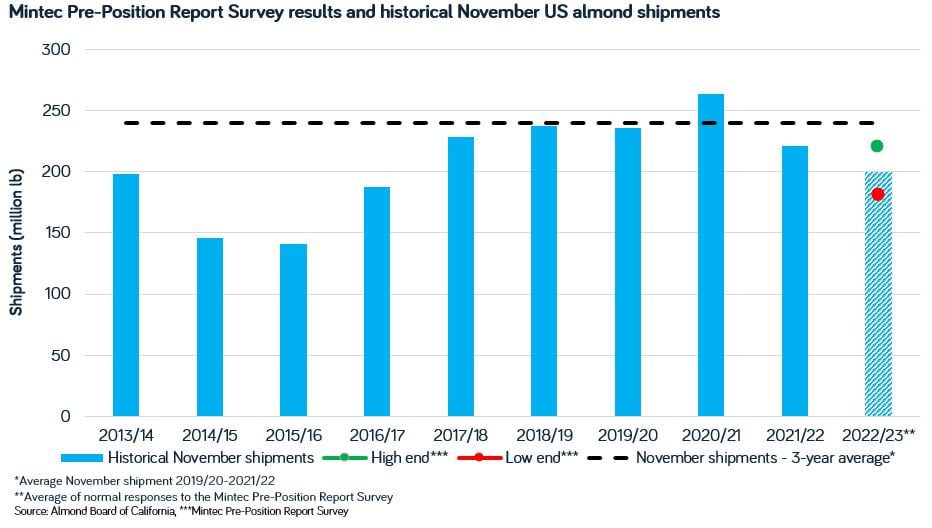 New commitments were also expected to be low, with several market participants pointing to a lack of engagement from both buyers and sellers.
"Sellers are holding off committing large volumes on the forwards in the hopes that prices might go up in the new year. Personally, I think this is a mistake. If sellers wait too long, they could see themselves unable to sell product, particular lower quality grades, and we could see another large carryout. At the same time, buyers are looking for forward purchases, but at lower levels to ensure they don't end up with excess stocks if sales are slow over the winter," a US trader stated.
To stay up to date on developments in the almond markets, subscribe to the Mintec Weekly Almond Report by emailing PRA@Mintecglobal.com. The report, which is released each Thursday, provides in-depth information on pricing and market dynamics.