Two major data releases during the first two weeks of July shifted sentiment in the US almond markets, tightening the balance sheet for the coming season. The USDA objective measurement released on 8 July, came in well below market expectations at 2.60 billion pounds. Prior to the report, many industry participants expected a figure close to 2.80 billion pounds, with the lower end of estimates closer to 2.70 billion pounds.
"The lowest, I thought, the objective [USDA Objective Measurement] could come in at was 2.68 billion [pounds]. I couldn't get my numbers to come up with anything lower within reason, so this definitely took us by surprise," a US handler disclosed to Mintec.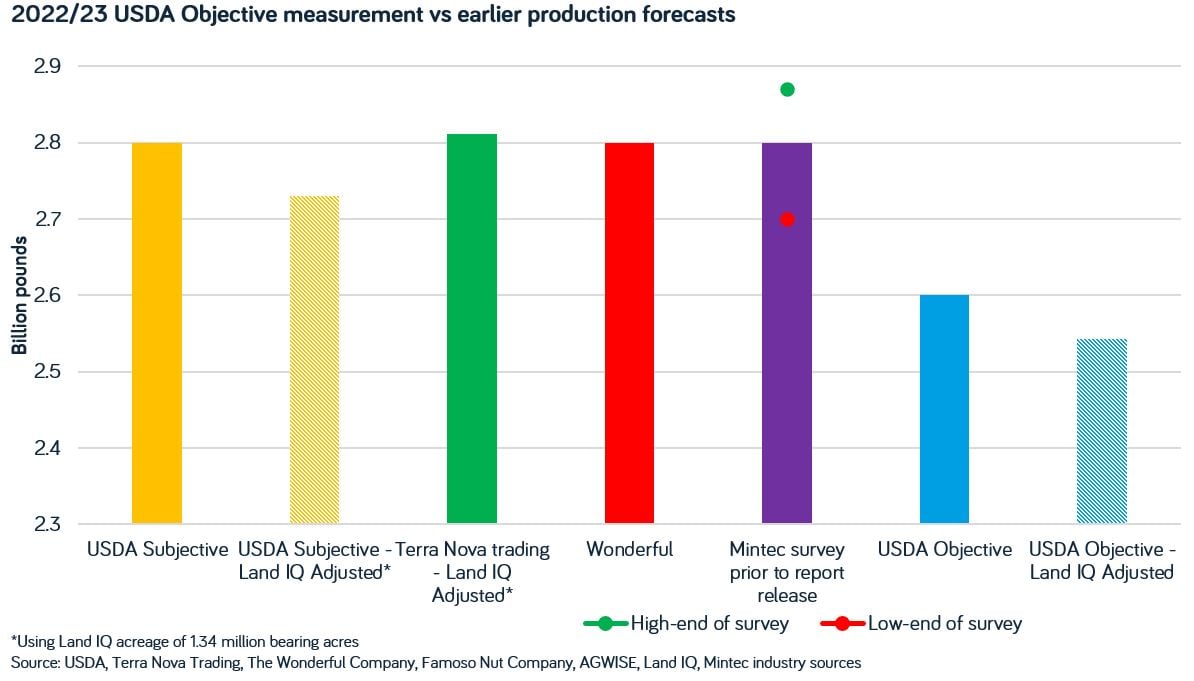 Over the past two years, the USDA has underestimated yields for the US almond crop by 4% and there is a feeling amongst a portion of the market that this is a likely outcome again this season.
"It's really hard to get an accurate picture of yields as crops are looking massively variable so I wouldn't be surprised if the USDA has underestimated again this season," a US trader stated.
An increase in yield of 4% would place the objective estimate closer to 2.70 billion pounds which was at the lower end of industry expectations prior to the release. The final production figure will not be known till later in the season when a large proportion of the crop receipts have been reported via the Almond Board of California.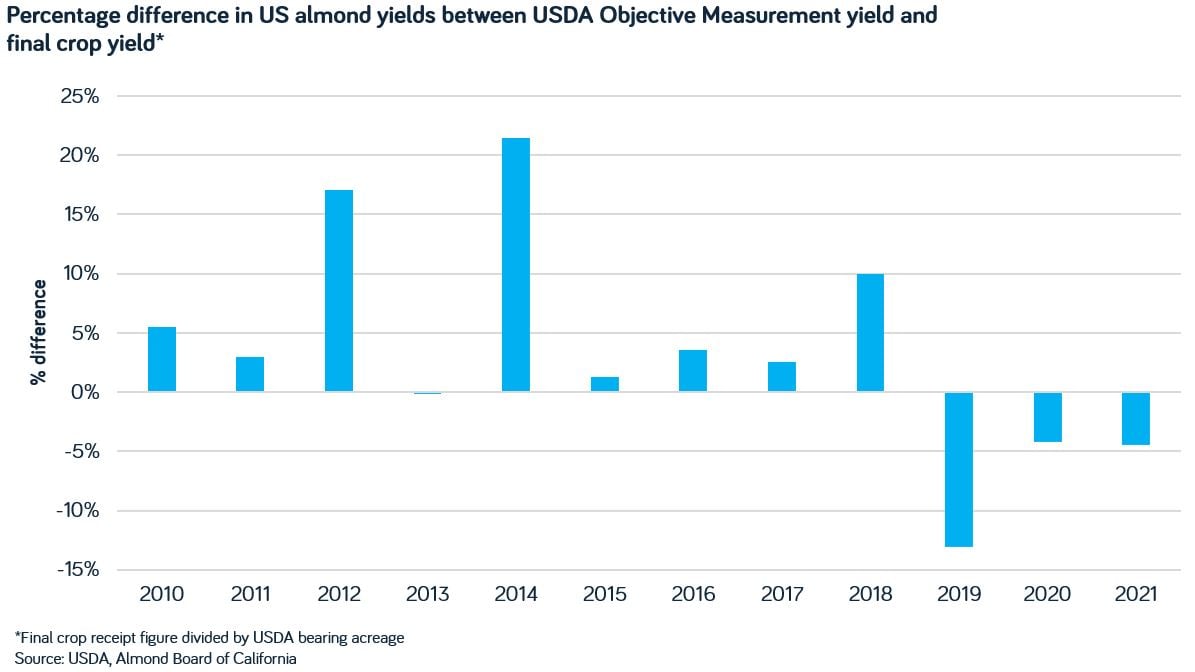 The second major data release was the June position report which showed a shipment figure of 278.59 million pounds, the highest shipment figure for June and second highest on record across all months. Prior to the release of the report on 12 July, market participants gave estimates in a range of 245-275 million pounds, with the majority of market participants returning figures of 260-265 million pounds.
"There was a gut feeling among some people that it [June shipments] could top out at 280 [million pounds], but it was definitely a push," a US handler stated.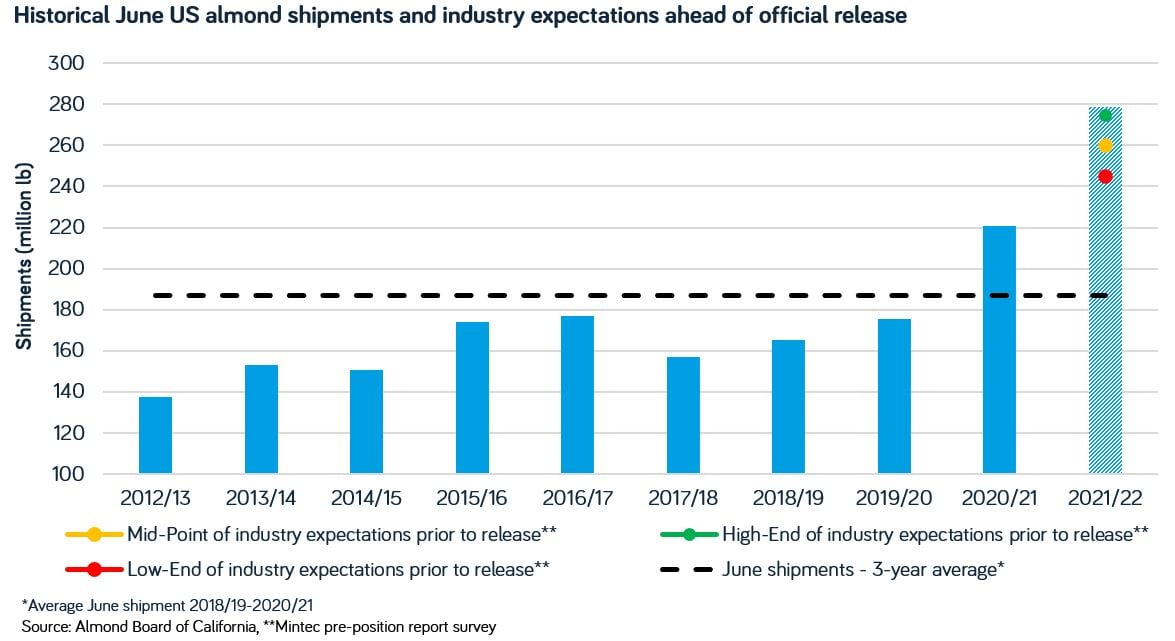 Following the strong shipments, the current inventory level sits at a billion pounds and another month of strong performance in July could see ending stocks brought down to under 800 million pounds. This is a situation which industry now considers likely, with most market participants placing the carryout between 750-800 million pounds.
Prior to the release of the position report one US exporter described the recent shipping performance as a "godsend" before saying, "we were staring in the face of a billion-pound carry-out at the start of the year, and since then we've managed to gradually bring that down. There are still going to be a lot of industrial quality almonds around, but nowhere near as bad as we thought at the start of the year".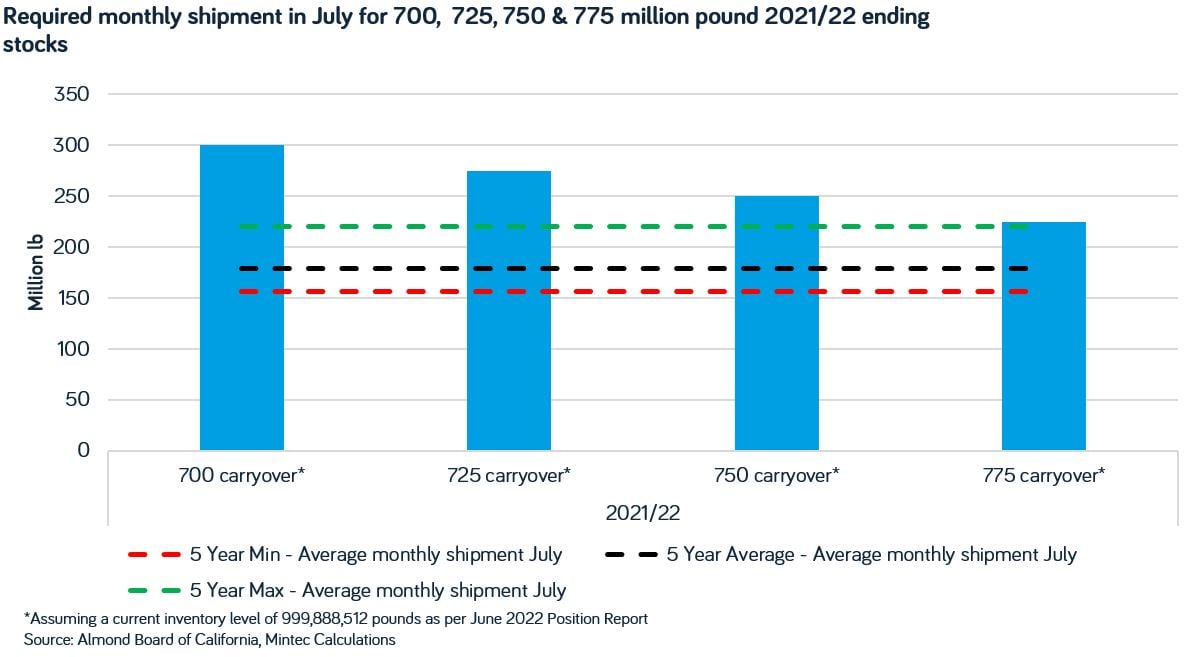 In reaction to the Objective & position report releases, prices rose over the week with the Mintec Benchmark Prices for standard 5% almonds FAS US [Mintec Code: ANL1] assessed at $1.80/lb on 14 July, up 11 cents/lb from the previous assessment prior to the data releases.
However, others had a more bearish outlook with one US trader stating, "Even with supplies looking tighter than expected there is still a massive volume of almonds and limited demand to meet. Total supply is still going to be well above 3 billion pounds and until the bearing acreage is reduced none of the underlying issues with the industry are being addressed. Yield is all well and good, but the crop is overplanted, and we must see reductions."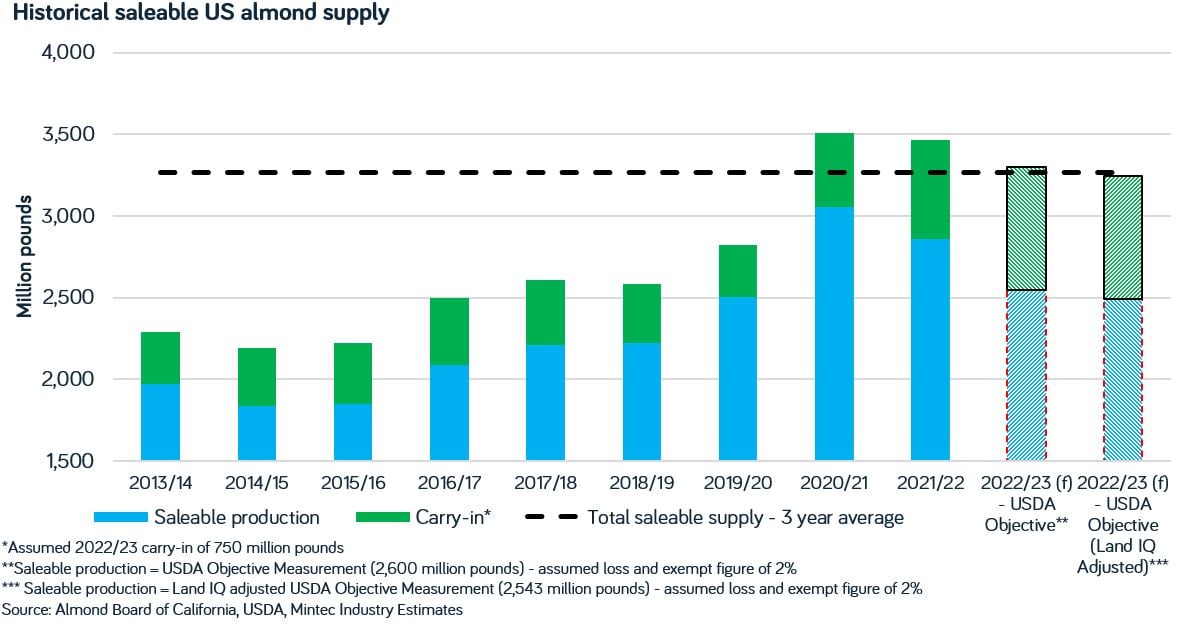 While limited trading was observed at higher price levels there were several European buyers who suggested that any rise would lead to companies looking to lock in supply in the coming weeks. In relation to this one European buyer stated, "companies will look to procure stocks when prices are low and if the rises are sustained, we will see people looking for cover. We are looking to lock in stock before the exchange rate gets any worse for us and we are likely to be running off old crop well into Q4."
A lack of demand for new crop for the end of the year was noted by several market participants with one broker saying "most of my customers want new crop for 2023, but are happy running old crop until the end of the year as long as the price is right"
New crop sales remain below average with 236 million pounds of the 2022/23 crop sold by the end of June. Sellers have been concentrating on reducing stocks of current crop and new crop sales have suffered as a result with one seller saying, "what can we do? Either we give up selling current crop or accept the fact that demand later in the year won't be that strong for new crop and get on with it. It's a lose-lose situation."
To stay up to date on developments in the almond markets, subscribe to the Mintec Weekly Almond Report by emailing PRA@Mintecglobal.com. The report, which is released each Thursday, provides in-depth information on pricing and market dynamics.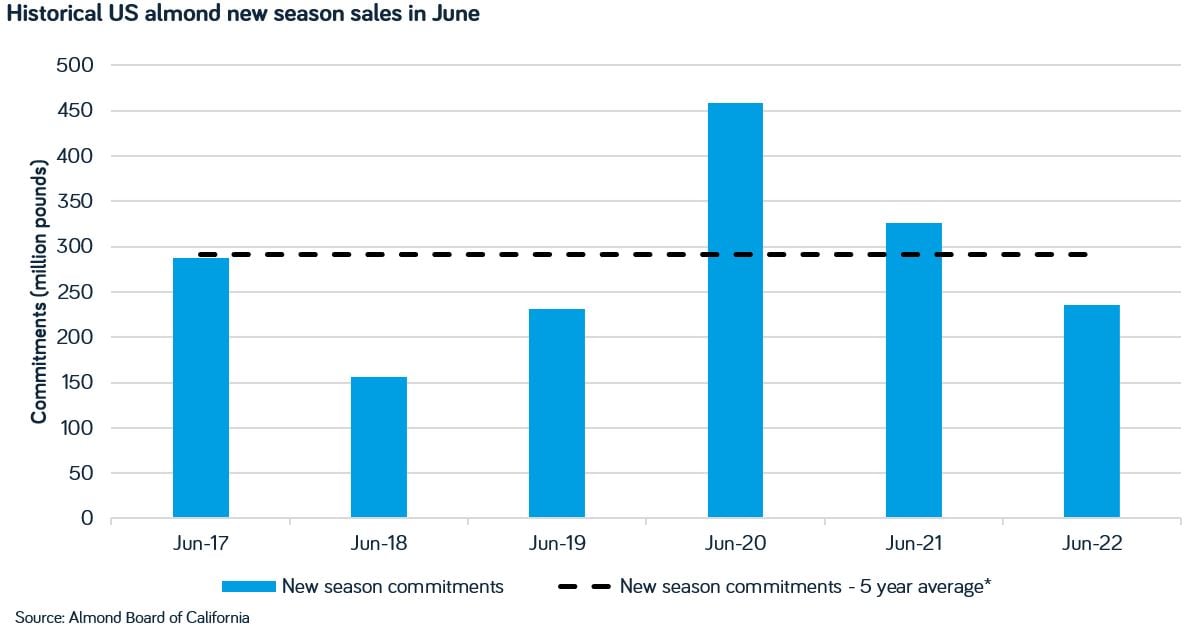 Aidan Wright and Jara Zicha