The Mintec Global Packaging Category Index (MCI) continued its moderate rise in April, climbing by 1.3% month-on-month (m-o-m), down 23% year-on-year (y-o-y), to $1,497/MT. The increase in the index was driven by higher prices for some plastics, aluminium and steel in Europe.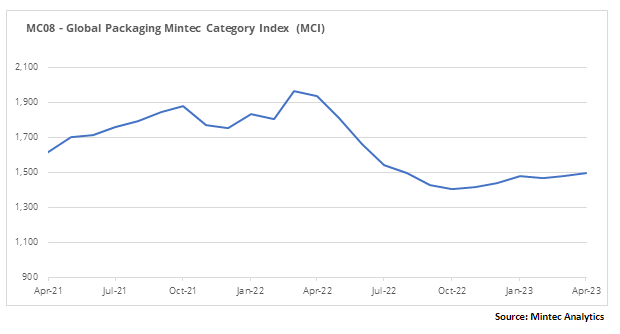 Plastics
Plastics prices in Europe declined moderately over April, under pressure from lower raw material prices. Demand remains weak, according to market sources, so production costs are playing a key role in price fluctuations. However, EU plastic packaging production has been growing since January 2023 and in March it rose by 10% m-o-m, only 2% lower y-o-y. In the US plastics market, the raw material price has also played a major role but there are no longer any shortages of methylene and propylene so further price rises are unlikely, according to market players. US plastic production rose by 1% in March, down 6% y-o-y.
HDPE and LDPE prices in the EU market fell by 1% to €1,561/MT and €1,938/MT respectively in April. Demand in the market was weak so suppliers were forced to reduce prices. The contract price of ethylene (C2) fell, with production costs declining accordingly, thereby allowing producers to make concessions. US HDPE prices started to rise in the second half of April, so the monthly average increased by 4% m-o-m to USc 80/lb. Prices bottomed out at the beginning of the year and are now showing signs of a recovery. Some market players pointed out that supply is still high and market demand is low. LDPE prices in the US rose at a slower rate of 2% m-o-m in April, to USc 96/lb. The price trend is neutral with minor fluctuations since November 2022.
EU PET prices were relatively stable in April but declined at the end of the month amid weak purchasing activity, falling by 0.6% m-o-m to €1,303/MT on average for the month. However, market players believe that demand is likely to pick up as the hot weather season begins and PET consumption is set to rise; this has already been seen in Asia, which has resulted in relatively high import prices to the EU. The US PET monthly average price was USc 76/lb in April, down 7% m-o-m, representing a 37% y-o-y decline, posting one of the biggest decreases among the materials surveyed. The oversupply and weak demand is putting significant pressure on the market, with prices dropping.
The US PP price appears to be ending its rally as growth slowed to 6% m-o-m in April, to USc 96/lb. After the increase in propylene production in the US, there is no longer a shortage in the market. Rising propylene prices have been a determining factor that has driven polypropylene prices in recent months. Therefore, market sources no longer believe that PP prices will rise further, and some even expect a decline. EU PP prices were relatively stable in April, losing only 0.5% m-o-m and settling at €1,523/MT. In addition to weak demand in the market, commodity prices fell in May, as the cost growth factor that pushed prices up has already lost its strength, which is also visible in the US.
Metals

In the global steel market, production is recovering slowly while the supply of raw materials has increased, resulting in falling prices for iron ore, steel scrap and coking coal. Consequently, the cost of steel production is declining, allowing steel exporters to reduce the price of their products. Steel consumption is recovering in the US and EU, especially in the automotive sector, so many market sources do not believe the price decline will last more than another two months. Aluminium prices are showing a downward trend amid weak demand and uncertain near-term demand. However, alumina, the main raw material for primary aluminium production, has remained relatively stable in price for several months, providing support to aluminium prices. Against this backdrop, global aluminium production remains subdued.
The CME's steel hot-rolled coil (HRC) monthly average price for the US market fell by 18% m-o-m, to $1,015/MT in April. The decline started in March and is still ongoing as of mid-May. The period of increased buying activity and stock replenishment is over, so demand in the market is weak. Production growth is moderate, and market players do not expect a sustainable surplus in the market. Tinplate prices continued to rise on the spot market, up by 2% m-o-m, to $2,139/MT in April, exceeding contract prices for the second consecutive month.
The average monthly HRC price in the EU rose by 4% m-o-m, to €853/MT. However, under the influence of cheap imports and weaker demand, prices started to fall in May. Tinplate prices have remained stable since October 2022 notwithstanding increases in HRC and tin prices last month.
The LME aluminium 3-month monthly average price rose by 1% m-o-m, to $2,368/MT in April but a new wave of decline started at the end of the month, and market sources believe we are likely to see another monthly average decline in May. The prices of aluminium products in the EU also rose in April, with aluminium can prices up 1% m-o-m and aluminium foil prices increasing by 4% m-o-m. Aluminium can and foil prices in the US rose by 1% m-o-m.
Demand for aluminium from consuming industries is growing slowly, which is why aluminium stocks at the LME rose again at the end of April. However, stocks on the Shanghai Futures Exchange are showing a downward trend, as Asian demand for the metal gradually increases. World primary aluminium production fell by 1% in March, adjusted for calendar factors, and producers do not see good sales prospects in the short term, so they are opting to keep production relatively stable.
Paper
Demand for paper in the EU is recovering at a slow rate. Nevertheless, producers have started to increase production. Thus, compared to December 2022, when paper production in the EU reached a multi-year low, the figure in March 2023 increased by 16%. As a result, there is an oversupply on the market and producers are cutting prices on the back of cheaper raw materials.
Prices for French Kraftliner 175g slowed by 4% m-o-m, to €815/MT in April. The French Testliner 2 price was down 5% m-o-m, at €640/MT. Market demand for these products remains weak and supply is high. However, more and more producers say that the prices are close to a minimum because the energy component in the cost of production has stopped falling and the profitability of Kraftliner and Testliner is close to break-even, so they do not foresee another drastic price decrease.
The price of Semi-Chemical Fluting also succumbed to the general trend of the paper market, dropping 3% m-o-m, down 1% y-o-y, to €868/MT in April. Despite a strong position relative to other segments of the paper market, supply is exceeding demand and producers were forced to give in to pressure from buyers to offer lower prices.
Semi-Chemical Fluting prices also fell in April amid general market sentiment by 4% m-o-m, to €838/MT. As expected by sellers, demand was weak, and they had to offer discounts on their products.
GD2 and GC2 prices in April were stable at last month's level, €1,535/MT and €2,005/MT respectively. The main increase in demand came from the pharmaceutical and beauty industries. At the same time, some manufacturers reported a slight increase in purchasing activity among other sectors. Overall, there is no general understanding among market players as to where prices will go next month.