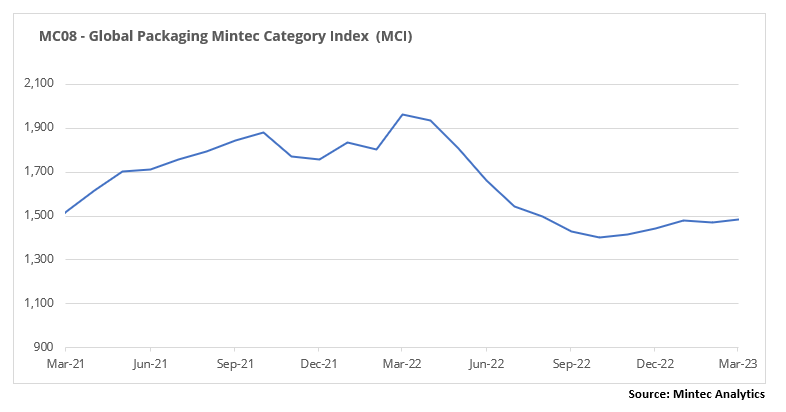 The Mintec Global Packaging Category Index (MCI) rose 1.2% month-on-month (m-o-m) in March, down 24.7% year-on-year (y-o-y), to $1,478/MT. Plastic prices appear to have bottomed out or are close to doing so, according to market sources. Elevated steel prices made the main contribution to the increase, but prices in Asia have already started to decline, so in the US and EU market players are concerned that this steel price dynamic will soon affect markets through cheap imports. Paper and cardboard prices continued to fall in price on the back of weak demand and declining production costs.
Plastics
Prices in the plastics market in Europe and the US appear to be near or passed the bottom, according to market sources. Propylene and ethylene prices have been rising for the last two months, but demand still does not allow plastics producers to raise prices adequately to pass on increased raw material costs to consumers. Given that the average monthly oil price fell in March, market participants have suggested that ethylene and propylene prices also have the potential to fall in April, possibly reflected in lower plastic prices. The dynamics of plastic production reflect real consumption: EU plastic packaging production rose by 1.4% m-o-m in February, down 4% y-o-y. US plastic production has been falling since September 2022, but in February 2023 the decline was only 1% m-o-m, a 3% y-o-y decrease.
EU HDPE and LDPE prices in Europe changed slightly in March: HDPE remained at February's level of €1,574/MT, while LDPE prices rose by 1% m-o-m to €1,960/MT. The LDPE market is slightly more balanced and since September 2022, there has been a trend towards an increase in the LDPE premium over HDPE, by €30/MT, since September 2022. Demand for plastics is recovering, but much slower than expected. Contract prices for ethylene (C2) have risen by around €30/MT due to tight supply in Europe on the back of rising prices in Asia. US HDPE prices rose by 1% m-o-m in March, to USc 77/lb, but prices have been stable since the second week of February. In contrast, LDPE prices fell 4% m-o-m to USc 94/lb in March after attempting to rise last month. On a y-o-y basis, prices for both commodities are down 15%. A steady downward trend in plastic production allows suppliers to keep prices from falling further. Some market players expect the weakening of the US Dollar against other world currencies to help boost exports and redirect excess volumes from the domestic market.
EU PET prices remained at the February level of €1,311/MT. Market demand is still below expectations and much lower than last year, as demand is slowly starting to recover. However, the price of imports from Asia started to rise, so market sources say that if the upward trend in import prices continues, PET prices in the EU could go up in April. PET prices in the US market slowed to 2% m-o-m, to USc 82/lb, in March. Demand in the market remains weak and retailers' forecasts of product sales for H1 2023 are gloomy. However, paraxylene price has had a moderate but steady rise in the US since January, reflected by rising PET production costs.
PP prices in the US rose by 15% m-o-m in March, to USc 91/lb. Demand remains weak, but production costs are pushing PP prices up. Propylene prices in the US have risen by USc 29/lb in since February on the back of growing consumption and reduced market supply. In the EU, PP prices increased by 2% m-o-m, to €1,530/MT, in March. The main factor was also the rise in propylene costs.
Metals
Steel and aluminium prices continued to move in different directions in March. LME aluminium prices were under pressure from rising stocks, and other aluminium packaging product prices fell. After a strong price increase between February and the first half of March, steel prices in the US started to decline, but prices rose steadily on average over the month. In EU, domestic producers continued to raise prices on the back of a strong backlog of orders, but cheap Asian imports added pressure. Commodity prices have not had a strong impact on steel prices in recent months.
The CME's hot-rolled coil (HRC) monthly average price in the US market rose by 23% m-o-m, to $1,235/MT. However, since the second half of March, prices have started to decline and if the trend continues, market sources state that prices may fall below $1,000/MT on a monthly average in April. After a buying rush in February, demand started to decline. Overall, the consuming sector is recovering moderately, so market players are expecting an increase in demand, at least in the short term. On the back of rising HRC prices in the US, spot tinplate prices rose by 8% m-o-m, to $2,094/MT in March, catching up with the contract market price.
The EU HRC price grew by 7% m-o-m, to €824/MT in March. However, HRC prices in the Asian market have been declining since the second half of March, so cheap imports from Asian countries to Europe were starting to put pressure on domestic prices. Against the backdrop of rising prices and a good order book, European steelmakers have been ramping up steel production, but it is still below 2022 levels. Daily EU steel production in February showed a 14% increase m-o-m, down 13% y-o-y. Tinplate prices on the EU market remained stable in March.
Demand for steel in China is lower than expected, leading to reduced purchases of raw materials and consequently weaker prices. Since the second half of March, prices of imported iron ore have started to decline, which is reflected accordingly in price reductions in other regional markets. Steel scrap prices rose only in the US amid increased purchasing activity and reduced supply, while scrap prices in Europe also began to decline.
The LME aluminium 3-month monthly average price fell by 5% m-o-m to $2,337/MT, on the back of a 5% m-o-m stock increase in March. However, purchasing activity picked up slightly at the end of the month, reducing inventories and pushing up prices. Nevertheless, market players were pessimistic and do not expect a surge in prices in the short term. Prices for products made from aluminium for packaging also fell in March: aluminium can prices in the EU fell by 3% m-o-m, while aluminium foil declined by 11% m-o-m. US aluminium can prices on the domestic market fell by 1% m-o-m in March and aluminium foil decreased by 2% m-o-m.
Manufacturers are in no hurry to increase primary aluminium production amid falling prices, so global production was stable m-o-m when accounting for the calendar factor, as February was three days shorter than January. The drop in foil prices in the EU was most significant as the market had built up a surplus last year. According to the European Aluminium Foil Association, foil producers in the region ended 2022 with a 0.4% y-o-y increase in domestic shipments.
Paper
Weak demand on the European market for paper packaging and falling production costs, primarily due to energy, led to price reductions in March. Production of paper and paper products in the EU fell by 10% y-o-y in February, seasonally and calendar adjusted, reflecting the low demand in a market which is even severe than other packaging products: the production of plastic for packaging fell by 4% y-o-y, while the production of light metal packaging declined by 8% y-o-y.
The market picture for the French Kraftliner 175g was unchanged in March and prices dropped to €845/MT, down 6% m-o-m, and 15% y-o-y. The French Testliner 2 price was down by 7% m-o-m, a 21% y-o-y decline, to €670/MT in March. Demand in the market remains weak and market players no longer believe in a seasonal recovery in demand this spring. Expectations of a market recovery have now shifted to H2 2023. Pulp prices have been falling for the past three consecutive months, with the Electricity index Europe falling 42% y-o-y in March. This allows papermakers to lower prices and buyers to add confidence in further price declines. The downward price trend further encourages consumers to minimise purchases.
The price of Semi-Chemical Fluting also succumbed to the general trend of the paper market, dropping 3% m-o-m and 1% y-o-y, to €868/MT in March. Despite a strong position relative to other segments of the paper market, supply exceeds demand and producers were forced to give in to pressure from buyers to offer lower prices.
Please click here for a recording of the Metal Packaging Market Update H1 2023.