The Mintec Global Packaging Category Index (MCI) fell 3% month-on-month (m-o-m) in June, slowing from 5% in the previous month to $1,377/MT. The fall in the index started last year in August due to a lower base of comparison from last year; the annual decline has slowed to 17% year-on-year (y-o-y). Demand in the market for packaging products was still weak in June, with supply exceeding demand. The main price driver was changes in production costs.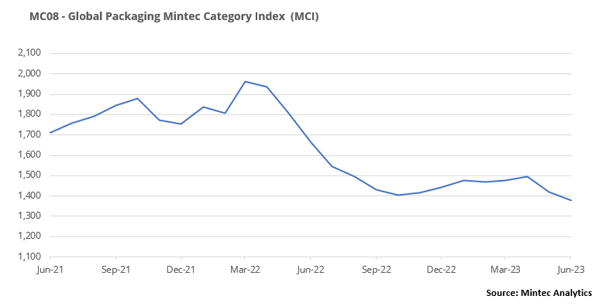 Plastics
EU prices for ethylene and propylene fell again in June by €80/MT m-o-m; paraxylene prices collapsed in May by €105/MT, which also contributed to lower PET prices in June. In the US, raw plastics material prices were relatively stable in June. Production of plastic packaging goods in the EU in May increased by 4% due to expected consumption growth, but this led to oversupply as demand grew below expectations. Plastics production in the US in March and April is up by 0.7% m-o-m, largely due to increased exports of plastics, so the domestic market is not affected.
HDPE prices in the EU decreased by 7% m-o-m to €1,403/MT, and LDPE prices fell by 9% m-o-m to €1,708/MT in June. Weak market demand was exacerbated by a seasonal drop in purchasing activity. As ethylene production increased in France, there was a surplus of feedstock on the market, which led to a fall in ethylene prices. The sustained decrease in prices has led buyers to transact more on the spot than on the counter market without waiting for the price trend to stabilise or reverse. US HDPE and LDPE prices fell by 5% m-o-m to USc 75/lb and USc 91/lb, respectively, in June. The market was oversupplied, and there was pressure on the market from large stockpiles. Given that the raw materials are not getting cheaper rapidly, producers intend to keep prices from falling further in July.
The EU PET market was in the same condition as the polyethene market in June, so prices fell by 9% m-o-m to €1,146/MT. Demand on the market was weak, and suppliers were forced to lower prices again to remain competitive. PET prices in the US market declined by 4% m-o-m to USc 70/lb due to sluggish demand. In addition, this segment is highly competitive with recycled PET prices also falling significantly. This trend leads to PET prices showing a 41% y-o-y decline compared to June last year, which was a record drop among the prices of packaging materials in June.
PP prices in the EU moved in the general trend of the plastics market, declining by 7% m-o-m to €1,378/MT in June. Steady price declines and falling demand, as in other segments, resulted in a minimisation of purchases in anticipation of more attractive prices. The US PP price remained at the same level as last month at USc 89/lb in June. As in other segments, demand in the US market remains weak, but the stabilisation of propylene prices played a key role as the raw material market was well balanced. In addition, export trade, which accounts for about 25% of production, is an important factor in redirecting excess volumes. Thus, in the first four months of 2023, total exports rose by 19% y-o-y.
Metals
There were mixed price trends in the metals market. Prices in the steel market increased as steel and raw material prices in China started to rise, which in turn was reflected by the reduced import pressure from Asian countries in the EU and the US. On the other hand, the rise in raw material prices in China was reflected in higher production costs in other parts of the world, so producers were set for higher steel prices. Aluminium continued to fall in price despite positive statistics from consuming industries such as automotive and aircraft engineering. However, purchasing activity was low, and LME stocks remained at last month's level.
The CME's US steel hot-rolled coil (HRC) monthly average price rose by 5% m-o-m to $950/MT, but it is worth noting that in late June, prices were falling as consumers were unprepared for such a sharp price increase given the weak demand in the market. Tinplate prices on the spot market rebounded from the previous drop of 1% m-o-m to $2,006/MT in June.
EU HRC prices slowed down towards the end of the month but the monthly average price dropped by 13% m-o-m to €695/MT in June. Market players report that the EU market is relatively quiet and unlikely to change until late August. Contract and spot tinplate prices have remained stable.
The rate of decline in LME aluminium 3-month prices slowed from 4% m-o-m in May to 2% m-o-m in June at $2,221/MT, continuing the downward trend that has been in place since the beginning of this year. The market was sluggish last month, and LME inventories remained stable, while in China at the Shanghai Futures Exchange, inventories stopped declining. Nevertheless, there were differing dynamics in the aluminium packaging products segment. In the EU, the price of aluminium foil and cans rose slightly. However, in the US, the price of aluminium cans fell by 3% m-o-m due to weak demand, and aluminium foil declined by 1% m-o-m.
Paper
Prices for paper products used in packaging in the EU were stable in June and remained at the same level as last month. Producers are showing considerable resistance and are not ready to reduce prices further, pointing out that the share of fixed costs in production has increased significantly due to lower production volumes. Despite the fall in raw material prices, producers cannot allow paper prices to fall as they are not prepared to operate at a loss. However, market sources report that weak demand will continue in July and August, so producers will be forced to reduce production or cut prices.
Production of paper products started to fall in July 2022 and continues to decline. According to Eurostat data, the manufacture of paper and paper products index in the EU fell by 13% y-o-y in May 2023. Overall, production levels are now at the level of May 2020, when the world faced uncertainty amid the COVID-19 pandemic.
Reduced production is directly reflected in reduced consumption of raw materials. As a result, prices of raw materials are falling steadily or are at the bottom. For example, prices for Northern bleached softwood kraft (NBSK) fell by 3% m-o-m in July. Waste paper prices have been at historically low levels since October 2022.