According to the latest available data, the Mintec Category Index (MCI) for global packaging fell by 0.3% month-on-month (m-o-m) in July to $1,356/MT. The demand for packaging products was weak, with supply exceeding demand, so the main price driver was changes in production costs. In August, the prices of some raw materials, such as crude oil and iron ore, started to increase. However, weak demand prevented the prices of packaging products from rising, indicating that the MCI data will show another decline in August.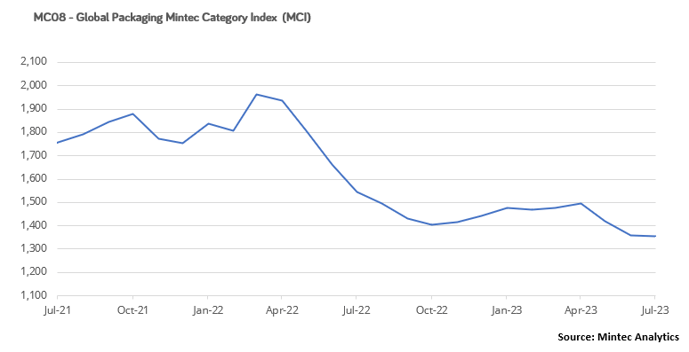 Plastics
In the EU and US plastic markets, prices for most products continued to decline in August, fuelled by the traditional slowdown in business activity during the summer months and correspondingly weak demand. However, the rise in crude oil prices triggered raw material price increases for plastic production. Hence, market sources are confident that the global plastic market will experience price increases in September and- October. Statistics show that plastic production continued to recover despite weak demand. In the US, the manufacturing of plastic products has grown for four consecutive months since March 2023, but at a very subdued pace of 0.7% m-o-m on average; this is due to increased exports relieving the domestic market of excess production. In the EU, the production index for plastic packaging products showed a more significant recovery, with a monthly average rise of 3.5% m-o-m during H1.
EU HDPE and LDPE prices were down by 1% m-o-m in August, reaching €1,338/MT and €1,628/MT, respectively. However, raw material prices are rising, and manufacturers are already considering the size of the price increase for September. Contract prices for ethylene for September increased by €75/MT, lifting the cost of polyethylene production. Producers say that they will reduce or stop production for equipment maintenance, as there is no current desire within the market to build stocks. In the US, HDPE and LDPE prices declined by 1% m-o-m in August to USc 71/lb and USc 86/lb, respectively. The market is pressured by weak demand and high inventories. Market sources believe higher ethylene prices and relatively good export demand for polyethylene will support HDPE and LDPE price increases in September.
The EU PET price was relatively stable at €1,098/MT in August. Market players said that some consumers entered the market, but this did not result in rising prices. However, some players said they do not expect prices to fall further as production costs are close to sales prices, and the main raw material, paraxylene, increased by €24/MT in August. In the US market, the PET price declined again in the second half of August, and the average monthly price decreased by 4% m-o-m to USc 69/lb. There was also a rise in paraxylene prices in the US market, strengthening market expectations of future increases in PET prices.
PP prices in the EU and US markets remained stable at €1,288/MT and USc 85/lb, respectively, in August. Demand is weak, so the main driver of price changes remains propylene prices, which were stable in the EU and the US, but market players expect growth in September.
Metals
Steel and aluminium prices fell in August due to weak demand, preventing consolidation of the achieved levels in July. However, raw materials prices have either increased slightly or remained stable, forming resistance to further declines. According to a trader, everyone in the market is waiting for September to understand the market dynamics after the summer and then to form buying and selling strategies according to the new market conditions.
The monthly average price of the CME's US steel hot-rolled coil (HRC) fell by 11% m-o-m to $821/MT in August. US steel scrap and pig iron prices remained stable in August, which was reflected in the stabilisation of production costs. But demand in the packaging materials market has been extremely weak, so tinplate prices have fallen for five consecutive months, falling by 1 % m-o-m to $1,821/MT, in August.
EU HRC prices fell by 2% m-o-m in August to €656/MT. Tinplate prices remain stable. The market was extremely quiet, and prices could not be maintained despite reduced import pressure. Producers in the EU tried to raise HRC prices in the last week of August, but this only partially succeeded, and at the beginning of September, prices on the market increased by only €5/MT.
LME aluminium 3-month prices dropped by 0.7% m-o-m to $2,182/MT in August. Despite sluggish demand, according to market sources, the LME aluminium stocks have declined for three consecutive months. Consequently, when business activity starts to recover, lower stocks will likely drive price growth. Fundamentally, demand from the transport industry is recovering, but lower consumption in the construction and packaging industries still allows for a surplus of aluminium products. As a result, the benchmark LME price is still showing a decline. Aluminium foil prices on the EU market rose slightly in August, adding 0.6% to July prices, while aluminium can prices rose by 1.3% m-o-m, primarily driven by higher costs as demand was relatively weak. Aluminium foil prices in the US continued to decline by 0.4% m-o-m in August, while aluminium cans fell by 3% m-o-m.
Paper
Prices of paper packaging products in the EU have stabilised; offering price reductions has not resulted in sales growth, and demand remains extremely weak. In addition, producers claim that production costs are close to sales prices because, despite the reduction in output, fixed costs per unit have increased. According to Eurostat's Paper and Paper Products Index, output in June fell by 14% y-o-y, a record-decreasing rate among packaging materials.
Prices for French Kraftliner 175g and French Testliner 2 remained at last month's levels of €815/MT and €640/MT, respectively, in August. Some market sources say lower supply is finally matching demand, keeping prices in check. Nevertheless, the fall in paper production has reduced the consumption of raw materials, which continue to fall in price. Raw material prices continue to decline, but energy costs, on the contrary, showed an increase in August, so no clear trend in production costs has been identified.
Prices for cardboard were also stable in August at the level of July. The price of GD2 was €1,435/MT, and the price of GC2 was €1,985/MT. As expected by some market players, prices stabilised in August as producers reduced production. Consumer inventories decreased, which prevented prices from falling further.