In 2023, the global automotive industry, particularly in the EU, is performing strongly in terms of production, driving growth in the consumption of materials such as steel, aluminium, copper and lead.
Final demand in the motoring industry remains robust in the EU, with new passenger car registrations up 17% year-on-year (y-o-y) in the first nine months. Growth slowed to 9% y-o-y in September but is still strong. The growth in demand stimulates the production of motor vehicles, the index of which grew by 23% y-o-y in the first eight months of the year. Production growth outpaced domestic sales; in addition to the domestic market, high demand is also observed in the export market.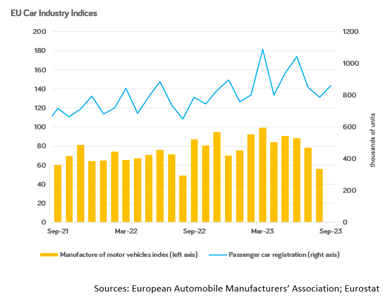 In its new report, Eurofer improved its forecast for steel use in motor vehicles in 2023 to 7%, compared to a rise of 6.4% in the previous quarterly report.
However, the market price situation is different for metals. 3-month LME prices for copper and lead, used in large quantities in automotive production, show a 6-7% y-o-y rise to $8,015/MT and $2,105/MT, respectively, in October. The automotive sector is unable to offset the drop in demand for base metals, especially from the construction industry, which consumes a large number of metals; thus, aluminium and steel, largely used in construction and to a lesser extent in the automotive sector, declined by 1% y-o-y and 9% y-o-y, respectively, to $2,218/MT and $645/MT.