The average price of Thai skipjack tuna landed in the Western Central Pacific Ocean (WCPO) increased by USD 202/MT (+12.2%) q-o-q through Feb-Apr '22 to USD 1,852/MT. This latest quarterly average surpassed the same period of the previous year by USD 522/MT (+39.2%), keeping average prices around five-year high levels.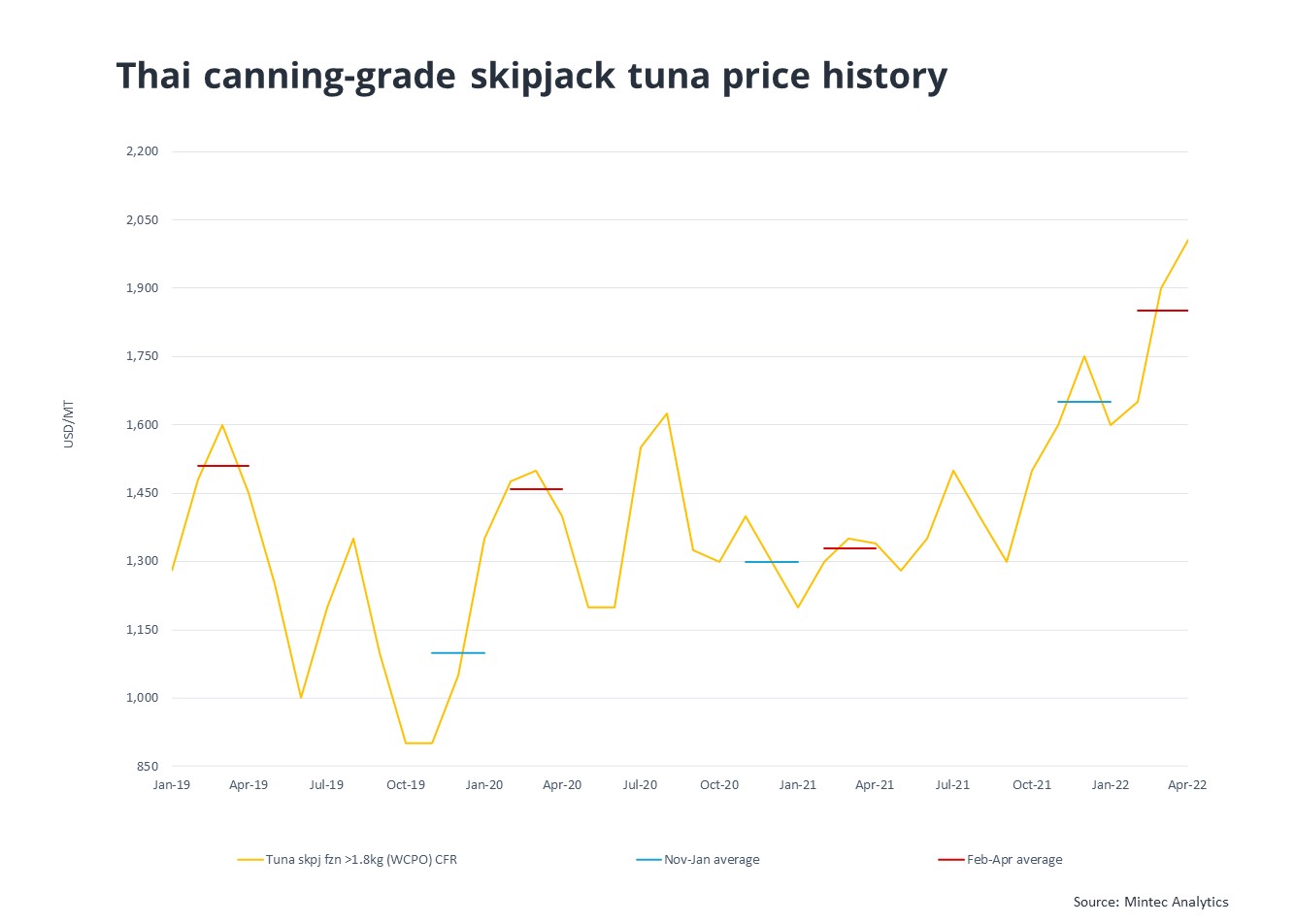 Several factors are currently supporting Thai skipjack prices. The WCPO region, which accounted for 63% of global catches in 2021, has experienced below-average sea surface temperatures (SSTs) since January 2022, caused by the La Nina weather pattern. Cooler waters typically impact the migratory and feeding habits of tuna species, such as skipjack and yellowfin. Vessels from Papua New Guinea and Soloman Islands, two key WCPO skipjack-catching nations, harvested around 332,000 tonnes in Q1 2022, which is approximately 39,000 tones lower (-18%) y-o-y. The latest forecasts from the World Meteorological Organisation (WMO) indicate a 65% chance of La Nina extending through May 2022, implying further supply tightness for WCPO skipjack.
Skipjack prices also remain well supported by high costs, particularly for diesel fuel, which is used to power most of the fleets operating in the WCPO region. Solid canning demand is noted, despite Thai processors paying more for tin, cartons and vegetable oils, while passing these costs along the supply chain. Canned skipjack is a retail friendly product with a long shelf life, making it attractive to consumers, particularly in economically uncertain times. Skipjack is becoming increasingly popular among retailers and the foodservice industry due its relative abundance, with global stocks significantly more healthy than yellowfin or albacore tunas.