Market participants surveyed by Mintec in the first week of October were expecting strong shipments ahead of the release of the September position report on 12th October. Estimates for the September shipment figure were reported in the range of 200-240 million pounds, with most respondents returning figures of 210-225 million pounds.
"The main question is how many containers got floated to India given the delays in packing inshell at the start of September. I estimated about 700 containers, but I've heard other estimates north of 1,100," a US exporter said to Mintec.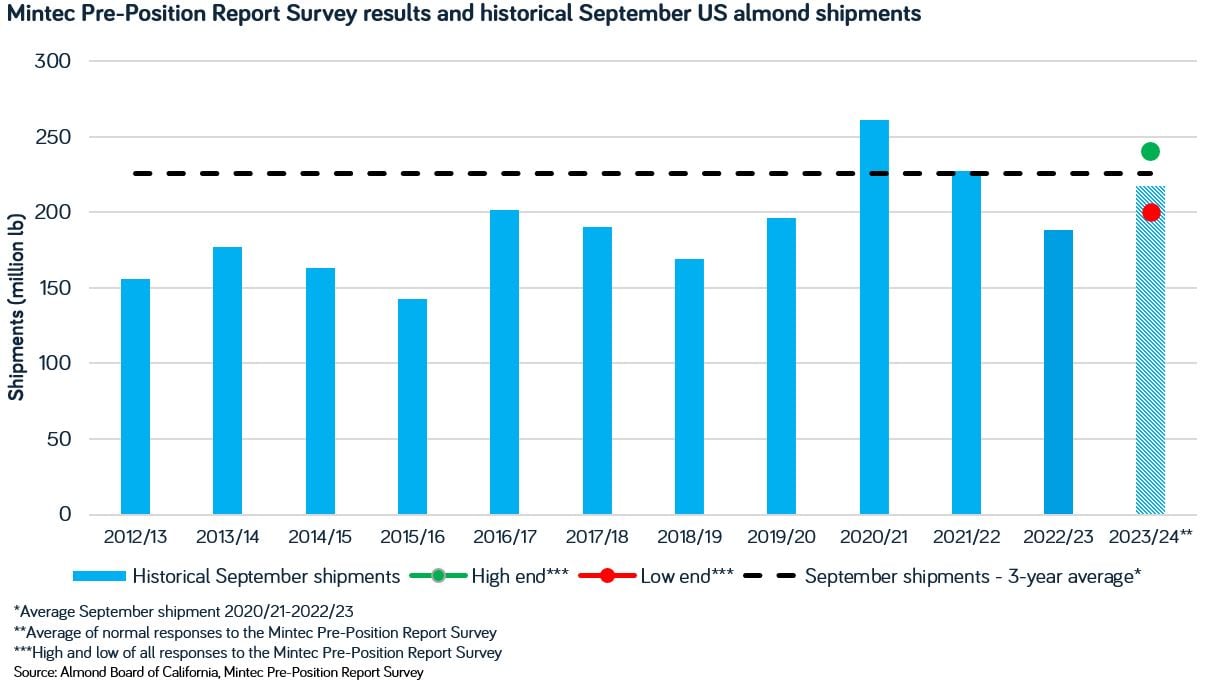 The expected strong export pace has been attributed to brisk sales of old crop at attractive price levels throughout the start of the season.
"We've been clearing old crop as quickly as possible, and I've heard of other handlers threatening to charge growers storage fees unless they started shifting stock, which has managed to eat down the carry-in a fair amount," a US seller stated.
Of other note in the September position report is the level of rejects, which is expected to remain significantly elevated against previous years.
"I'm expecting rejecting levels to rise from the August report. We've been averaging about 10% serious defects on nonpareil, and it's gradually gotten worse as more has come in from the orchards," a US handler disclosed to Mintec.
In the August position report, total rejections across all varieties were reported at 4.44%, with nonpareil pegged at 5.04%.
To stay up to date on developments in the almond markets, subscribe to the Mintec Weekly Almond Report by emailing Nuts@Mintecglobal.com. The report, which is released each Thursday, provides in-depth information on pricing and market dynamics.