At 139,000 tonnes, Russia increased its production of Alaska pollock fillets by 19,900 tonnes (+16.8%) y-o-y in 2022, according to the Pollock Catcher Association (PCA), while production in the US fell slightly, by 2,100 tonnes (-1.5%) to 138,000 tonnes, over the same period. As such, Russia overtook the US in fillet processing for the first time since the turn of the century, reflecting its investment in domestic processing.
Russia is the world's largest producer of Alaska pollock, accounting for approximately 52% of the 3.5 million tonnes caught in 2022, which is further processed, either into fillets, mince or surimi (raw materials used for products, such as crabsticks or sushi substitutes). Chinese factories are the primary processors of Russian-caught Alaska pollock, which is then re-exported to consumers in Europe and the US. Russian whitefish exports to China plummeted in 2022, following China's 15-month ban on Russian seafood imports attributed to the COVID-19 pandemic. The weak Chinese sentiment weighed heavily on Russian pollock prices, which plummeted by 21% during the 10 months ended January 2023, further exacerbated by US and UK sanctions on Russia seafood.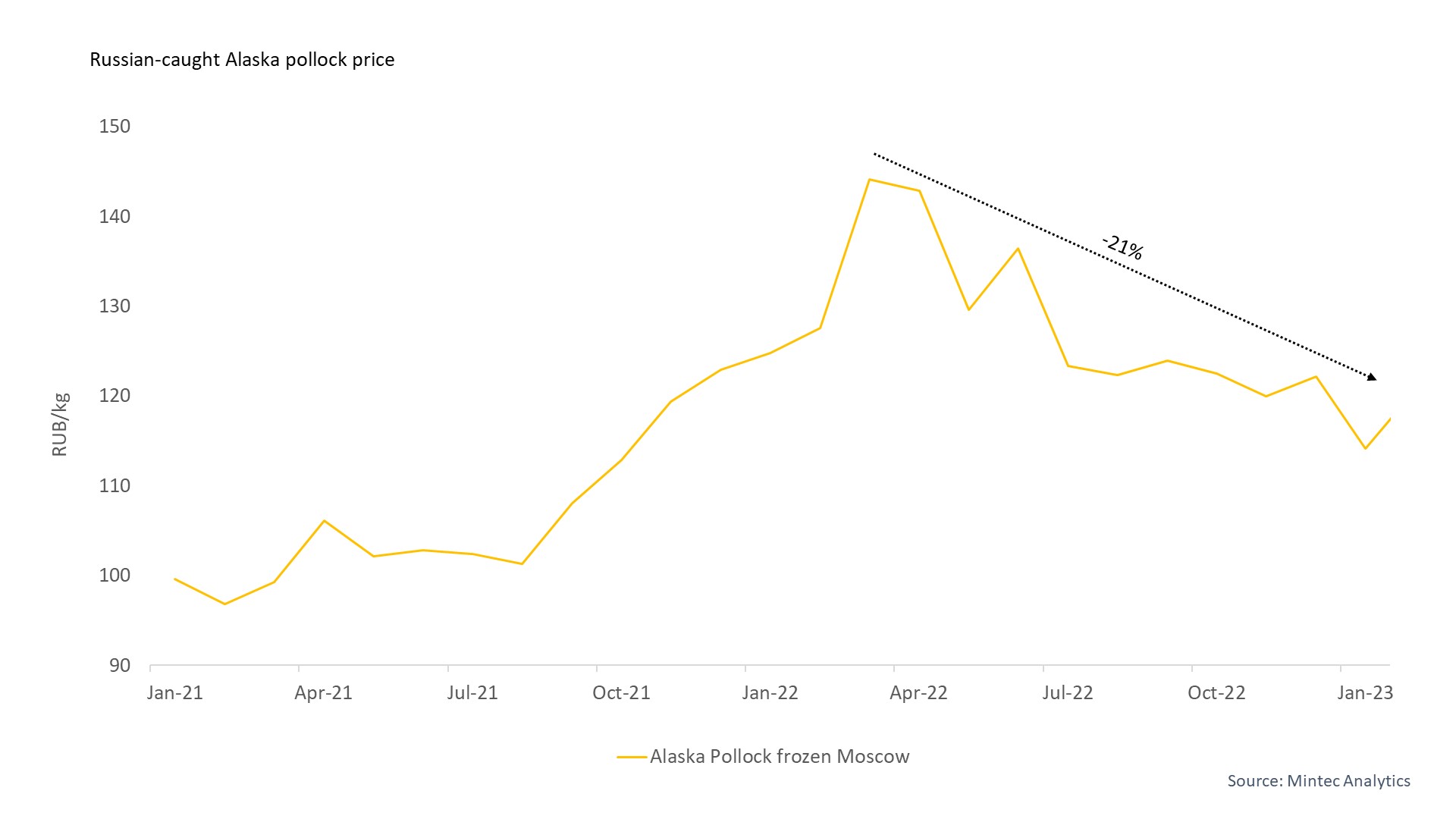 Russia has implemented a considerable renovation of its fishing and processing sector since 2018, in efforts to increase the share of domestic value addition. This includes modernising and re-equipping its fishing fleet. The number of Russian vessels equipped to fillet Alaska pollock stood at 42 in 2022, compared to 30 vessels two years earlier, and there are approximately 23 new fish processing factories along Russian coastal communities since 2018. The Russian fishing industry is gradually moving away from the raw material orientation towards 'deep processing', which allows not only for the provision of fish to the domestic market, but also to effectively develop exports. Major shifts should be expected in the industry from 2023 to 2026, when most of the investments under the 2018 program will be fully commissioned. Thus, it appears increasingly likely that white label Russian pollock may become more present on global markets in the years to come.