Market participants surveyed by Mintec in the first week of February were expecting record shipment levels ahead of the January position report, which is due for release on 9th February. Estimates for January almond shipments were reported in the range of 200-235 million pounds, with most market participants returning figures of 220-225 million pounds. If realised, this would place shipments at the same level or higher with the current January shipment record of 220.5 million pounds, recorded in January 2020.
"So far, 220 [million pounds] seems to be the conservative industry estimate. I think there is room for shipments to hit 230 [million pounds] and above, so I wouldn't be surprised to see a stronger figure than most people are saying publicly. The question is if any price reaction to the report will be sustained, or be beaten back down like we saw with the last release," a US exporter said to Mintec.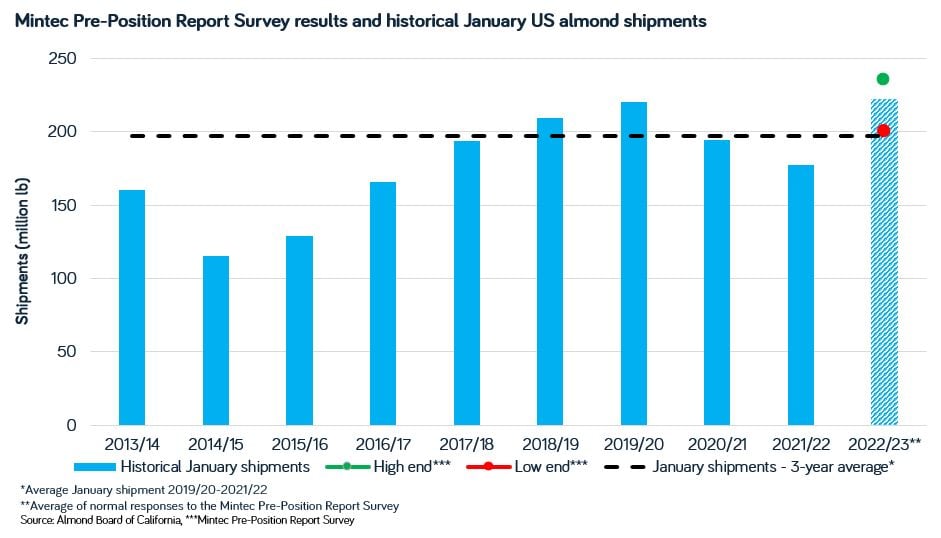 Low prices were also seen on the forwards throughout the month, with standard 5% almonds for June/July shipment quoted between $1.50-1.52/lb during the assessment period ending 2nd February. Market participants are expecting a large uptick in new sales, compared to previous months, due to this attractive pricing, with one seller stating, "people are starting to think this might be the bottom of the market. Given that bloom is around the corner, there is a feeling that the upside price risk is higher than downside at the moment."
Crop receipts are expected to continue to trend significantly below last season, with one seller stating, "I'm expecting the drop from last year to widen to about 12%. I think final crop numbers are likely to come in closer to 2.5 billion than 2.6 billion, and this would put us on course for that figure."
To stay up to date on developments in the almond markets, subscribe to the Mintec Weekly Almond Report by emailing Nuts@Mintecglobal.com. The report, which is released each Thursday, provides in-depth information on pricing and market dynamics.