Rapeseed oil is cheaper than palm oil for the first time in 25 years as supply glut intensifies
The Mintec Benchmark Prices [MBP] for Rapeseed Oil FOB Rotterdam [Mintec Code: RSOR] was assessed at €929.50/mt on 16th March, the lowest level since January 2021 and remarkably lower than the Crude Palm Oil CIF Rotterdam price, which was assessed at €951/mt. This is the first time in 25 years that rapeseed oil is priced at a discount to palm oil, which is typically the cheapest oil among the four main oils (rapeseed, palm, sunflower and soybean oils). Palm oil prices also typically act as a reference point for market players to make decisions on substitution among the main oils.

Source: Mintec Analytics, Mintec Benchmark Prices (MBP)

The glut has occurred due to EU crushers purchasing large amounts of rapeseed from Ukraine, with over 50% of Ukraine's total rapeseed exports entering the EU processing chain. The purchasing has occurred at reduced prices compared to the rest of the market, ensuring a healthy crush margin and encouraging significant levels of crush in recent months. At the same time as large volumes of rapeseed are entering the EU, demand for rapeseed oil is poor from both a food sector and biodiesel standpoint which make up nearly all the addressable demand, because many food manufacturers purchased rapeseed oil as an alternative to sunflower oil. When the Russia/Ukraine conflict started, many food manufacturers had concerns about the ability to obtain sunflower oil from Russia and Ukraine, the two countries that dominate the production and export of the material. Therefore, players in both these sectors have high levels of coverage until H2 2023, meaning that far fewer players are hand-to-mouth than there were in some parts of 2022, making it unlikely that large purchases will take place in the nearby months, or even near forward months.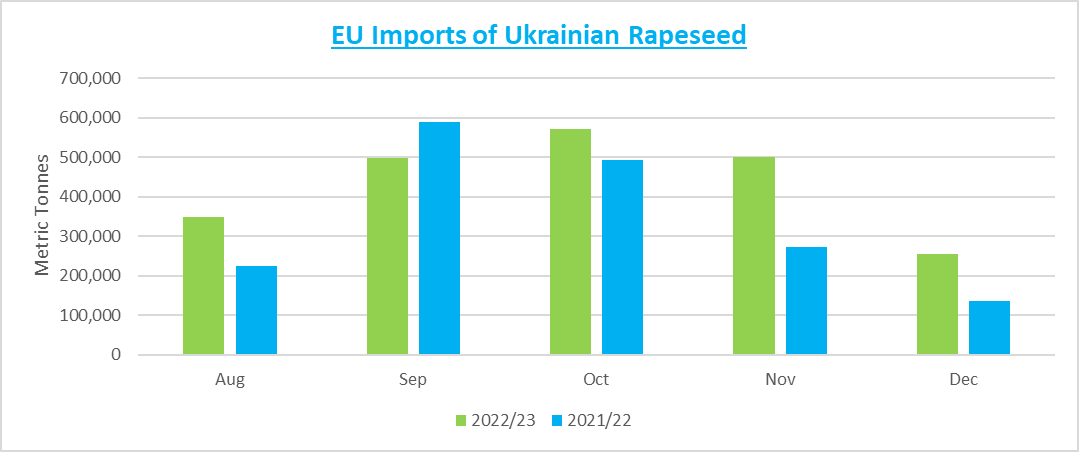 In addition, although some players did not purchase at the direct peak in 2022, many still purchased at elevated levels on long-term contracts to ensure delivery. This means that these players are still receiving rapeseed oil deliveries and do not need to dip into the market, trimming the demand for rapeseed oil even further. Thus, with demand from the two key rapeseed oil buying sectors likely to be low, market players commented to Mintec that they were unsure where demand would come from to cause upward price pressure, meaning that rapeseed oil prices could be below palm oil prices for some time to come.
A trader commented to Mintec, "there is no demand for rapeseed oil. The [EU] rapeseed crop forecast is healthy. On the other hand, the biodiesel sector has no demand due to Rapeseed Methyl Ester (RME) prices being in freefall. We have high supply now and even more supply coming in just a few short months."
Turning to crop conditions, market players have told Mintec that although conditions are dry in Germany and France, for now they are not concerned, but it would remain a key watch point in the coming weeks. Yet, it was reported to Mintec that winter planting of rapeseed within the EU was likely between 5.92 and 6.02 million hectares and, if realised come June and July when rapeseed is harvested in the EU, this could produce a crop of circa 19.32 million metric tonnes for the EU-27, the largest in five years.