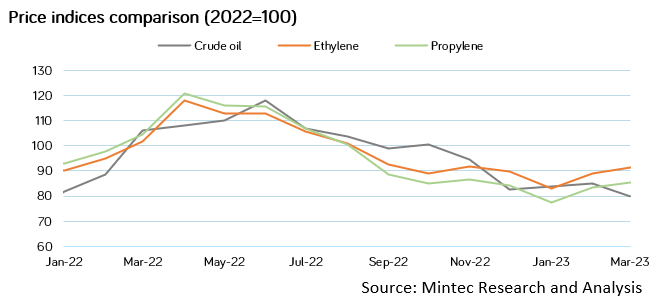 February propylene and ethylene supply contracts in Europe increased by €85/MT and €80/MT, respectively, on the back of a weak crude oil price growth in January and February, adding another €30/MT in March. Rising prices of raw materials for plastic production was the main reason for the €20-50/MT price increase for polypropylene and polyethylene on the European market in March. However, demand in the plastic market remains weak and producers were only partly able to offset two consecutive months of production cost rises.
EU production of plastics for packaging rose seasonally, by 14% month-on-month in January, according to the Eurostat index of plastic packing goods. However, the index was down 5% on the previous year, indicating a fall in output and a consequent drop in the consumption of propylene and ethylene by the plastics packaging industry. With weak demand, plastics producers are trying to keep production at a low level as the seasonal increase in demand in spring has not yet come to fruition. There is no way to pass on the increased costs of raw materials to consumers, because plastic buyers are not ready for such price increases, so the mood among producers remains negative.
The Brent crude oil price fell to $70/barrel on 20th March, a level last reached in December 2021. Hydrocarbons are used to produce propylene and ethylene, so prices are directly linked to the price of Brent crude oil on the world market. If the Brent crude oil price remains at current levels, then market players believe this may be directly reflected in lower propylene and ethylene prices as demand remains weak.