Poland has confirmed four cases of Newcastle Disease, an avian paramyxovirus serotype 1 (APMV-1), after being free from the disease since 1974. The first of the four cases was reported on 11th July 2023. Newcastle disease is a highly pathogenic viral disease of avian species, particularly affecting poultry, and has high mortality and morbidity rates. If the virus spreads rapidly, it can kill thousands of bird species, damaging the egg, chicken, bird meat and aviary industries.
USDA's Foreign Agricultural Service (FAS) reports that Polish veterinary authorities have implemented all necessary disease control measures, including the culling of all birds on the infected farms and the designation of restricted areas, as required under EU and Polish legislation. According to FAS, Poland is the largest producer of poultry meat in the European Union (EU) and ranks second in the EU in terms of meat exports. Poland is also the third largest poultry exporter in the world in value, according to data by UN Comtrade and Credit Agricole Bank Polska.
Mintec's price data indicates Poland's wholesale chicken price decreased in the last 12 months, down 16.05% y-o-y, to PLZ 17,757/MT (data to 6th September 2023).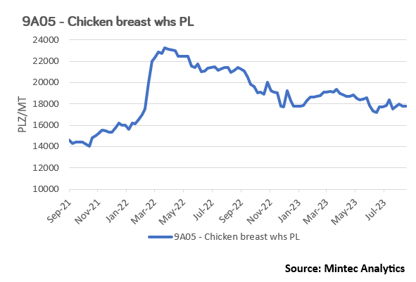 Ukraine has banned the import of poultry and eggs from Poland, citing fears of Newcastle Disease. The National Chamber of Poultry Producers and Feed (KIPDiP) estimated that Poland's hatcheries will likely suffer from the import ban. Ukraine is Poland's largest importer of day-old chicks, with supplies reaching tens of millions of heads per year.
Furthermore, import restrictions on day-old chicks could add problems to Ukraine's poultry industry, which is battling rising production costs. In September, the Ukrainian Association of Poultry Breeders warned about a tangible rise in poultry prices on retail shelves. Due to the outbreak, Belarus also introduced import restrictions for goods from Podlaskie province in Poland. In addition, Poland is dealing with outbreaks of avian influenza (HPAI) in cats and African swine fever (ASF).
Considering the size of poultry production in Poland, if the strain proves to be a real threat and other countries impose a ban on chicken exports from Poland, it could impact export levels within the EU and globally.