The European Food Safety Authority (EFSA) has reported an international outbreak of Salmonella Enteritidis in chicken, which involves 335 cases across 16 markets - 14 European countries, the UK and the US, between January and October 2023.
Chicken meat and chicken meat products, specifically kebab, have been identified as the likely primary source of the outbreak. A total of three types of S. Enteritidis ST11 have been implicated, with food traceability data pointing to producers in Poland (seven producers) and Austria (one producer). However, no microbiological evidence of contamination has been found at their facilities. Scientists expect new cases to occur, as the source remains unidentified.
Polish poultry production has risen by 112% since 2011. In 2022, this figure reached 3.0 million tonnes of produce, representing an 8.2% rise on the prior year. The Polish poultry market is predicted to rise by another 1.5% year-on-year (y-o-y) in 2023, with more than half of this produce exported to other countries.
Mintec prices for Polish chicken breast decreased by 6.4% y-o-y, registering PLZ 17,178/MT on 25th October. Feed and energy costs continue to decline from the high levels of 2022. However, the elevated cost of living is also causing consumers to replace more expensive meats, such as beef and pork, with cheaper alternatives, like chicken.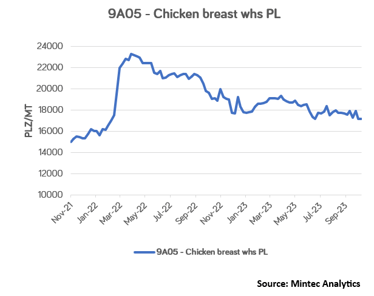 Yet, Poland was impacted by Newcastle disease reported in July 2023, an outbreak of H5N1 avian influenza virus among poultry reported on 17th October 2023, and a Salmonella outbreak. According to the USDA, Poland is the EU's largest poultry producer; therefore, considering the size of Poland's poultry production, if the strains prove to be a threat, some countries could impose a ban on chicken exports from Poland, which could negatively impact export levels and poultry availability both within the EU and globally.