Unsurprisingly, consumers in the UK are set to purchase one of the most expensive Christmas meals in recent years following the consistent inflationary pressures that resulted in the UK inflation rate for food and alcoholic beverages reaching a 42-year high in September 2022, according to data from the Office of National Statistics (ONS). The impact of these inflationary pressures is evidenced by Mintec's 2022 UK Christmas Dinner Index rising by 22.5% year-on-year (y-o-y) due to increased input costs, the Russia-Ukraine War, and COVID-19-related disruptions.
Throughout 2022, the UK food supply chain has been impacted by various factors, including the Russia-Ukraine War, COVID-19, Brexit-induced labour shortages, and rampant inflation. Inflation has had a severe impact on the food industry, with tighter margins for producers caused by rising input costs (feed, fertiliser, and electricity). In turn, this has resulted in higher commodity prices in 2022 compared to 2021.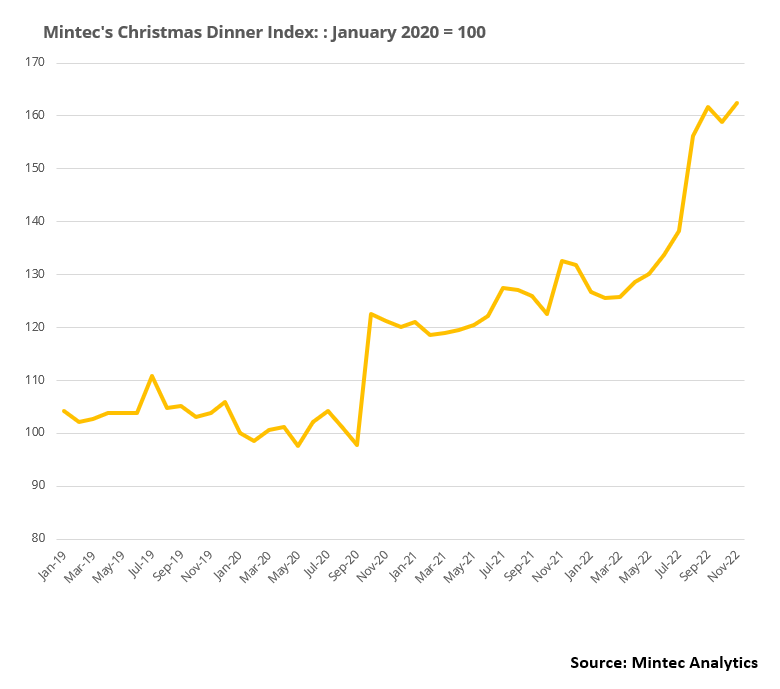 The Christmas Dinner Index includes the main meal, Yorkshire pudding and Christmas pudding. The basket of commodities for the main meal is comprised of meat (turkey and pork), vegetables (potatoes, carrots, and parsnips), and Yorkshire pudding ingredients (wheat, milk and eggs). The Christmas Pudding Index includes almonds, raisins, sultanas, and sugar. Increased prices for all components of the main meal, and most of the Christmas pudding ingredients, have more than offset a decline in almonds.
While the demand for plant-based products has eased recently due to high food price inflation, it is still expected that health-conscious consumers will choose plant-based meals this Christmas. In line with this move away from traditional Christmas meals, Mintec also presents a UK plant-based Christmas Dinner Index for 2022. This index tracks price developments using Mintec's first-of-a-kind, independent Benchmark Prices for plant-based proteins, which began in March 2020. It shows that the prices of commodities making up the plant-based meal rose by 10.2%.
Breakdown by Components
Main Meal Index (turkey, pork, carrots, potatoes, parsnips, Yorkshire pudding)
Prices of all the key ingredients in the main meal index (including the Yorkshire pudding) rose sharply y-o-y at the end of November 2022. Consequently, the main meal ingredients blend costs 28.6% more y-o-y as of the end of November 2022.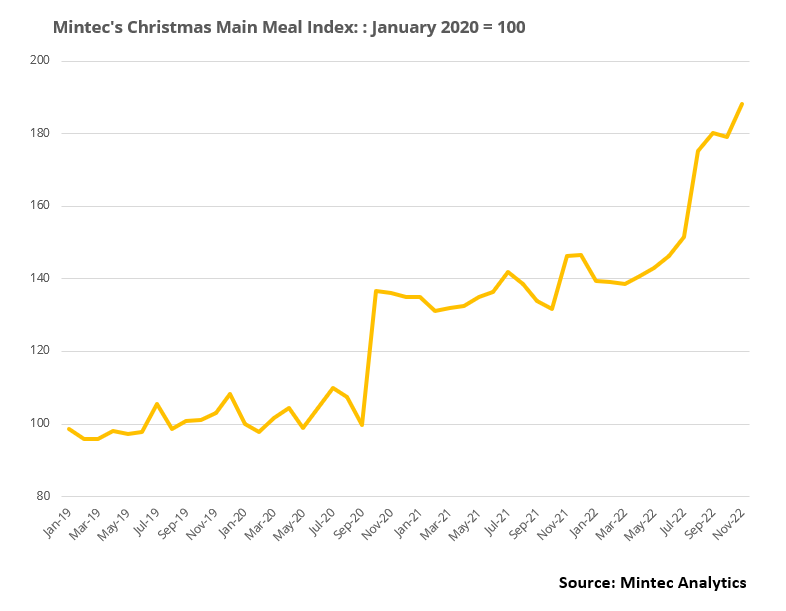 Turkey
The Mintec turkey price averaged GBP 6.00/kg in November 2022, up 29.7% year-on-year (y-o-y). High feed costs (accounting for 60-70% of turkey production) and rising energy prices continue to drive turkey production costs higher in 2022. Also, prices remain high, up 7.7% month-on-month (m-o-m) in November due to the continued outbreak of Highly Pathogenic Avian Influenza (HPAI) in the UK. The UK poultry sector reported approximately 234 HPAI cases between October 2021 and early November 2022. The UK lost 560,000 of its 1.4 million free-range turkeys to bird flu from October 2021 until October 2022, according to the British Poultry Council. The outbreak this year has been far more devastating than last winter. Approximately 2.3 million poultry birds, including chicken, turkeys, ducks, and geese, have been culled in the current season, with UK turkeys being the most vulnerable to HPAI. Although this accounts for only a small proportion of the 20 million poultry birds produced in the UK on a weekly basis, it has reduced poultry supplies in the weeks leading up to Christmas. The UK produces around 11 million turkey birds annually, of which approximately 65% are sold during Christmas. The Department for Environment, Food and Rural Affairs announced that turkey, geese, and duck farmers could slaughter their flocks early, preventing birds from getting infected with HPAI in later stages of growth. Farmers may also freeze and defrost poultry to be sold in time for Christmas, which could prevent turkey prices from rising further.
On the demand side, UK turkey consumption is likely to increase y-o-y in December 2022 due to rising demand from the retail sector in the run-up to Christmas.
Pork
The UK pork price supported a significant overall increase in the Christmas dinner index. The average price of pork in the UK increased by 38.7% y-o-y to GBP 1.97/kg in November 2022.
The pork supply decreased during October and November as the impact of a reduced sow herd started to weigh on the market. Lower margins for farmers have led producers to reduce herd sizes throughout the year. Increasing input costs have challenged farmers and processors throughout the year; while farmers are facing rising feed costs, processors are struggling with increasing electricity costs associated with production. Both input cost drivers have been impacted significantly by the Russia-Ukraine conflict, as both are key suppliers to the global feed and energy market. While the increased pork price has negatively impacted consumer demand throughout the year, recent buying interest has risen as consumers switch from beef and lamb to cheaper animal protein to reduce the impact of the cost-of-living crisis. This is further supported by a limited turkey supply in the UK due to current bird flu cases, reducing the alternatives for consumers. This factor has also supported pork demand in recent weeks.
Potatoes
The Mintec Benchmark Prices for packing potatoes in the UK rose by 24.1% y-o-y in November 2022 to 0.18/kg, driven by high input costs and an estimated drop in production amid a prolonged summer drought across the UK.
Potato growers continue to face higher y-o-y production costs from energy, fertiliser and transportation. The cost of storing potatoes also rose significantly from 2021, due to higher electricity costs, and this is a key price driver at this time of year as a high proportion of potatoes go into storage from November. Market participants expect some growers to sell off supplies earlier in the season due to higher drying and storage costs, driving prices down in the short term, but leading to tighter stocks later in the season.
So far this season, demand for free-buy packing supplies has been muted. Many supermarkets contracted a higher proportion of their requirements for the 2022/23 season to limit exposure to volatile prices. Therefore, significant driving factors, including higher input costs, are not yet fully reflected in retail prices.
Carrots
In addition, UK carrot prices rose by 16.4% y-o-y to GBP 0.53/kg, attributed to high input costs, and the ongoing impact of Brexit and COVID-19 on the industry, both of which are causing labour shortages.
The costs of fertiliser, gas, petrol, and electricity are significantly higher when compared to the same period in 2021. Supply concerns have intensified on account of the Russia-Ukraine war, because Russia is a top global exporter of natural gas and crude oil. Increasing costs are weighing on growers' profit margins, driving the cost of cultivation and storage to unsustainable levels. Without financial support for farmers, the industry's profitability and sustainability are under threat, which could limit future investments and potentially lead to lower planted areas next season. There is a risk that in consecutive seasons some farmers will opt to grow alternative crops, such as cereal or oilseeds, to achieve higher returns.
Moreover, the labour shortage following Brexit and COVID-19 is still concerning for farmers, with many forced to raise wages to incentivise new workers, further driving production costs and prices higher.
Parsnips
The price of UK parsnips rose by 16.7% y-o-y to GBP 1.26/kg in November 2022, in line with drivers in the carrot market. The UK continues to face a labour shortage as Brexit controls restrict EU workers from working in the UK. A lack of farm workers from the EU means that many producers are unable to harvest peak volumes, causing supply chain disruption. Additionally, growers are facing rising costs, which are being reflected in prices.
Yorkshire Pudding Index (wheat, eggs, milk)
The blended price of the Yorkshire pudding commodities rose by 7.2% y-o-y at the end of November 2022, including a noteworthy increase in wheat price.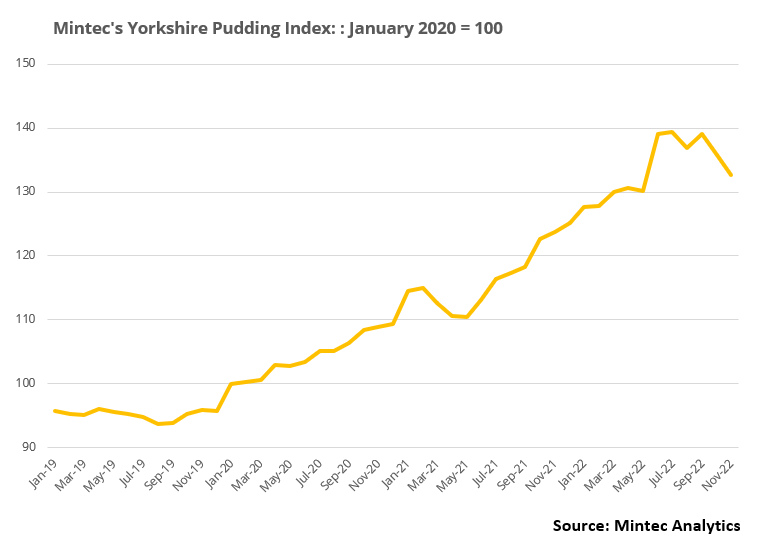 Wheat

In November 2022, the monthly average wheat price stood at GBP 0.31/kg, down 2.9% m-o-m but up 18.6% y-o-y. Wheat prices increased to a record high level of GBP 0.35/kg in May this year, following the Russia-Ukraine war in late February 2022 (as both countries combined represent 25% of wheat export share) and tight 2022/23 global ending stocks, the tightest since the 2012/13 season. The UK wheat price rose in line with the global wheat market. In November, wheat prices declined due to the renewal of the grain corridor deal (for another 120 days), which meant wheat flow from the Black Sea region. In addition, the wheat price was pressured by the continuation of an inexpensive large wheat supply from Russia and a gloomy global economic outlook.
According to the Agriculture and Horticulture Development Board (AHDB), the UK domestic wheat outlook appears favourable for the 2022/23 season. The UK's 2022/23 total wheat availability is estimated at 18.7 million metric tonnes, 8% higher than in 2021/22, driven by an increase in production and carry-in stocks, and a fall in imports (-40% y-o-y). UK wheat production is estimated at 15.6 million metric tonnes, up 12% y-o-y, driven by higher-than-average yields. Thus, a larger domestic crop this season outweighs an increase in demand and will likely lead to an exportable surplus for the 2022/23 season. Nevertheless, there are many supply factors. These include ongoing war uncertainty and the tight global demand and supply balance, both of which continue to drive global wheat prices.
Milk
The Mintec Benchmark Price for UK fresh milk rose by 7.1% y-o-y to GBP 0.43/kg in November 2022, in line with firm EU milk prices. This y-o-y price increase is mainly attributed to high input costs such as fuel, feed, and energy that UK farmers have been facing during 2022. Lack of profitability led farmers to reduce the cowherd numbers in the UK. There had been 12 consecutive months of lower milk output compared to the same period last year until September 2022, when milk output exceeded the milk volumes recorded last year, at 1.6 million litres, up by 0.2% y-o-y, according to the AHDB. This shift in milk output trend has reversed the UK milk price direction upwards since H2 2022.
Milk processors have increased farmgate prices significantly to encourage farmers to boost milk collection and diminish cow slaughtering. Consequently, higher profit margins for farmers and improved grass growth figures during September and October fuelled milk output. As a result, UK milk prices have steadily decreased since the peak in July 2022, when they reached GBP 0.56/kg. This bearish market sentiment is likely to continue until the end of the year and will likely add downward price pressure on dairy products overall.
Eggs
UK egg prices rose by 5% y-o-y, while remaining steady m-o-m at GBP 1.5/kg in November 2022, with a decrease in egg production in Q3 2022. Total UK egg production in Q3 2022 reached 213 million dozen, down 8.2% y-o-y, declining by 9.7% compared to Q2 2022. Demand for eggs remains strong y-o-y, with an increase in home baking in the run-up to Christmas.
Christmas Pudding Index (almonds, sultanas, raisins, sugar)
The price of the blended Christmas pudding components rose by 2.2% y-o-y in November 2022 as the increase in sultana, raisin, and sugar prices outweighed the decline in almond prices.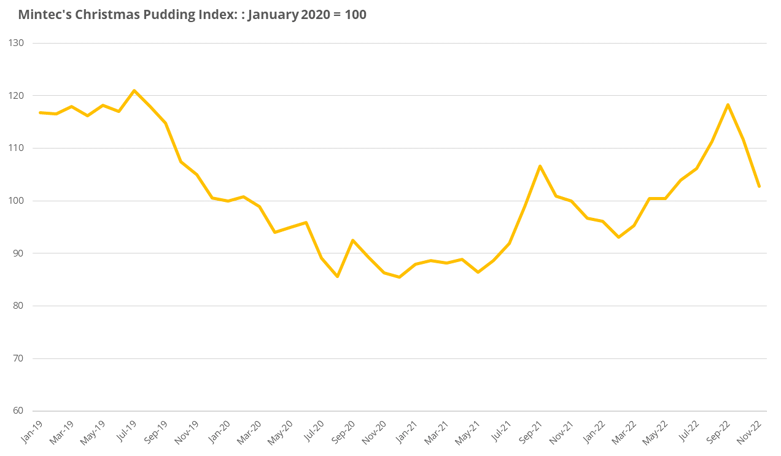 Almonds
The Mintec Benchmark Prices (MBP) of imported Californian almonds delivered CIF (cost, insurance, freight) Northwest Europe fell by 17.4% in the twelve months through to November 2022, to an average of GBP 4.03/kg.
The decline was driven by muted demand in the face of tightening consumer budgets in many regions, combined with good availability of almonds despite the ongoing drought in California. The tightening of consumer budgets has led to a decline in retail sales across the nut and dried fruit category, with Mintec industry sources estimating that retail sales of treenuts had fallen 20-30% from typical volumes for this point in the season.
Furthermore, despite a recent weakening, the US dollar remains significantly stronger against many currencies in major buying regions compared to a year prior, which has increased costs for importers in major buying regions. This has translated into pressure on US prices, as buyers push for cheaper prices in dollar terms to offset unfavourable exchange rates.
Sultanas and Raisins
The Mintec Benchmark Prices of Turkish sultanas delivered on a CFR basis UK were up 10.8% y-o-y in November 2022, at GBP 1,334/MT. The Mintec Benchmark Prices of California raisins in the UK (CFR UK) rose by 15% y-o-y in November, to GBP 1.09/lb.
In the UK market, the weak sterling has provided price support in the dried grape segment, as prices in USD terms have risen by only 2% y-o-y for Turkish sultanas, and by 5% for California raisins.
For Turkish sultanas, the market primarily rose between June and September, driven by the hike in prices in Turkey. The Turkish Grain Board (TMO) announced new season buying prices in August this year, pegging type 9 sultanas (the variety most frequently sourced by EU buyers) at TRY 27/kg, which was an increase of more than 100% compared to the 2021/22 campaign. Interestingly, in dollar terms, the 2022/23 TMO price was lower than last year amid the depreciating Turkish lira (TRY). The lira fell by 34% y-o-y against the dollar on the 25th of November, to 18.6, following the unorthodox expansionary monetary politics being implemented by the Turkish Central Bank when the economy struggles with soaring inflation. The weak lira converts to lower prices in dollar terms and has helped to offset some of the GBP weakness.
Supply of Turkish sultanas is abundant this year following ample harvest, although the fruit is darker than normal due to rains at the time of harvest in August. Demand is being influenced by two key themes. The first is concern over rising inflation and how this pressure might impact consumer spending within the dried fruit category. This is a bearish factor on pricing. Secondly, sultanas are benefiting from being the cheapest food ingredient in the nut and dried fruit category, which should stimulate further demand.
The price premium of US California raisins over Turkish sultanas for a product delivered to Europe stood at USD 1,200/MT at the end of November 2022, up from around USD 1,200/MT at the same time last year, and up from USD 430/MT compared to November 2020. This puts US raisins at a competitive disadvantage against cheaper-priced Turkish sultanas.
Sugar
The spot price of white sugar on the InterContinental Exchange (ICE) London was recorded at an average of GBP 453.35/MT in November 2022, up by 17.4% y-o-y, due to tight market fundamentals and high energy costs. The production of sugar and ethanol from sugar beet is an energy-intensive process; thus, high energy prices have been the main driver for sugar prices in Europe this year. Furthermore, the EU 2022/23 sugar production is estimated to decline by 7% to 15.5 million tonnes from the previous MY's 16.6 million tonnes, following declines in production and yield.
UK Plant-Based Christmas Dinner Index (pea protein isolate, corn starch, carrageenan)
Mintec's 2022 UK Plant-Based Christmas Dinner Index increased by 13.8% y-o-y in November 2022. With the inflationary environment in the food commodity market space in the last two years, cost remains a key driver for the plant-based industry. Prior to 2020, when the impact of COVID-19 on food prices kicked in, the cost challenge in the plant-based industry was centred around the cost of substituting plant protein for meat and dairy products. However, since the onset of the pandemic and the Russia-Ukraine conflict, significant price increases have been featured around all commodity markets because of freight and energy costs, which have further impacted the plant-based industry in the last two years. Thus, increasing the interest in price developments of plant-based foods. The Mintec Benchmark Prices for plant-based proteins cover a range of food-grade proteins in the pea and soya sector, typically used to manufacture meat-free substitutes. The Plant-Based Christmas Dinner Index utilises the Mintec Benchmark Prices for pea protein isolate EXW Europe as part of a plant-based 'turkey loaf' alternative to meat. The European Mintec Benchmark Prices for pea protein isolate comprise the bulk of the overall turkey loaf price. The index tracks price developments since Mintec launched its first-of-a-kind, independent Benchmark Price for plant-based proteins in March 2020.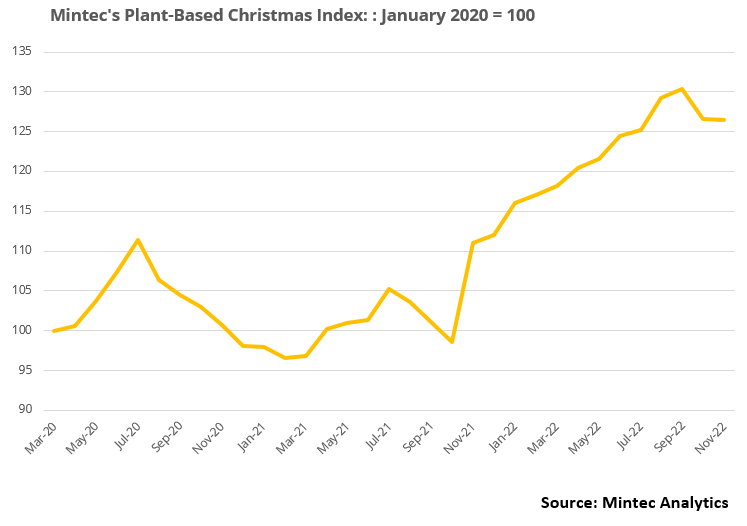 Pea Protein Isolate
In November 2022, the Mintec Benchmark Prices for pea protein isolate EXW was assessed at GBP 6.04/kg, up 9.8%, y-o-y, due to higher demand as consumers chose healthier lifestyles at the onset of the COVID-19 pandemic, combined with elevated energy, fertiliser, and freight costs amid the Russia-Ukraine conflict.
As energy is a key cost component for plant-based protein products, especially isolates, energy prices remained the main driver for plant-based products until around August 2022, when electricity prices in Europe and the US peaked. In addition to the high energy prices, freight and labour costs resulted in high production costs for plant-based protein manufacturers for most of 2022 and, consequently, higher prices for end-users. Given the broad price inflationary environment for all food commodities, demand for plant-based products started easing in October 2022, resulting in a 2% decline in the November 2022 price from the record high of GBP6.16/kg, assessed in September 2022. However, this price decline has not been enough to offset the steady price increases since November 2021, leading to a considerable y-o-y increase in Mintec's Plant-Based Christmas Index.
UK Turkey loaf 'filler' ingredients (maize starch)
The price of maize (corn) starch rose by 75.8% y-o-y in November 2022 to GBP 0.67/kg. The price of maize starch in Europe has risen in line with the increase in the Euronext maize futures price, which increased by 31%, y-o-y to GBP 272.53/MT in November 2022 due to the impact of the Russia-Ukraine war on global grain prices.
The price of carrageenan semi-refined ex-work from China increased by 22.9% y-o-y to GBP 5.84 /kg in November 2022, driven by supply chain challenges such as high shipping and energy rates, which resulted in higher prices of food additives this year. However, the price has been volatile throughout the year due to demand uncertainty from China following COVID-19-related restrictions.
Conclusion
As the 2022 Mintec Christmas Dinner Index shows, most food commodity prices have risen significantly this year compared to a year ago, thus, cost will be a big factor as UK consumers plan for their Christmas meals this year. Although almond prices have fallen, the overall Christmas Pudding Index increased slightly. With the 28.6% rise in the Mintec Christmas Dinner Index and the 7.2% climb in Yorkshire pudding ingredients, consumers opting for a traditional meal will be paying substantially more than last year.
Furthermore, for the health-conscious consumer, the Mintec Plant-Based Christmas Index shows that consumers who opt for a plant-based meal this Christmas face a 13.8% y-o-y increase in plant-based commodities due to higher production costs. While the prices of some commodities have recently started declining due to a combination of reduced demand, easing energy and freight costs, these have not occurred in time to ease the burden on consumers this Christmas. Overall, energy prices remain the key watch-out factor in the months ahead.