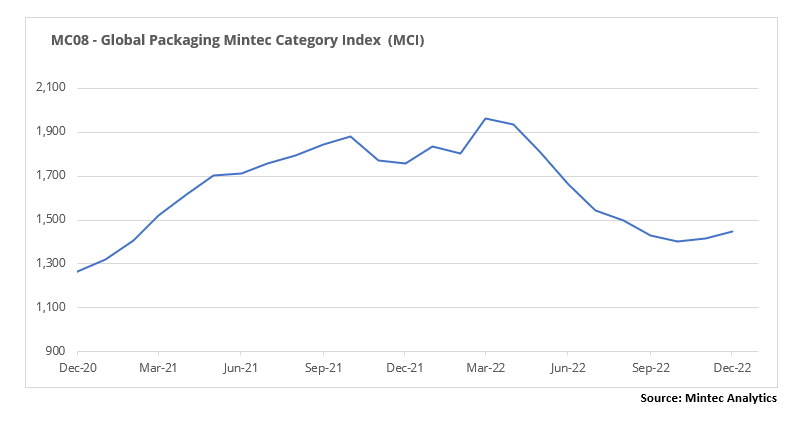 The Mintec Global Packaging Category Index (MCI) rose by another 2% month-on-month (m-o-m) to USD 1,429/MT in December 2022. Compared to a year earlier, however, there was an 18% drop. Packaging material prices moved in different directions in December 2022. Metals prices have been rising for two consecutive months as a result of expensive raw materials and a slight surge in metal products demand. The paper market has been dominated by declines in many products, and plastic prices are also falling.
Plastics
In December 2022, there was no surge in demand in the plastics market as had been expected. Lower demand in all segments was exacerbated by lower raw material prices. Furthermore, significant pressure on the global market in the first half of December was applied by China, where business activity started to slow down amid a new wave of COVID 19. This has been reflected in lower prices for various types of plastics. However, in the second half of the month, the easing of pandemic restrictions in China, and the run-up to New Year celebrations in the country, boosted demand and prices started to rise as a consequence. This is likely to be reflected in higher prices on the global market in January 2023.
HDPE and LDPE prices in the EU in December fell by 1% m-o-m to EUR 1,678/MT and to EUR 2,050/MT, respectively. Consumer activity was at a low level, but suppliers were also unwilling to make discounts. Ethylene (C2) decreased by EUR 25/MT and that was the key factor in the price of polyethylene (PE) falling. US HDPE and LDPE prices have been stable since November, at USc 73/lb and USc 95/lb, respectively. Supplier efforts to reduce production and inventory have helped to balance the market. Also, winter storm Elliott led to forced outages at some production facilities, which also helped to keep prices from falling. Some market participants expect production and inventory cuts to cause prices to rise in January.
PET prices in Europe declined in the second half of December, amid the Christmas holidays which lessened demand. As a result, the monthly average price in December was EUR 1,433/MT, down 5% m-o-m, and down 10% year-on-year (y-o-y). US PET prices have been relatively stable for three consecutive months due to a well-balanced market, at USc 86/lb. However, the cheap imports prevented a rise in US local prices.
PP prices on the European market in December fell by 2% m-o-m under pressure from lower raw material prices (Propylene) and cheaper imports from Asia, to EUR 1,601/MT. PP prices in the US market fell by 15% m-o-m, to USc 76/lb. A significant downward market factor was the commissioning of ExxonMobil's new 450,000/MT per year production facility in Baton Rouge, Louisiana, which was reflected in an increase in supply on the market.
Metals
The metals market has started to recover and manufacturers are gradually increasing prices amid rising production costs. Steel production is falling and is already comparable to 2020, when the COVID-19 pandemic began. Consumption is also declining, but not as rapidly. Consumers realise that the price bottom has passed and are now stepping up purchases.
The CME's US steel hot-rolled coil (HRC) price rose on an average monthly basis by 11% m-o-m, to USD 860/MT, in December. In Northern Europe, the HRC price growth was moderate, by 2.5% m-o-m to EUR 670/MT, over the same period. However, the weak growth is due in part to the strong euro, because in dollar terms the price increase was 6%.
The start of the price hike was based on rising global steel production costs at the expense of raw materials. Mintec estimated that the raw material basket for the production of a tonne of converter steel (mainly used for flat steel production) increased by USD 68/MT over November and December. Global steel exporters have therefore attempted to raise prices in a bid to pass on rising costs to the consumer.
After a prolonged fall in prices, consumers and distributors minimised their purchases in a bid to wait for the most favourable price. Now that domestic steel producers have also raised prices for products, purchasing activity in the market has started to increase, as the price bottom appears to have been passed.
Market analysts have estimated that steel production has fallen faster than demand, so the market seems to have come into balance. Global steel production in November 2022 fell by 5.5% m-o-m and 2.6% y-o-y. Notably, the figure is now at the level of April 2020, when the COVID-19 pandemic began and producers were actively cutting steel production due to uncertainty about future demand.
The LME aluminium 3-month monthly average December price increased by 3% m-o-m to USD 2,424/MT. LME aluminium prices have been rising for three consecutive months, so it appears that the price bottom has passed, in September. The situation in the segment is very similar to steel; lower production has brought the market to a shaky balance, causing a rebound in buying activity.
In November, aluminium production fell in all regions of the world. In Europe, primary aluminium production fell by 5% m-o-m in November and by a cumulative 15% for the year to date (YTD). After an explosion in the price of electricity, which is used to produce aluminium, producers are in no hurry to increase production as a result of the price increase. The market outlook is uncertain and many market players do not believe that the current price increase in the market will be sustainable.
Aluminium producers are actively increasing imports of semi-finished products into finished aluminium products. In particular, in the first 11 months of 2022, imports of semi-finished aluminium into the US increased by 17%, while imports into the EU (excluding domestic trade) increased by 40%.
Paper
Prices in the European market were stable or declining in December, depending on the segment. Reduced demand and oversupply, including from outside the region, had a negative impact on prices.
The French Kraftliner 175g price has shown a steady decline in the EU market since November 2022 and fell by 3% m-o-m and 2% y-o-y, to EUR 975/MT, in December. Producers are announcing production cuts for January as output levels are not in line with market demand. Nevertheless, the prospects for demand are not yet clear. The price of French Testliner 2 fell in December in Europe by 8% m-o-m, and by 3.5% y-o-y, to EUR 820/MT. The order volume in December was lower than previously expected, so manufacturers are also aiming to reduce production. An additional incentive to reduce production is the uncertainty surrounding gas and electricity prices, which in general play an important role in the production structure.
The European price of Semi-Chemical Fluting was unchanged at the high reached in April 2022, at EUR 928/MT. The increase in price compared to December 2021 is 5.6%. This is a narrow segment of the market with a small number of players, which allows for the maintenance of supply and demand. However, in small deals, manufacturers were willing to provide minor discounts from the price list.
The price of GC2 in December in the EU market has remained stable for six consecutive months and amounted to EUR 2,045/MT. At the same time, prices for GD2 in December declined by 3% compared to the previous month, to EUR 1,655/MT. Demand in the market is weak and supply remains high. Expectations for January remain negative in both segments. High inventories are still putting pressure on the market. In addition, market players report an increase in imports from Asian countries. As a result, contracts are being concluded for short periods, because prices have the potential to fall and consumers are consequently showing caution in purchases.