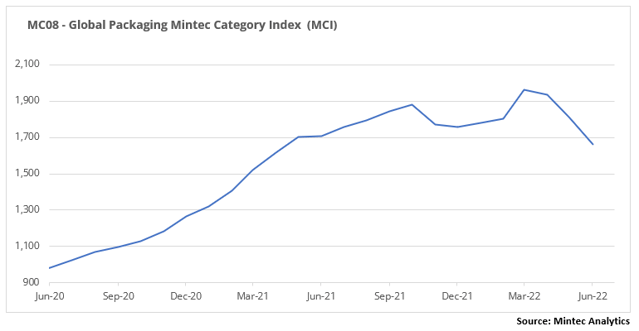 The Global Packaging Mintec Category Index (MCI) declined for the third consecutive month in June 2022 after soaring to high levels in March. The global MCI was down by 8.1% month-on-month (m-o-m) and by 2.6% year-on-year (y-o-y) at USD 1,662/MT in June 2022. The decline in the index was driven by a decline in steel, aluminium and EU plastics prices.
Plastics Market
In June 2022, the US plastics market was mixed with price declines in some grades and increases in others. On the other hand, EU plastic prices across all grades declined during the month, which according to market sources, was due to demand destruction.
After staying flat m-o-m in May, US HDPE and LDPE prices increased in June, up by 3.3% m-o-m and 2.8% m-o-m to USD 2,187/MT and USD 2,628/MT, respectively. The price increases were in line with high feedstock (crude oil and gas) costs, combined with inflationary pressure during the month. Additionally, higher demand supported prices, as market sources reported that buyers were looking to increase stocks amid ample supplies. On the other hand, US PP prices continued a three-month downward trend in June due to a weakness in monomer cost, with the US PP price falling by 9.5% m-o-m. US PET prices fell slightly for the first time in two years in June, down by 1.2% m-o-m but up 52.1% y-o-y. The monthly price decline was due to weakened demand compared to previous months.
Historically, some US plastic prices reach a peak between August and October (seasonality factor), which coincides with the hurricane season. This is going to be a watch-out factor for prices in the short term.
Despite uncertainties to feedstock supply amid cuts and sanctions surrounding the Russia-Ukraine war, EU HDPE and LDPE prices declined in June. This was due to reduced demand and ample supply, with demand destruction continuing from the previous month because of the high price levels. Thus, the EU HDPE and LDPE prices declined by 4.0% m-o-m and 4.4% m-o-m to EUR 2,076/MT and EUR 2,482/MT, respectively, in June. Similarly, prices in the EU PP market declined for the second month to EUR 1,908/MT (-8.8% m-o-m) in June, due to lower demand from downstream sectors, compared to Q1 2022. EU PET prices fell for the first time in June, since March 2022, attributed to a slowdown in demand. Prices however began to rise in the last week of the month as demand began to recover.
Sustained concerns about reductions in Russian gas supply to the EU, soaring energy costs and logistical disruptions will continue to drive sentiments relating to price directions in the EU plastics market.
Metals market

Steel and aluminium prices continued to ease in June 2022 as COVID-19 lockdowns in China, the war between Russia and Ukraine, and rising inflation heightened the uncertainty around demand levels.
The CME's US steel hot-rolled coil (HRC) price decreased by 11.1% m-o-m and 43.7% y-o-y, to a monthly average price of USD 1,032/MT in June. This price decrease was attributed to economic uncertainty in the market and a slowdown in demand. According to market participants, lead times fell to 3-4 weeks from 3-6 weeks. In June, the Northern Europe steel HRC price decreased by 19.7% m-o-m and 18.2% y-o-y, to EUR 946/MT, due to weaker demand, which is common during the summer months. However, buying activity should resume in September. According to market sources, high inventories, slow consumption, decreasing prices and squeezed margins have led to steel production curtailment in Europe.
In June, the LME aluminium (3-month) price decreased by 9.4% m-o-m but increased by 5.7% y-o-y, to a monthly average price of USD 2,585/MT. The price decrease was attributed to demand reduction in China during the COVID-19 lockdowns, while demand in other parts of the world has also been hit by high inflation. In addition, high power prices in Europe have increased the aluminium production cost and have squeezed producers' margins. Several companies across the EU have announced further aluminium production cuts.
Paper market

The EU paper packaging market prices stayed flat m-o-m for most grades in June 2022 due to lessened demand. However, most market participants reported that they were still fairly busy with orders. Demand might be cooling down due to the inflationary pressure that has cut consumer spending, however, it was not really reflected in June prices. The price stability is most likely due to the uncertainty about the natural gas supply in the market.
In June, the French kraftliner 175gr price stayed flat m-o-m but increased by 25.1% y-o-y, to EUR 1,060/MT. There has been an increase in kraftliner production and more imports from the US. According to market participants, demand has started to ease due to seasonality. Overall, the entire market for corrugated case material is no longer as tight as it was a few months ago. Developments in the gas market remain a watch-out factor for prices in the short term.
The June price of French testliner 2 stayed flat m-o-m but increased by 31.8% y-o-y, to EUR 950/MT. The significant yearly price increase was primarily driven by brisk demand from the e-commerce sector and high production costs. No further price increases have been announced for July 2022, although, development in the gas market remains a watch-out factor.
The June price of GD2 stayed flat m-o-m and increased by 55.7% y-o-y, to EUR 1,565/MT. Also, the June price of EU GC2 remained stable m-o-m but increased by 24.6% y-o-y, at EUR 1,825/MT. Both prices are at historically high levels since natural gas, recovered paper, and pulp prices rose again in June. According to a few market sources, the cartonboard market has shifted in favour of buyers, and lead times have reduced from 12 weeks to about 8 weeks. Some customers are building up stocks to secure cartonboard and to avoid paying higher prices in the future.