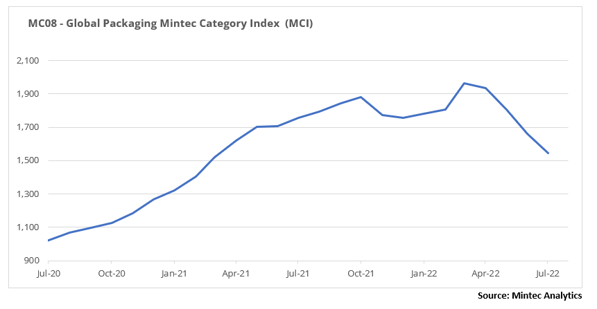 In July 2022, the Global Packaging Mintec Category Index (MCI) declined to the lowest level in 16 months, down by 7.1% month-on-month (m-o-m) and 12.1% year-on-year (y-o-y) to USD 1,543/MT. The index's movement was primarily driven by the declining price trend in the plastic and metals markets in the EU and US.
Plastics Market
In the US, prices of all plastic grades fell in July. Similarly, EU plastic prices fell at the end of the month, except for EU PET.
According to market sources, dismal demand and ample supply caused prices in the US plastics market to decline during the month, with producers increasing supply to spur demand. After rising m-o-m in June, US HDPE and LDPE prices fell in July, down by 2.2% m-o-m and 1.9% m-o-m to USD 2,138/MT and USD 2,579/MT, respectively. Market participants reported a slowdown in purchases after the July 4th holiday and subdued demand in expectations that prices would fall further, supported by recession fears. US PP prices continued a three-month downward trend in July, down by 9.5% m-o-m to USD 2,519/MT, the lowest level since May 2021. The decline was due to sustained weakness in monomer costs. US PET prices declined for the second consecutive month in July, down by 4.7% m-o-m to USD 2,491/MT. This decline was due to weakened demand compared to the previous month. However, prices remained elevated by 44.0% y-o-y on higher demand (compared to the same period in the previous year) and higher feedstock and monomer costs (paraxylene/PTA).
In July, the EU HDPE price declined to a four-month low, down by 5.9% m-o-m to EUR 1,953/MT Similarly, the EU LDPE price fell by 6.3% m-o-m to EUR 2,326/MT in the same period. The decline in prices of both plastics was due to continued improvements in supply and weakened demand. The EU PP price fell for the third consecutive month in July to EUR 1,777/MT (-6.9% m-o-m) on sustained weakened demand from downstream sectors and ample supply. On the other hand, after a modest dip in June, EU PET prices increased in July, supported by a pick-up in demand. The EU PET price was recorded at EUR 1,811/MT, up by 1.8% m-o-m and 49.1% y-o-y.
Metals market

Steel and aluminium prices continued to ease in July 2022 as the war between Russia and Ukraine and rising inflation heightened demand outlook uncertainty.
The CME's US steel hot-rolled coil (HRC) futures price decreased by 8.8% m-o-m to a monthly average price of USD 940/MT in July, a decline of 50.9% compared to a year ago. The monthly price decrease is attributable to a demand slowdown, particularly from the automotive industry, which constitutes a large amount of US steel consumption. In July, the Northern Europe steel HRC price decreased by 11.1% m-o-m to EUR 841.3/MT due to weaker demand as the automotive industry is dealing with parts shortages. The average July price represents a 30.6% drop from a year ago. Market participants expect gas supply disruption, combined with rising interest rates.
In July, the LME aluminium (3-month) futures price decreased by 6.8% m-o-m to a monthly average price of USD 2,408/MT, representing a 3.9% drop y-o-y. The price decrease is attributable to recession fears, now the dominant theme in industrial metals, as surging energy prices translate into manufacturing slowdown. According to the International Aluminium Institute, Western European aluminium production decreased by 12% y-o-y to 1.48m tonnes in H1 2022.
Paper market

The EU paper packaging market prices stayed flat for most of the paper grades in July 2022 due to lessened demand. According to market participants, some paper manufacturers still had good activity levels but were also seeing a slowdown in order call-offs, for example, from the consumer goods industry. The slowdown was due to the summer holiday season but was also driven by changing consumer spending behaviour in the face of rising inflation.
In July, the French kraftliner 175gr price stayed flat m-o-m at EUR 1,060/MT but still up by 18.1% y-o-y. There was an increase in kraftliner production and more imports from the US. According to market participants, demand has started to ease due to seasonality. Overall, the entire market for corrugated case material is no longer as tight as it was a few months ago.
The July price of French testliner 2 stayed flat m-o-m at EUR 950/MT, up 26.7% y-o-y. The yearly price trend was primarily driven by brisk demand from the e-commerce sector and high production costs.
The July price of GD2 increased by 1.3% m-o-m to EUR 1,845/MT, up by 48.8% y-o-y. Also, the July price of EU GC2 increased by 1.1% m-o-m to EUR 1,845/MT, representing a 25.9% increase y-o-y. Both prices increased due to the rising cost of natural gas and logistical challenges (high cancellation rates and scarce rail capacity). A few GD2 and GC2 manufacturers were also keeping an eye on the EU-wide gas-rationing plan to reduce gas consumption and are anticipating the potential temporary production stoppages as a result.