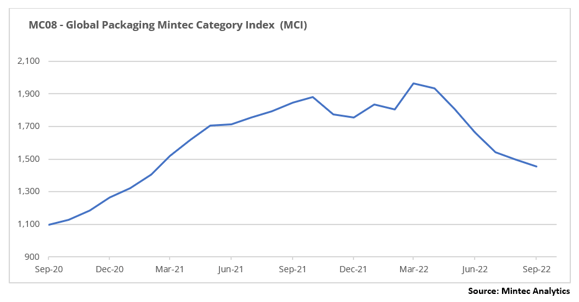 The Mintec Global Packaging Category Index (MCI) showed declined again in September, to USD 1,457/MT, down 2.7% compared to August. The index has fallen for six consecutive months on the back of declining plastics and metals prices in the EU and the US. However, paper prices have remained at historically high levels.
Plastics Market
In September, prices for all grades of EU and US plastics prices declined.
September's HDPEand LDPE prices in the EU continued the downward trend that had begun in July 2022. Thus, prices decreased by 6.7% and 5.7% m-o-m to EUR 1,716/MT and EUR 2,072/MT, respectively. The price of PP in the EU declined for the fifth consecutive month, down by 5.1% m-o-m to EUR 1,603/MT. The rate of decline is not slowing and even accelerated for some products in September. Business recovery from August's holiday season was subdued amid inflationary pressures that reinforced negative expectations. The market is still in a state of surplus. Furthermore, PE prices fell by 3-6%, and PP fell by 13%, y-o-y. In the EU PET market, prices fell by 7.6% m-o-m in September to EUR 1,664/MT, returning to the Q1 rates this year, offsetting the price hike seen in April 2022. According to market players, lower freight rates supported import levels and pushed prices down. Nevertheless, EU PET prices remain higher than a year ago, by 37%, due to last year's tight supply conditions.
Prices for most types of plastics continued to fall in September and reached the low levels recorded in 2021. However, in contrast to the European market, there are indications that US manufacturers are beginning to succeed in reducing supply to the market, as reported by market participants. At the same time, buyers in the US plastics market are keeping purchasing levels to a minimum in an effort to wait for the best prices. US HDPE and LDPE prices fell by 5.2% and 4.3% m-o-m in September, to USD 1,813/MT and USD 2,210/MT, respectively. US PP prices in September decreased by 2.2% m-o-m to USD 2,336/MT. Logistics problems in 2021 resulted in a high comparison base; thus, the US PP price shows a 42% y-o-y decline. After stabilising in August, US PET prices reduced again to USD 2,414/MT, down 3.1% m-o-m, but still higher y-o-y by 34% higher.
Metals market
The LME aluminium (3-month) price in September stood at USD 2,249/MT, down 7.5% m-o-m. The start of 2022 was marked by a huge rise in metal prices on the back of the Russia-Ukraine war. Expectations of sanctions boosted demand for Russian metal, primarily in Europe and the US, with LME aluminium prices reaching USD 3,543/MT in March. However, expectations did not materialise, as Russian aluminium continues to enter the market and sanctions against Rusal (about 6% of global aluminium production) are still under discussion.
China, the world's largest aluminium supplier, has recovered production after the COVID-19 restrictions and is now actively increasing exports. Preliminary data for the first half of 2022 shows a y-o-y increase of more than 30%, in unwrought aluminium exports. In contrast, many European producers are cutting output because of higher production costs, although the regional market is still oversupplied.
It is unusual for prices to decrease while LME stocks are diminishing, but the relatively high availability of materials at low prices is supporting inventory sell-off.
Hot rolled coil (HRC) prices in Europe and the US fell by 2.2% (to EUR 728.5/MT) and 6.9% (to USD 887.6/MT), respectively, m-o-m in September. Demand for steel will continue to stagnate in almost all countries, and the supply remains high. Concerns about steel shortages from Russia and Ukraine (3rd and 8th in global steel exports) have not become a reality. By Q3 2022, there had been a partial reversal of trade flows, and alternative suppliers came to the EU market.
Energy costs, especially in European countries, have become a significant factor affecting steel pricing in the second half of the year. In particular, electricity costs in Turkey (7th place in the world steelmakers' ranking) rose by over 50% in September. In the EU, electricity costs rose on average by 40% y-o-y during summer. As a result, some steelmaking capacity has been shut down. This has not yet led to production shortages, but the HRC price decreases have likely come to an end. Freight costs in 2022 have fallen by more than half compared to the previous year; however, this is a high base in comparison with 2021, when sea freight costs were extremely high. For example, Shanghai-Rotterdam container rates have dropped 38% since their record high in October 2021. In 2022, trade volume has fallen, and the price of logistics costs is now back in the range of previous years.
Paper market

Prices for French kraftliner 175g and semi-chemical fluting still remain at historically high levels. However, kraftliner prices have already started to decline in southern Europe, as supply has been better than expected. Additionally, recovered paper prices are declining, and energy prices have fallen from their August peaks. Despite relatively steady price increases this year, market demand remained weak in September. Although there was lower demand for these grades, market participants still reported good orders, with an order backlog stretching into October. After the end of the summer holiday period, business activity in Europe was slow. According to IFO surveys, Germany's business climate continued to deteriorate in September, and the IFO expectations index had already approached the lows of 2020 when uncertainty was driven by the COVID-19 pandemic.
In September, the EU GD2 price rose to EUR 1,785/MT, and the EU GC2 price rose to EUR 2,045/MT, up 13% m-o-m and 38% m-o-m, respectively. The price increase was expected by market players and is primarily a reflection of expensive gas and electricity prices in the region, which constitute a high amount of the production cost. According to market sources, manufacturers' capacity utilisation has decreased, as energy costs remain a challenge for cardboard producers. However, producers have large inventories compared to a few months ago, therefore, energy and recovered paper costs are starting to fall. Consequently, market players believe cardboard prices could fall in October or November.