Market participants surveyed by Mintec in the first week of May were expecting lacklustre shipments and new sales ahead of the April position report, which is due for release on 11th May. Estimates for April almond shipments were reported in the range of 190-240 million pounds, with most market participants returning figures of 200-220 million pounds.
"It isn't much of a surprise that industry is expecting lower shipments. Sellers have been reluctant to engage over the past several months in the face of lower 2023 production and buyers have been happy to work down stocks unless the price from origin is right. If we reach 200 million pounds, I'd say it puts us in a fairly good position moving forward," a US exporter disclosed to Mintec.
Based on the current inventory levels from the March position report, an average shipment number of 210 million pounds in the remaining months of the season (April-July) would put ending stocks close the 700 million pounds. To reduce ending stocks to 600 million pounds, an average of 230 million pounds would have to be shipped each month.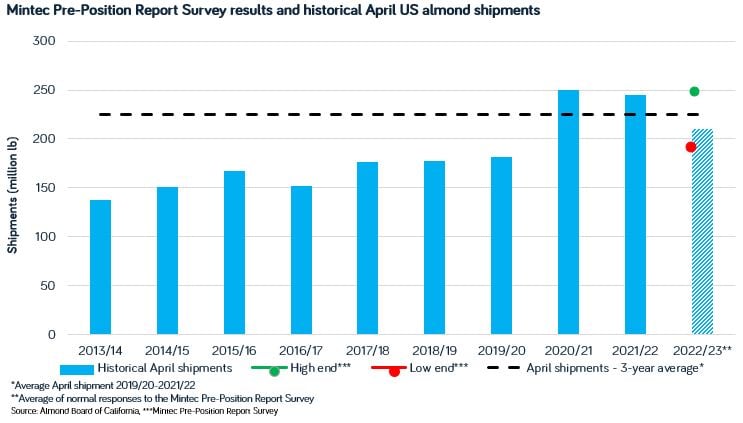 To stay up to date on developments in the almond markets, subscribe to the Mintec Weekly Almond Report by emailing Nuts@Mintecglobal.com. The report, which is released each Thursday, provides in-depth information on pricing and market dynamics.