Market participants surveyed by Mintec in the first week of January were expecting lacklustre shipments ahead of the December position report, which is due for release on 12th January. Estimates for December almond shipments were reported in the range of 175-210 million pounds, with most market participants returning figures of 185-195 million pounds.
"I'm hoping for a figure over 200 [million pounds], but I feel it is more likely to be flat on last season. Honestly, either way I doubt it will raise prices, so at this point I'm hoping we don't see any further decline," a US exporter stated.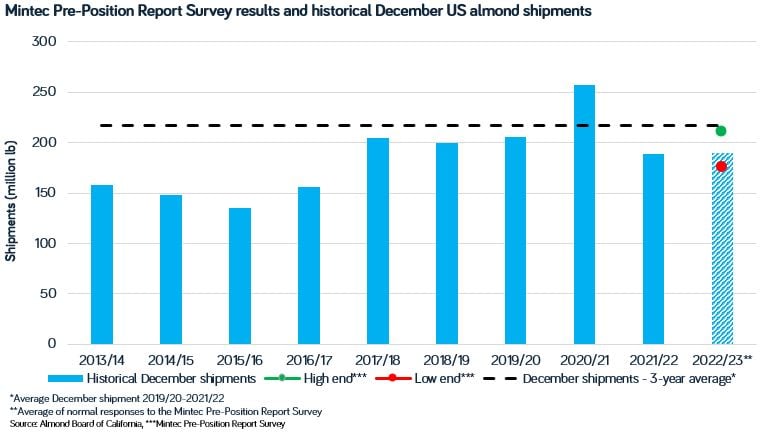 Several sellers mentioned their expectation that only a significant year-on-year decline in crop receipts would lead to a rise in prices at this point.
"Unless crop receipts show a significant decline, I wouldn't expect any positive reaction to the position reports over the next few months. If we see final receipts fall to 2.5 billion pounds or lower, that could potentially spur some buying which would eat into ending stocks and hopefully boost prices. However, it doesn't seem likely at this stage," a US handler said to Mintec.
Commitments were expected to continue to lag behind normal levels, due to the recent changes in buyer behaviour this season. On this topic, one European trader said, "buyers appear to be moving towards reactive purchasing this season in order to ensure they don't build up large stock levels if retail sales are lower than expected. As a result, we have seen fewer people locking in volumes for further out in the season."
To stay up to date on developments in the almond markets, subscribe to the Mintec Weekly Almond Report by emailing PRA@Mintecglobal.com. The report, which is released each Thursday, provides in-depth information on pricing and market dynamics.