Market participants surveyed by Mintec in the first week of August were expecting a year-on-year increase in July shipments ahead of the July position report, which is due for release on 11th August.
Estimates for July almond shipments were reported in the range of 170-200 million pounds, with most market participants returning figures of 175-190 million pounds. If realised, a July shipment figure of 180 million pounds would be an increase of 6% y-o-y, 7% below the three-year average (2020-2022) for the month.
"We saw a large increase in activity over the last two weeks in July which helped lift our export figures. This appears to be the case for most we spoke to; they are up year on year, with a slow start to July and a strong finish. Luckily August seems to be keeping up the momentum; low prices are good for something, I guess," a US handler said to Mintec.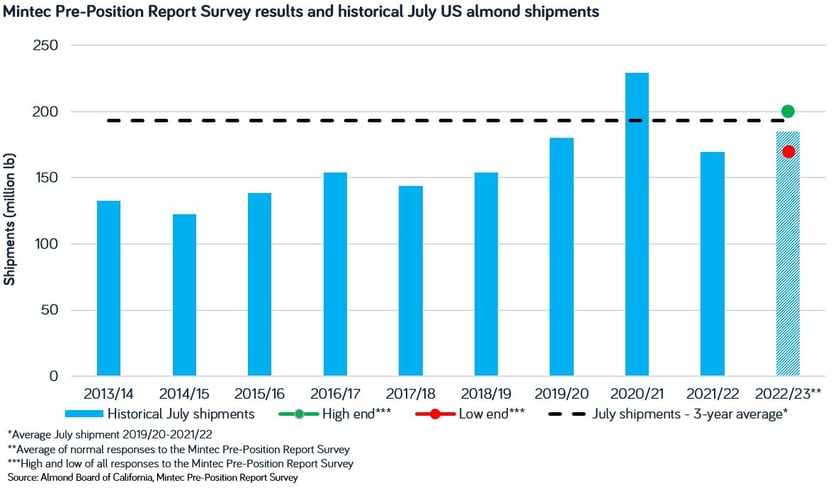 These figures would put 2022/23 ending stocks between 775-805 million pounds, a drawdown of only 30-60 million pounds from the start of the season.
"I don't see much potential for prices to move significantly upward unless there is a large downward revision to crop production numbers. Realistically we are going to be stuck like this until December at a minimum; the carryout is simply too large," a separate US exporter stated.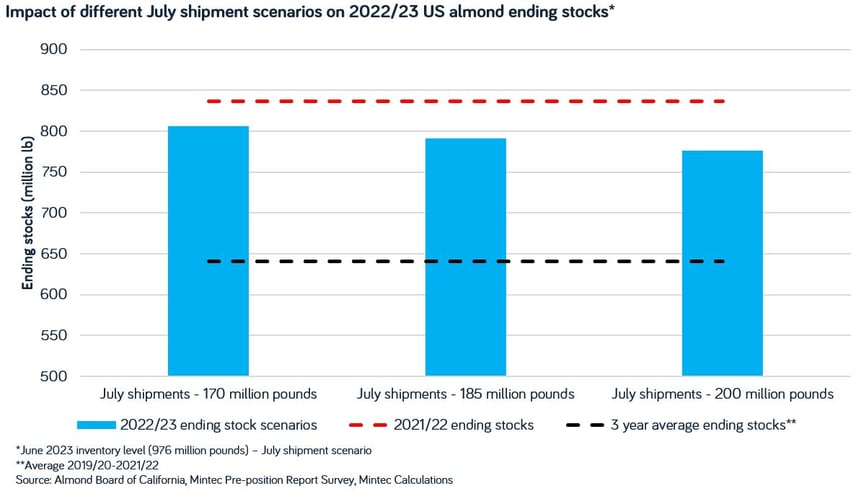 To stay up to date on developments in the almond markets, subscribe to the Mintec Weekly Almond Report by emailing Nuts@Mintecglobal.com. The report, which is released each Thursday, provides in-depth information on pricing and market dynamics.