The June position report, released on 11th July by the Almond Board of California, showed June shipments totalled 187 million pounds, down 33% y-o-y and the lowest June shipment figure since June 2020.
Prior to the release, market participants surveyed by Mintec were expecting shipments in the range of 178-225 million pounds, with most market participants returning figures of 190-205 million pounds.
New sales were reported at 155 million pounds, 36 million pounds above the same period last season. However, the total sold position continues to trend below average at 84%, 6 percentage points below the five-year average.
New crop sales were reported at 122 million pounds, the lowest figure for this point in the season since the Almond Board of California began reporting these figures in 2017.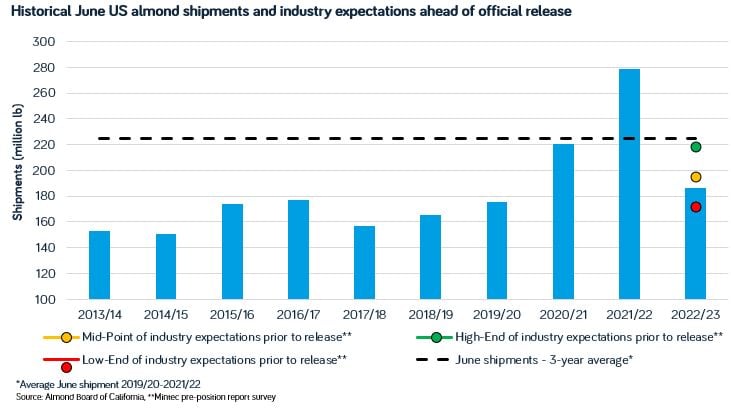 The lack of volume for new crop sales comes as little surprise, with buyers reluctant to lock in volumes for new crop at price levels seen in June. Moving into July, there is an expectation from buyers that new crop sales will remain below historical norms unless premiums erode, with most buyers expressing an intent to adopt a more 'hand-to-mouth' sourcing approach moving into the new season.
"We have plenty of options; Spain has a large crop coming online as well. If US prices move up significantly, we will switch onto Spanish supply, so there is very little risk to taking a 'wait-and-see' approach," a European processor said to Mintec.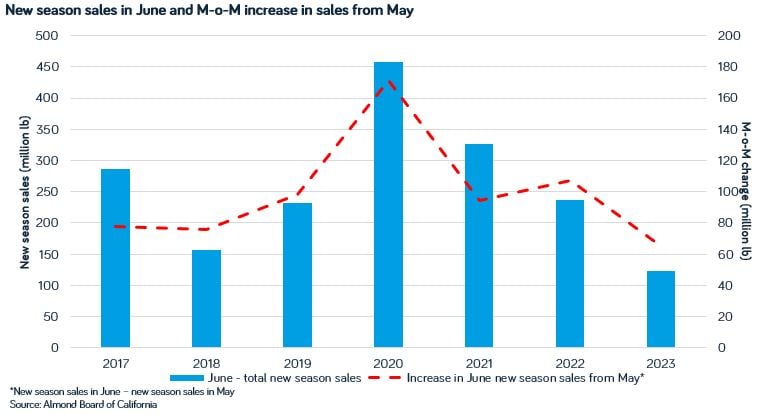 To stay up to date on developments in the almond markets, subscribe to the Mintec Weekly Almond Report by emailing Nuts@Mintecglobal.com. The report, which is released each Thursday, provides in-depth information on pricing and market dynamics.