The Intercontinental Exchange (ICE) arabica price averaged USc 229.8/Ib for the six-months from Jan-Jun '22. This represents a half-year-on-half-year (h-o-h) increase of USc 27.9/Ib (+13.8%), while also increasing by USc 91.4/Ib (+66.0%) year-on-year (y-o-y). The monthly average price peaked at USc 246/Ib in February 2022, which is the highest point reached since USc 260.4/Ib in September 2011.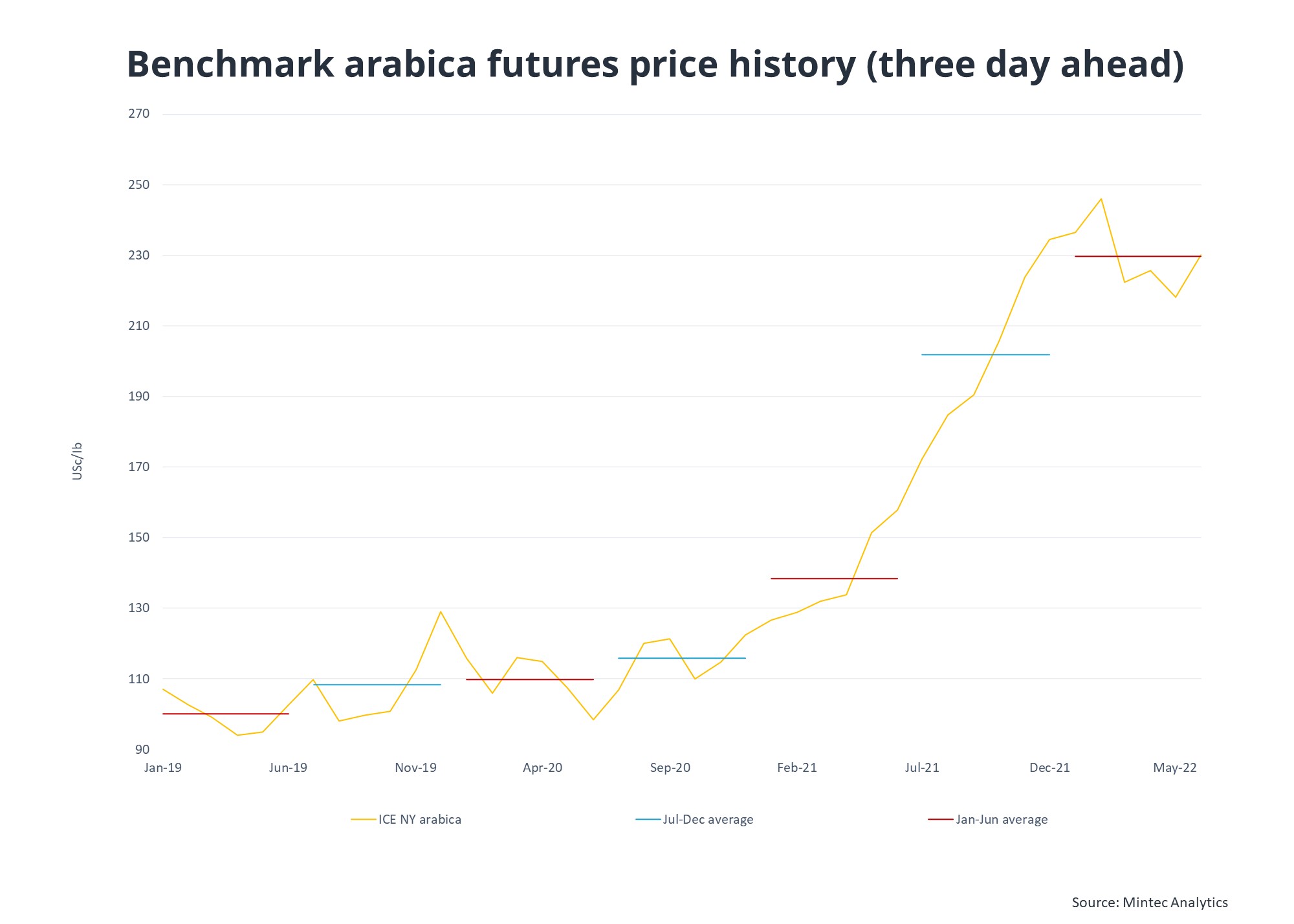 The surge in arabica prices was supported by several key fundamentals. Most notably, supply concerns in top producer Brazil, related to unseasonably dry weather and frosts across key growing regions during the 2021/22 biennial 'off year' harvest, and potential ramifications for the larger 2022/23 crop. The bullish backdrop was compounded by a substantial decrease in certified stocks, amid surging inflation, a rise in speculative long positions and firm origin differentials. The monthly average price softened from the February peak, trading between USc 218-230/Ib over the ensuing four months, with a strong USD vs BRL a key contributing factor.
The robusta benchmark eased from the 11-year high peak (USD 2,317/MT) of December 2021 and flattened around USD ,2,100/MT through late-Q12022 and Q2 2022. This was partly due to concerns easing regarding the size of the harvest and logistical issues in Vietnam, the world's top supplier. At USD 2,131/MT the robusta benchmark six-monthly average price increased respectively by USD 66.0/MT (+3.2%) h-o-h, and by USD 680.4/MT (+46.9%) y-o-y during Jan-Jun '22.