Market participants surveyed by Mintec in the first week of September had a varied picture of August shipments ahead of the release of the August position report on 12th September. Estimates for the August shipment figure were reported in the range of 180-230 million pounds, with most respondents returning figures of 190-210 million pounds.
The variance between responses was higher than in previous months, with market participants attributing the lack of consensus to difficulty pinning down how the weather-related delays to inshell packing will impact the final shipment figure.
"Until the last week of August, I would have expected a very strong figure, but the delays to harvest and inability to process the early harvested crop into inshell have left a lot of people in a difficult position. I know one shipper who has had to reject trucks left and right, they were supposed to ship 15 loads of inshell in August but only managed to get one out," a US exporter said to Mintec.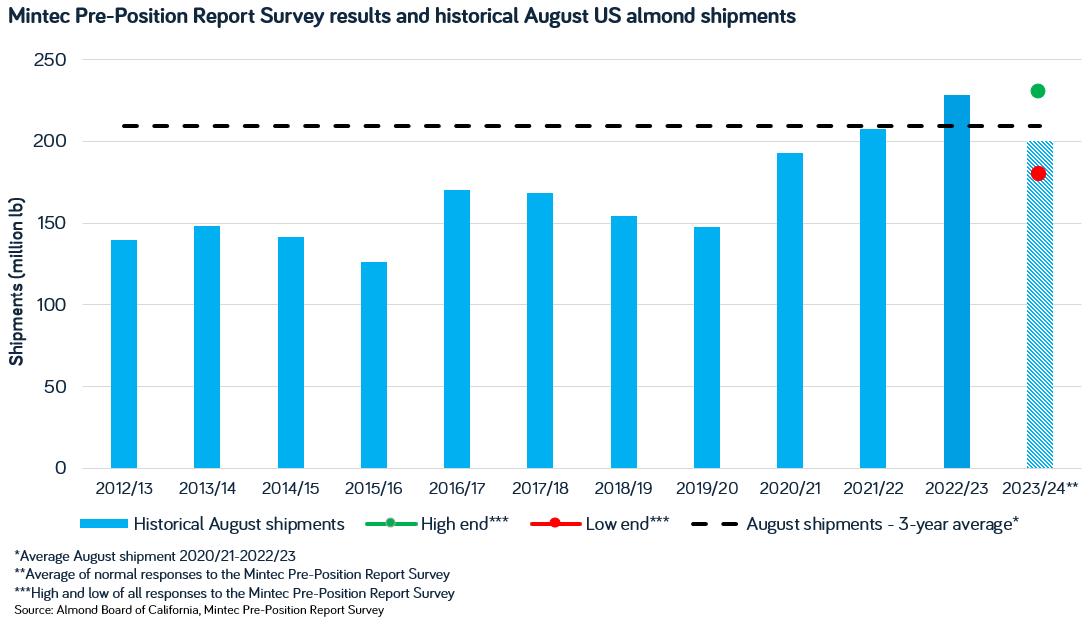 The wet weather caused by Tropical Storm Hilary led to increased staining and concerns over mould growth for early harvested crops. As a result, these crops cannot be sold as inshell, which has led to the inability to fill contracts for shippers who had committed to shipping inshell early in the season.
These issues have led to suggestions that several shippers have been shipping quantities of inshell with higher levels of serious defects than typical to fulfil contracts.
"I've heard of containers of inshell going out with 7-10% serious damage to meet early season commitments. I've had to stop machines and send several truckloads back to hullers already due to quality issues. Normally we'd be running the plant 24/7 at this point in the season packing and shipping, but the delays to harvest and rejected loads have meant we are spending a lot of time idle," a US seller stated.
Market participants expected a good new sales figure for the month, with one trader remarking that "sellers have done a good job of shifting old crop for Q4 shipment and that should be reflected in new sales. Commitments for further forward is a question mark given how many people pulled back from offering new crop over quality concerns."
To stay up to date on developments in the almond markets, subscribe to the Mintec Weekly Almond Report by emailing Nuts@Mintecglobal.com. The report, which is released each Thursday, provides in-depth information on pricing and market dynamics.