Mintec's 2022 Thanksgiving Dinner Index
With prices of key staples such as turkey, butter, vegetables, wheat and sugar all increasing by double-digit percentages over the previous year, Mintec's Thanksgiving Dinner Index has risen to its highest October value since the index began in 2019. The Thanksgiving Dinner Index, which measures price fluctuations across key food commodities that make up a traditional Thanksgiving dinner, rose by 15.8% in October 2022 compared to the same point last year.
While weather and poor growing conditions have had some impacts on individual commodity prices, and the Highly Pathogenic Avian Influenza (HPAI) has had profound effects on turkey prices, higher input costs, such as labor and energy (electricity and gas in particular), have driven prices upwards for most commodities. These issues have also affected logistics costs, with prices for road freight significantly higher year-on-year (y-o-y) despite modest declines in diesel prices across the US in recent weeks.
The index for the main meal, which includes commodities such as turkey, pork, and vegetables, has risen by 16.6% over last year. The impact of the HPAI has been dramatic, with prices up 25% over the previous Thanksgiving period. Likewise, the cost of bread has risen, with wheat costs in the US increasing due to the war in Ukraine and high global demand.
Mintec's dessert index, representing the traditional southern classic pecan pie, grew by 8.5% y-o-y, as elevated pecan, butter and sugar prices are all underpinned by inflation.
Mintec's Thanksgiving Dinner Index comprises the main meal (meat, vegetables, bread, nuts) and the traditional pecan pie for dessert.
Chart 1: Thanksgiving Dinner Index - commodity prices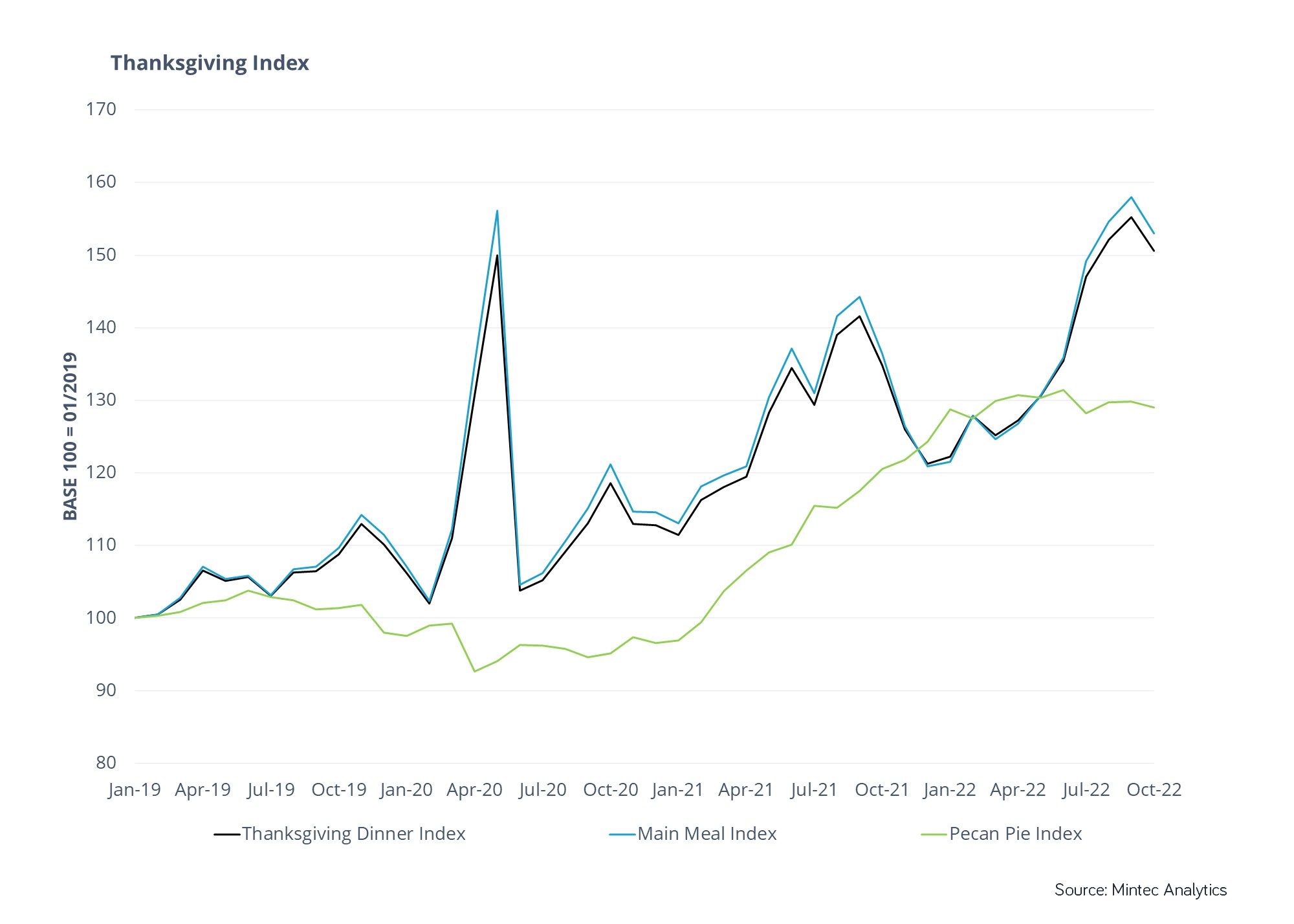 Breakdown by components
Chart 2: Main Meal Index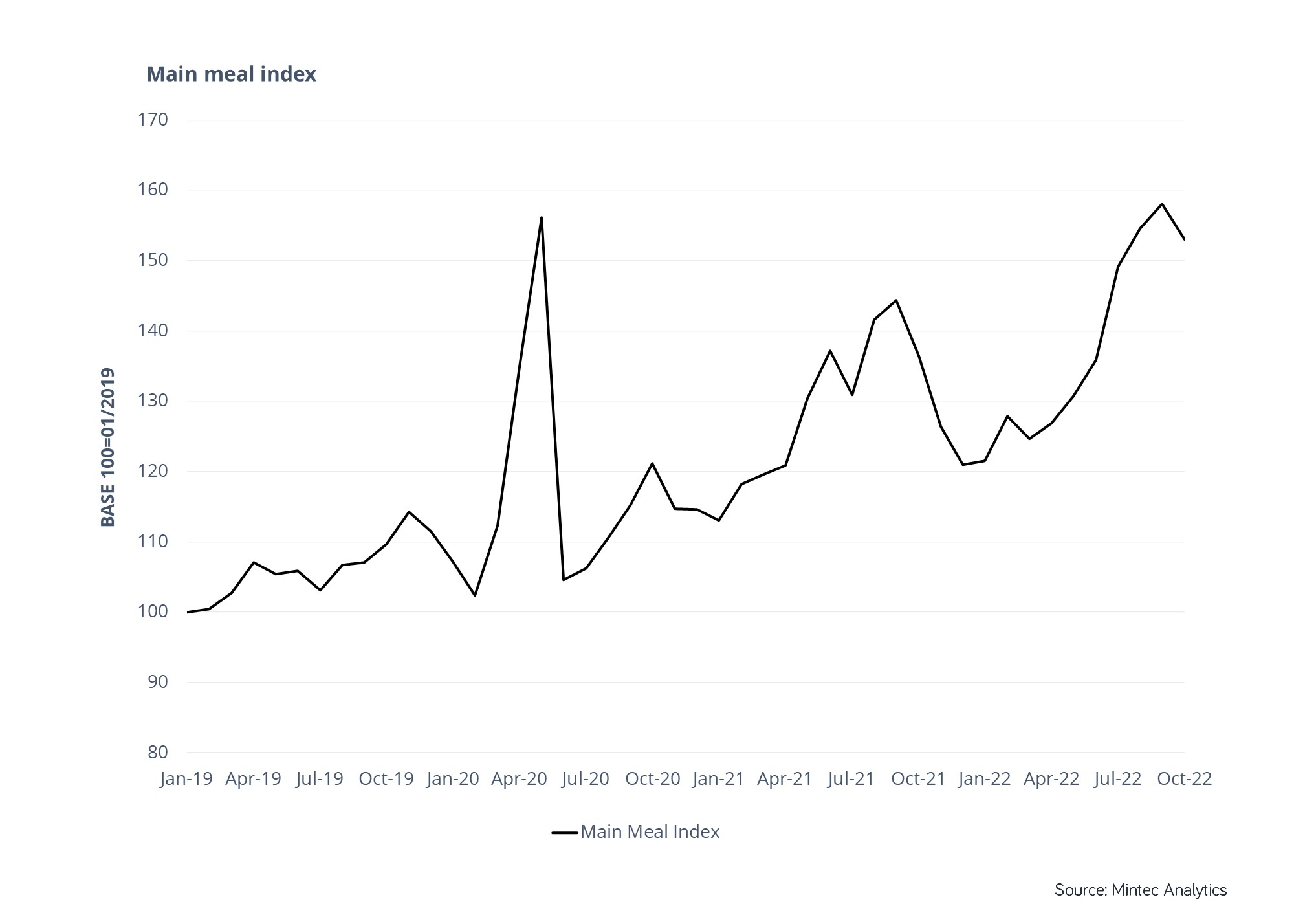 Turkey
The US monthly average price of turkey rose 25.2% y-o-y to $1.90/lb in October 2022 on the back of a decline in turkey meat production amid the Highly Pathogenic Avian Influenza (HPAI) outbreak in the country. As a result, turkey production in Q3 2022 was 10% below Q3 2021. Between August 26 and October 7, 1.79 million turkeys were lost to the second wave of HPAI. 7.15 million turkeys were lost because of HPAI between January and October 2022, which accounts for approximately 3.3% of average annual turkey production in the US. Consequently, US turkey supplies remained tight, leading to an increase in turkey prices. While production in 2022 (through October) has been well below typical levels because of HPAI, the storage data suggest that producers have prioritized building up supplies of whole hens in time for Thanksgiving. This could prevent prices from rising further during the Thanksgiving period. However, according to the United States Department of Agriculture (USDA), the production losses due to HPAI are expected to continue for the rest of 2022 and H1-2023. As a result, US turkey prices will likely remain firm beyond the Thanksgiving period and into the first half of next year.
Pork
The price for pork loin was reported at $1.28/lb, down 9.2% y-o-y in October. Although the barbeque season supported prices for pork loin between June and September, demand has seasonally fallen since. Ham prices reached $1.05/lb, an increase of 4% on the month, also supported by barbeque season demand. Prices for ham remain supported by strong domestic holiday demand. Reduced availability due to declining slaughter rates was also a factor in price rises.
Prices for pork sausage edged upwards during October, increasing 4.7% on the year, driven by high demand linked to the upcoming festive season, in combination with increasing production costs.
Price support for ham and sausage also came from increased demand from US consumers, who substituted high-priced beef for pork to mitigate the impact of food price inflation. The upcoming holiday season is expected to lead to greater demand in the market.
US pork exports declined by 3.1% in August compared to last year and are expected to decline by 9% when comparing 2022 to 2021. While Chinese pork imports have fallen significantly due to a recovery of the domestic pig herd, other international partners, such as Mexico and South Korea, increased their demand for US-produced pork throughout the year. However, the strong US dollar has reduced US competitiveness in the global pork market throughout 2022.
Potatoes
The price of US potatoes rose significantly in October 2022, up by 97% y-o-y to $0.26/lb. Prices are elevated due to a decline in acreage and yields across the US, combined with higher production costs. These factors are putting significant financial pressures on growers due to reduced profit margins. According to the USDA, the amount of land devoted to potato planting is expected to decline by 3% y-o-y in 2022, to 910,000 acres. Acreage in Idaho, the main potato-producing state, is set fall to its lowest level since 1965.
The season started off with colder-than-average weather, which delayed crop progress. Excessive heat then followed throughout the summer months, a critical development period for potatoes. Dry conditions caused a lack of deep soil moisture, which is necessary for potatoes to grow. Consequently, growers reported a drop in yields, lower quality and more smaller-sized potatoes. Potato growers are also facing higher production costs, largely from energy, fertilizer and transportation, adding to the upward price momentum.
Prices have also been supported by firm demand, and this is expected to remain strong as the US approaches the festive season. However, rising inflation combined with growing fears of a recession could impact consumption patterns. Processed and fresh potato product sales may pick up if shoppers begin to view these products as value for money at a time when the cost of living is rising.
Sweet potatoes
In contrast, US sweet potato prices declined slightly by 3.8% y-o-y to $0.50/lb in October 2022 in line with plentiful supply that currently outstrips demand. Favorable weather in North Carolina, the largest sweet potato-producing state in the US, led to higher yields this season, according to market sources. In line with seasonal trends, sweet potato prices typically decline as growers harvest throughout September and October. Therefore, at this time of year, the largest proportion of sweet potatoes are available on the market, keeping prices subdued. As stock levels decline, supply and demand are likely to come into balance later in the season.
Despite the decline in prices, growers continue to grapple with higher input costs, including fuel, transportation, and labor.
Carrots
The price of US carrots rose by 24.3% y-o-y to $0.64/lb in October 2022, attributed to higher input costs combined with tighter supply. Area devoted to carrot production has declined in the US due to increasing labor and farming costs. These costs have turned some farmers to alternative crops. Growers in California, the largest carrot-producing state in the US, face supply shortages amid a prolonged drought and a shortage of water for irrigation. This is reportedly leading to the loss of some fruit and vegetables because growers only had enough water to irrigate priority crops with the highest value and returns.
Additionally, the cost of energy, fertilizer, sprays and seed have all risen significantly, driving up the cost of production. Furthermore, a farm labor supply shortage remains, following the impact of the pandemic which forced some individuals out of work. Thus growers continue to face increasing pressure to raise wages in order to fill labor shortages, as well as to keep up with elevated wages.
Almonds
The Mintec Benchmark Prices of Californian almonds (standard 5% almonds, FAS US) fell by 29% in the 12 months through to October 2022, to an average of $1.57/lb. The decline was driven by muted consumer demand in the face of ongoing inflation in many markets, combined with good availability of almonds despite the current drought in California. The tightening of consumer budgets led to a decline in retail sales across the nut and dried fruit category, with Mintec industry sources estimating that volumes of tree nuts have fallen 20-30% against "normal" levels.
Additionally, the strength of the US dollar against many currencies in major buying regions has increased costs for importers outside the US. This has heightened pressure on US prices as buyers push for cheaper prices denominated in US dollars to offset unfavorable exchange rates.
Chart 3: Bread Index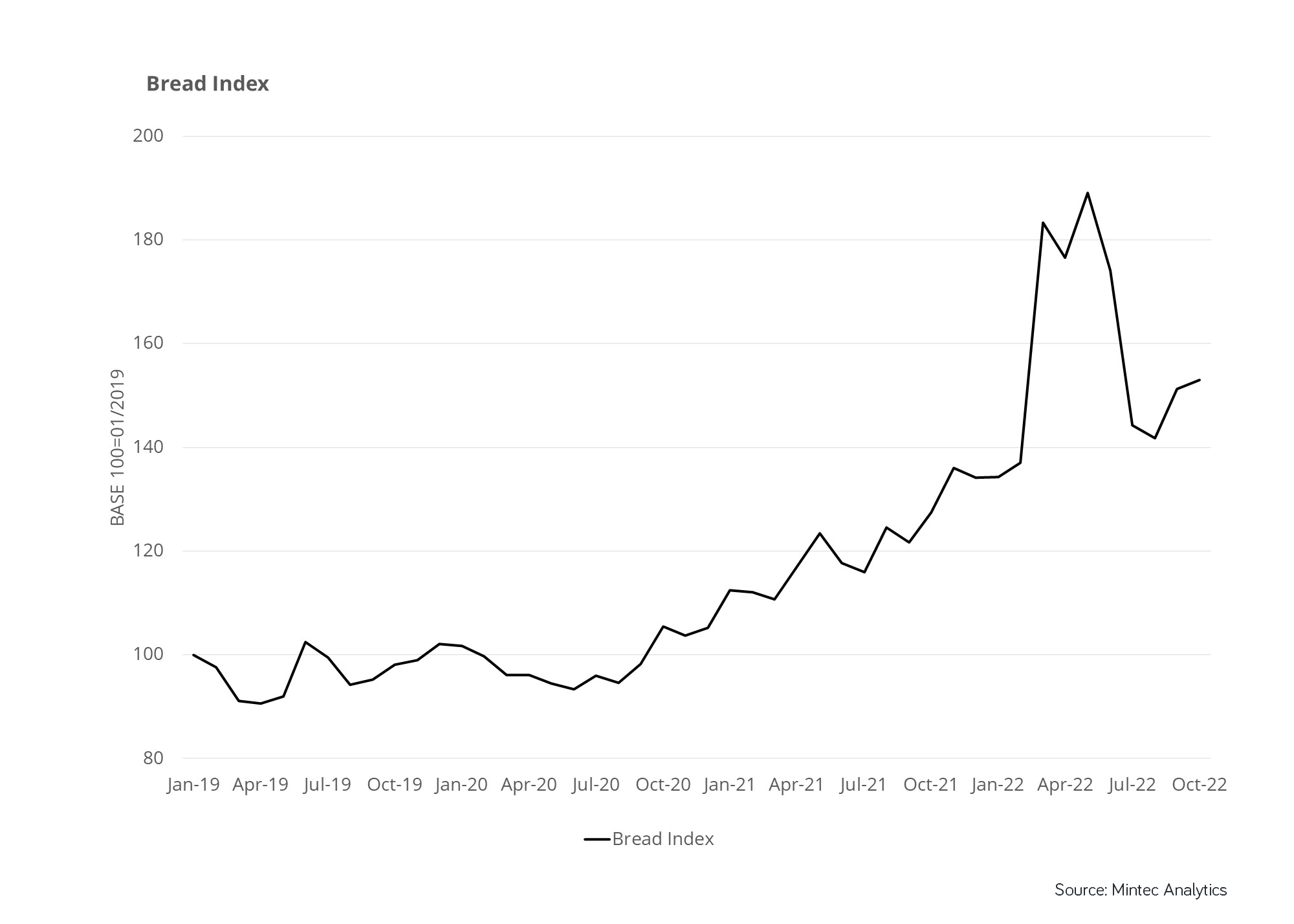 Wheat flour
The average price of US wheat on the Chicago Merchant Exchange (CME) reached $0.145/lb in October 2022, up 16.7% y-o-y. The price increase was driven by the increased demand for US wheat due to uncertainty regarding the Ukrainian grain corridor deal's future and tighter 2022/23 stocks across major wheat exporters. Wheat flour prices increased to a record high in May 2022 amid the Russia-Ukraine war, as both countries combined represent 25% of wheat export share. However, since August, prices have moved lower on the back of the grain corridor deal that was signed between Ukraine, Russia, Turkey and the United Nations on July 22 for 120 days. Additionally, dry and hot weather conditions in the western US Great Plains and much of Argentina have supported wheat flour prices during the last few months. A Mintec source added, "The lack of rain, together with high temperatures and then frost, will likely lead to lower protein levels and smaller Argentinian wheat crop." Currently, Argentinian wheat production is estimated at 11.8 million metric tons. If realized, this would be the smallest crop in seven years, further tightening the global wheat outlook and supporting US wheat flour prices as global players look to the US for sourcing.
Chart 4: Dessert Index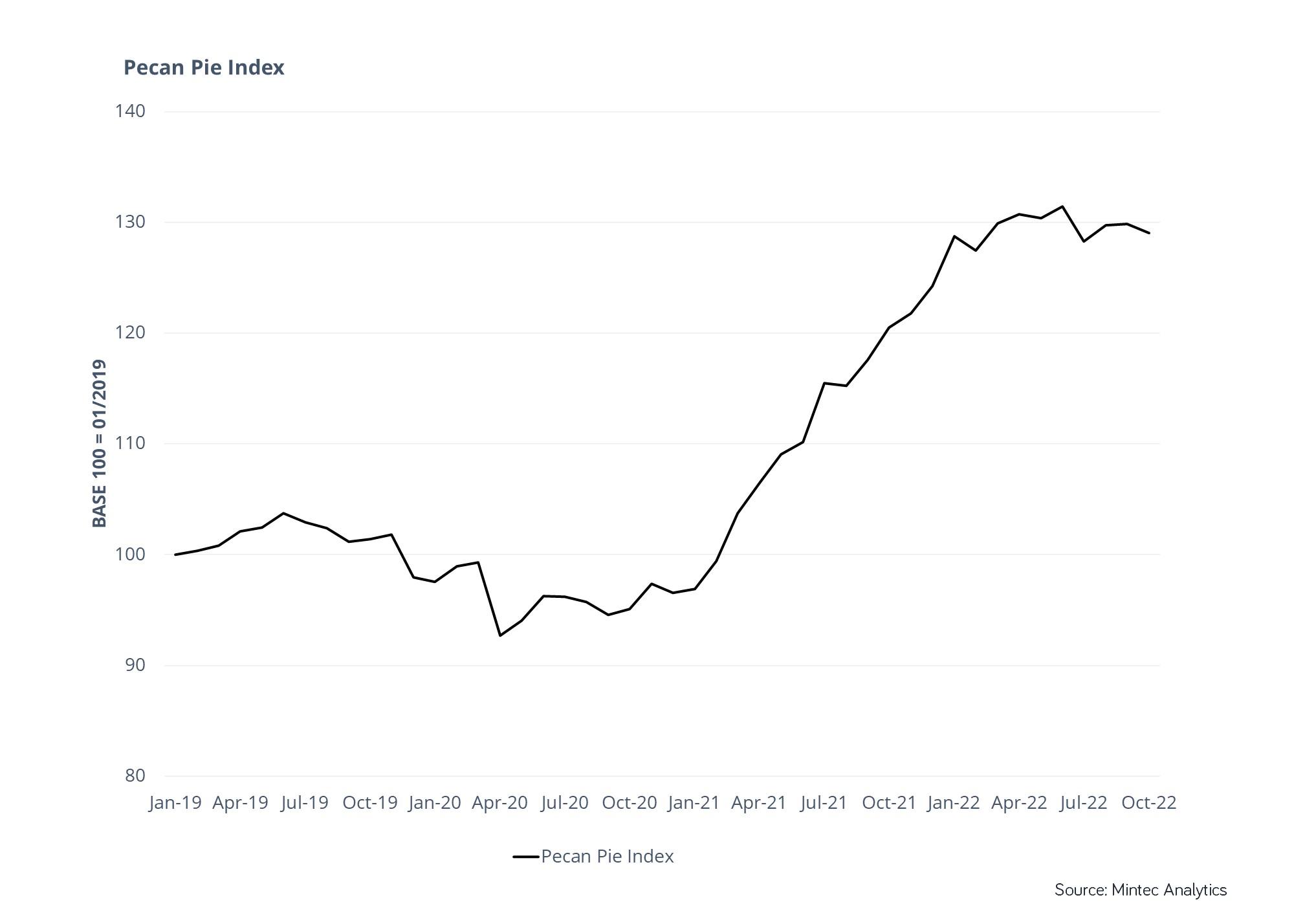 Thanksgiving meals are traditionally followed by a dessert of either a pumpkin pie or a pecan pie, and the Mintec dessert index is made up of a pecan pie recipe.
Sugar
The spot price of raw cane sugar (#16) at the InterContinental Exchange (ICE) New York reached an average of USc 34.59/lb in October 2022, a decrease of 7% y-o-y and a drop from a 10-year high in October 2021 of USc 38.62/lb.
Although raw sugar cane prices have declined from the previous year, Mintec has heard from market sources that 2023 refined sugar prices from both beet and cane have experienced increases of approximately 30% y-o-y, in large part due to higher electricity prices. Energy costs generally represent a large majority of refined sugar costs. The US Energy Information Administration's most recent average industrial price of electricity was reported at $9.72/kWh, a 27% jump from the same point in the previous year.
In addition to the high costs of raw materials, weather events have impacted supply. In September, Hurricane Ian made landfall in Florida as a Category 4 storm. Florida produces nearly 52% of the total US volume for sugar cane, with most of the production taking place in Palm Beach County. Harvest typically occurs between late October and mid-April, but the weather has caused a slight delay.
Hurricane Nicole made landfall in Florida on November 10. The storm brought strong winds, rain, and flash flooding to select areas, which could inflict further damage to crops like sugar cane just weeks after Hurricane Ian ripped through the state.
The USDA reported that sugar beet production has been reduced to 28.8 tons per acre, reflecting a 13.3% decline from last year's record high of 33.2 tons per acre. The WASDE showed beginning stocks of sugar grew slightly y-o-y, leading to a modest decline in production. Sufficient beginning stocks have put the US in a position where ending stocks are about 6.4% higher than the same time a year ago. However, the additional supply has been counteracted by rising input and production costs, supporting high sugar prices.
Meanwhile, inflation has been hovering at nearly 40-year highs since June, with increases in food prices boosting the overall average. The Bureau of Labor Statistics reported that sweets of all types are more expensive than a year ago, driven by an increase in sugar prices. In addition to the increase in the price of sugar due to inflation, IRI data shows that the prices of other baking products have risen. According to IRI data, sales of brown and powder sugar have risen by 185% over the past five years in the runup to Thanksgiving. Although 38% of consumers expect to pay more for groceries this Thanksgiving, they plan to purchase the same amount. This suggests strong demand for sugar and sweeteners during the remainder of 2022 as the holiday season gets underway.
Pecans
The Mintec Benchmark Prices of US pecans were up by 7.6% in the 12 months to October 2022, to a monthly average of $5.97/lb. The market primarily rose in the closing weeks of 2021 and early in 2022 due to the anticipated production decline in the US in 2021. In October 2021, the USDA estimated that the size of the 2021/22 US pecan crop would be 258 million lbs, a decline of 15.5% y-o-y. By January 2022, the benchmark rose to $6.30/lb.
The market then stabilized, with prices showing very little movement between February and September. Nonetheless, prices dipped below the $6.00/lb level in October as sentiment in Europe has been hampered by concerns over an economic recession and rising supplies. For the 2022/23 campaign, the USDA published its first crop production estimate in October, pegging the pecan output at 290.5 million lbs, an increase of 14% y-o-y.
Vanilla
The Mintec Benchmark Prices of Madagascan vanilla, the world's largest producer, were unchanged both m-o-m and y-o-y at $250/kg ($113/lb) in October, in line with the minimum export price imposed by the Malagasy government in 2020. The floor price of $250/kg is also maintained for the current export campaign, which started in September.
Butter
The October average price of US butter rose by 1.3% m-o-m to reach $3.19/lb. Prices have increased significantly since October last year, up 77.2%, due to the combination of higher domestic and international demand, and declining butter production.
US butter production declined by 1.4% m-o-m in August 2022, bringing the butter production for the January to August 2022 period to 1.39 billion lbs, down by 2.2% y-o-y, with the peak in butter production already ended. Low milk availability limited cream supply during the first half of 2022, as the industry struggled with rising feed, energy, and labor costs. Cream availability has increased during the second half of the year, but supply remains tight.
Additionally, US domestic butter consumption is forecast to grow by 2.8% y-o-y in 2022, according to USDA data. While this is partly linked to demand in the food service sector returning to pre-pandemic levels, consumer buying interest in dairy products has also increased. Nonetheless, retail demand has been weaker. While the peak production season has already passed, the peak season for buying is starting with Thanksgiving demand. US inventories are estimated to decline by 27% y-o-y in 2022, according to USDA data, due to strong domestic consumption and good export demand.
Concluding remarks
Despite the strong resurgence in US consumer spending and economic recovery following pandemic lockdowns, energy price inflation and logistical bottlenecks have continued to substantially impact commodity prices throughout 2022, which will undoubtedly make this one of the most expensive Thanksgiving dinners in recent years. Though the recent easing of inflation has already caused some prices to dip, US shoppers will not be able to benefit from that this year. With early indications that the drop in fuel and energy prices is causing some commodity prices to soften, US consumers can look forward to a potential return to a more normal price environment by Thanksgiving in 2023.