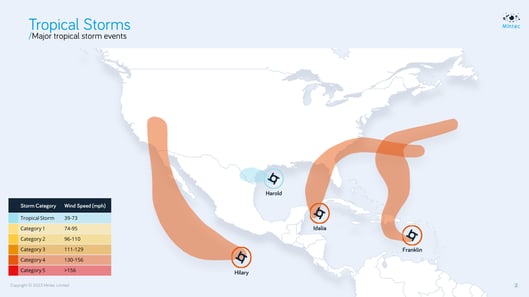 Data and insights have been taken from the Mintec August 2023 Weather Report. To find out more about this full service, get in touch today.
The hurricane season of 2023 has recently brought with it two formidable storms, Idalia and Hilary, which wreaked havoc on the agricultural landscapes of Florida, Georgia, South Carolina, Baja California, and California. These natural disasters had far-reaching consequences, from the loss of crops to potential disruptions in global markets.
Hurricane Idalia's Wrath on Southern Agriculture
On the 30th August, Hurricane Idalia made landfall in Florida, leaving a trail of destruction as it moved into Georgia and South Carolina. While it had initially peaked as a Category 4 Major Hurricane, it struck the land as a Category 1 Hurricane, eerily reminiscent of the devastating Hurricane Ian that had hit just a year prior.
The storm's strong winds and torrential rain took a heavy toll on agriculture across the affected states. Pecan orchards, cotton fields, maize (corn) crops, and tobacco plantations suffered significant losses. Perhaps most distressing was the loss of approximately 5 million chickens. However, it was the pecan industry that bore the brunt of Idalia's fury.
In Georgia, where a substantial portion of the United States' pecans are grown, the hurricane wreaked havoc. Mature pecans were stripped from their trees, while some trees were uprooted entirely. Reports from affected orchards in southern Georgia estimated that 20% to 25% of pecan trees had been lost, with a staggering 50% reduction in the expected pecan harvest. Concerns loomed over the quality of pecans remaining on the trees. Given that Georgia produces around one-third of U.S. pecans, and the U.S. accounts for about 35% of global pecan exports, it is likely that both domestic and international pecan markets could be significantly affected. Furthermore, the loss of young pecan trees, most of which were below 20 years old, will impact future harvests, as replacement trees will take time to grow and mature. In essence, Hurricane Idalia has left a lasting mark on the south Georgian pecan industry.
Hurricane Hilary's Impact on California's Agriculture
While Hurricane Hilary peaked as a Category 4 Major Hurricane, it made landfall in Baja California, Mexico, on the 20th of August as a Tropical Storm. The storm, however, didn't stop there and quickly moved north into California, bringing unseasonable rain and damage to a wide variety of vegetables and fruits, ultimately delaying their harvest.
One of the most severely impacted crops was almonds, a crucial commodity for both California and the global market. California is responsible for producing a staggering 80% of the world's almonds, and the storm struck just as the harvest was beginning. Typically, almonds are shaken from the trees and left to dry on the ground for over a week. However, the excessive rain resulted in many almonds on the ground becoming damaged and rotten. Additionally, concerns arose that the increased humidity would lead to diseases affecting the almonds that remained on the trees, further delaying the harvest. The global supply of almonds may indeed be impacted due to these unforeseen challenges.
Tomatoes and table grapes also suffered significant damage due to Hurricane Hilary. The storm conditions caused tomatoes and grapes to split, while the excess moisture put the vines at risk of disease. Loss estimates for these crops range from 20% to 50%, meaning that the national supply will undoubtedly be affected. Considering that the U.S. is a significant exporter of grapes, some trading partners may also feel the repercussions of this damage.
In conclusion, the 2023 hurricane season delivered a one-two punch with Hurricanes Idalia and Hilary, leaving a lasting imprint on the agricultural landscapes of the affected regions. While Southern pecan growers grapple with the aftermath of Hurricane Idalia, California's almond, tomato, and table grape industries are counting their losses from Hurricane Hilary. These natural disasters serve as stark reminders of the fragility of agriculture in the face of climate-related challenges and underscore the interconnectedness of local and global food supply chains. As these regions work towards recovery, the impact on markets, both domestic and international, remains a concern for the future.
How are storms like these affecting commodity markets, and what impact will this have on supply chains, food production and more, for procurement professionals?
Explore Mintec to learn how leveraging extensive data and insight on extreme weather can help you mitigate risks and maximize opportunities during turbulent times. Get your free trial of Mintec platform, now.