The December Position Report, released by the Almond Board of California on 12th January, showed December almond shipments reached 206 million pounds, an increase of 9% year-on-year (y-o-y) and only 2% below the five-year average.
The figures were above average industry expectations prior to the release, with the majority of market participants surveyed by Mintec ahead of the release of the report estimating December shipments in the range of 185-195 million pounds. The full range of responses from the Mintec pre-Position Report survey can be found via this link.
"I'm not surprised it was above where the industry pegged it. We had several Spanish processors looking to lock in large volumes for prompt shipment prior to Christmas and we heard of similar behaviour out of the Middle East. However, we weren't sure of how much actually got done, which made it hard to pin down a figure ahead of the report," a US trader said to Mintec.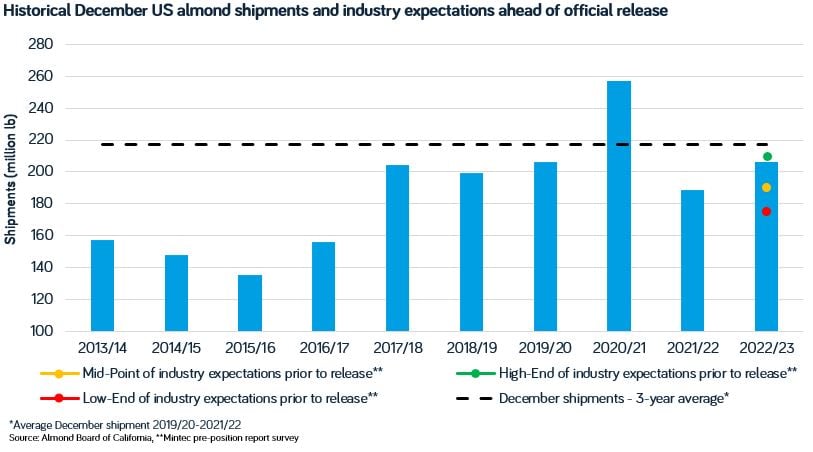 New sales picked up compared to historical averages, with 235 million pounds of sales recorded over December. This was below levels in 2021/22 (-12 million pounds) and 2020/21 (-74 million pounds), but above the five-year average (+21 million pounds). The industry sold position continued to lag at 52% sold, down 4 percentage points on the year and 9 percentage points below the five-year average.
Market participants expressed a view that new sales would pick up significantly in January, with one exporter saying, "the [US] dollar is weakening, and prices are so low anyway that even with reduced demand it makes sense to buy almonds if you have room in your stores."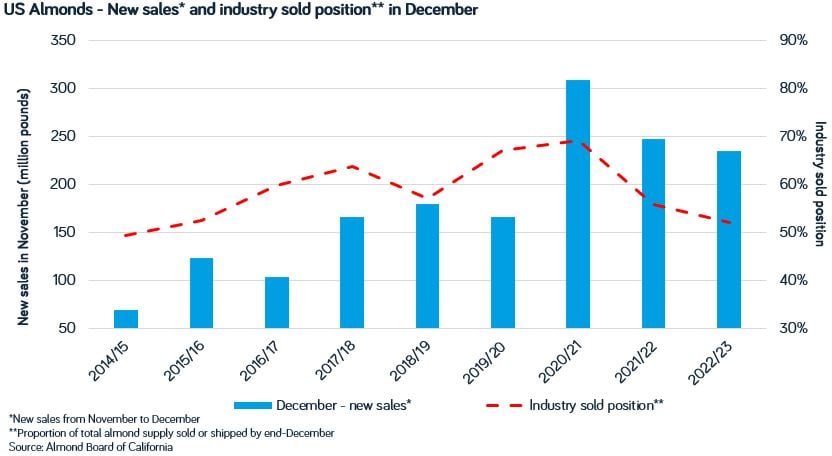 Looking forward, there was a concern among sellers that unless shipments pick up, ending stocks could remain close to 800 million pounds. One US exporter said to Mintec, "if we ship the same volume as last season [2.6 billion pounds], ending stocks won't be reduced to a manageable figure. We need strong shipments in combination with lower crop receipts to make a significant dent to stocks this year."
December crop receipts came in at 2.38 billion pounds, down 11% y-o-y, and market participants expected the final figure to come in between 2.45-2.63 billion pounds. For reference, the USDA objective measurement from July pegged the 2022/23 crop at 2.60 billion pounds.
To stay up to date on developments in the almond markets, subscribe to the Mintec Weekly Almond Report by emailing Nuts@Mintecglobal.com. The report, which is released each Thursday, provides in-depth information on pricing and market dynamics.