According to a preliminary release by the General Administration of Customs and Mintec calculations, China imported an average of 12.49 million barrels per day (mbpd) in August, a 20.9% month-on-month (m-o-m) increase. The figure represents a 30.9% year-on-year (y-o-y) rise. As the world's largest importer of crude oil, China's import dynamics are critical for the broader market.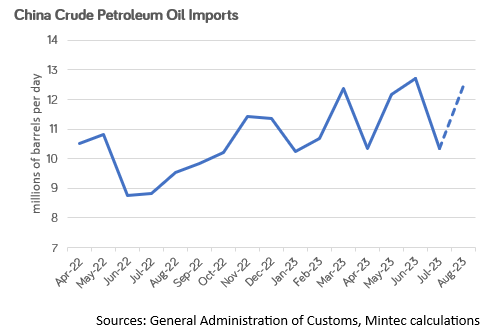 The climb in imports comes against a backdrop of improved manufacturing activity in the country, with the August purchasing managers' index (PMI) re-entering growth territory at 51.0, up from 49.2 in July. An employment recovery and greater m-o-m foreign sales were the chief factors behind the overall growth figure. Additionally, the consumer price index (CPI) was 0.1% y-o-y in August, up from a deflationary figure in July.
While some sources are optimistic about a recovery in the Chinese economy, which would likely add bullish pressure to the crude oil market, others are not as positive and believe more government stimulus is required. One market player stated, "China's problems aren't going anywhere anytime soon." The future direction of the Chinese economy therefore remains a major watchpoint for crude oil market dynamics.
For reference, the Brent crude oil price was $90.64/barrel as of 11th September, up 1.84% week-on-week, representing a 3.57% y-o-y decline.