This week on Mintec Analytics, the August weather report was released.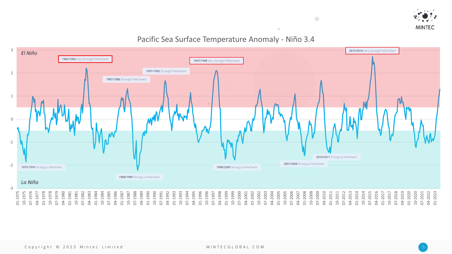 Covering the latest ENSO status, top crops affected, updates on major storms, rainfall and warm temperatures, the August report included these top 9 key highlights:
El Niño continues to strengthen, forecast to become a Very Strong event


Multiple hurricanes hit the US, damaging infrastructure and crops in California, Florida, Georgia and South Carolina


West Pacific Typhoons caused heavy rainfall and flooding across parts of China, Philippines, South Korea and Japan


Central US experienced heatwaves, with record high temperatures in Texas


Wildfires caused widespread damage in Hawaii, Greece, Portugal, southern France, Spain, Siberia and Canada


Australia prepares for wildfires in response to high temperatures, whilst a marine heatwave increased chances of fishing and aquaculture losses


Heavy rain and hail fell in central and northern Europe, including the UK, Germany, Slovenia, Norway, Sweden


Spain, India, South Korea and Nigeria sweltered under extreme heat


Drought conditions caused water supply worries in Thailand and Indonesia
How are these affecting commodity markets, and what impact will this have on supply chains, food production and more, for procurement professionals?
Explore Mintec to learn how leveraging extensive data and insight on extreme weather can help you mitigate risks and maximize opportunities during turbulent times. Get your free trial of Mintec platform, now.