What to expect in 2023, how to combat price inflation and reduce exposure to commodity price risk.
Socio-economic turbulence has characterised and driven global market activity over the last year, presenting a range of unprecedented challenges for businesses. Price inflation across commodities such as energy, plastics, metals, and agri-foods has necessitated a recalibration of traditional procurement practices.
As we move into 2023, business leaders will look to data, analytics, and insights to forecast the path which lies ahead for the commodities market. However, the current picture indicates that the new year will mark the beginning of a challenging period for the procurement sector, from Q4 and maybe through Q1.
Energy and Plastics
The topic of energy prices has been propelled into the mainstream media cycle in 2022 and supplanted itself in the global consciousness. In contrast to the steady rates seen over the last decade, some commodity prices have been impacted by macroeconomic events, including the Russia-Ukraine conflict that has sent some energy prices into an upward spiral.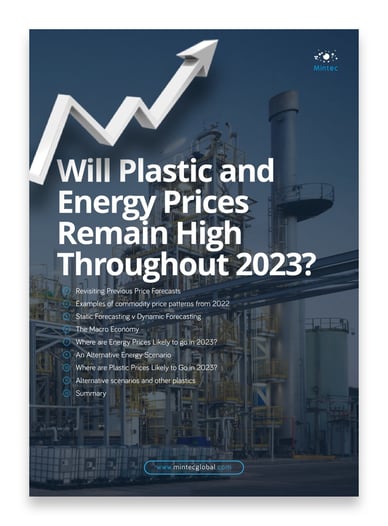 This spike has catalysed challenges for society and business leaders across many sectors. We expect this turbulence to exert a sustained impact on commodity prices into Q1 of 2023.
The forecast for the price of Crude Oil suggests that there will be a spike in Q4 of 2022. This will produce a knock-on effect for energy prices as we move into Q1 of the new year. However, given that a recession is likely, the macroeconomic downturn will see commodities prices take a hit across the board.
As global markets bear the burden of an impending recession, the price of Crude Oil will likely be pulled down towards the middle of 2023, thus aligning with a general trend of depleted prices in comparison to Q1 of 2023. As energy commodities are generally priced in line with one another, the forecast for Crude Oil can be seen to reflect all other energy commodities respectively.
Through bearing these predictions in mind and following the data pertaining to this situation closely, business leaders can mitigate the challenges of a volatile market by hedging energy in Q4 and preparing to hedge Q1 of 2023 in the instance of a peak in the price of energy commodities once January rolls around.
Meanwhile, the forecast for plastics somewhat aligns with that of energy commodities. Like oil, and other energy resources, plastic prices tend to parallel one another.
Since Q2 of 2022, plastic prices have been seen to decline. This course is set to change in Q4, as rates are set to rise. This means that as we move into the new year, it is likely that plastic prices will hit a peak rate around Q1 of 2023.
However, akin to the nature of our forecast for oil commodities, a downturn in the global macroeconomy is set to send the price of plastics downwards across the board as we near mid-2023.
In preparation for this eventuality, business leaders must brace themselves to take an adaptive approach to trade and procurement in light of sharp movements in the plastic markets, whilst being ever-poised to take action should the socio-economic instability we've seen this year actualise in 2023.
Metals
Despite being subject to the same market volatility as other commodities, there has been a dramatic decline in the price of metals which continues to remain volatile despite some return to pre-pandemic normalcy.
However, in Q4 of this year, it is expected that metal prices will take an upward course. Against the backdrop of an ordinary macroeconomic landscape, the fruition of this forecast could spell trouble for procurement professionals and manufacturers alike. However, global inflation has impacted consumer trends, and we are amidst a global economic landscape which is virtually unprecedented. Consumer demand has dropped as societies brace for higher domestic energy bills and food costs, as well as shortages and travel disruption.
When these factors are considered as a cohesive whole, it is clear that the procurement sector may perhaps elude impending disaster in this area, as consumer demand may well continue to decline into Q1, and possibly Q2 of 2023. Should business leaders remain stoic in seeking efficiencies in their supply chains, surplus stock which remains owing to a scarce consumer marketplace could tide over businesses if prices of metal commodities remain inflated. Once prices plateau, operations may resume at pre-peak levels.
Agri-food
The price of agri-food commodities has been significantly impacted by global market volatility, partly owing to the conflict in Ukraine. Commodities such as wheat, oil, and meat have seen their prices initially skyrocket in response to supply chain issues and periods of halted production catalysed by the conflict, as well as manufacturers' conservation of energy prompted by unprecedented oil rates.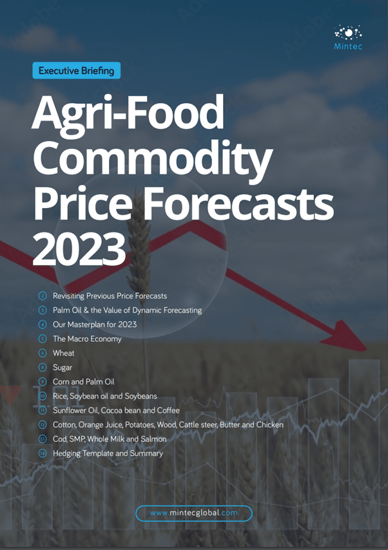 In a panoptic sense, the price of agri-food commodities is on track to peak early in Q1 before further declines in 2023. This subsequently means that as we move into Q1 of 2023, this pattern is likely to continue.
However, as with the aforementioned commodities, this upward trend is unlikely to sustain across all four quarters of the coming year, with the exception of possible miniature peaks catalysed by factors concerning seasonality across various sectors, and when each commodity is harvested.
A sharp and aggressive decline will likely topple food prices from their current point of inflation in mid 2023, thanks to a suite of macroeconomic factors all pointing to global recession by Q1 of 2024.
By keeping this backdrop in mind, business leaders will be able to sustain production and cost efficiency by practising an evolving dynamic approach to agri-food procurement. With the perception of food shortages sweeping the globe, demand for product is at an all-time high with availability and inventory levels varying across individual commodities. Thus, profits can be maximised through obtaining this commodity within a framework diligently designed to adapt to market shocks.
"Mintec forecasts mean you can buy early or hedge price risk before prices increase or avoid fixing prices to benefit from future cost reductions."

Tom Bundgaard, Chief Analysts Mintec.
Why Mintec?
On average, our customers tell us they can typically save over 2-3% on their COGS.
Using Mintec data in supplier negotiations, they can control price inflation and reduce proposed price increases across branded and private-label goods.
That means for every 100 million you spend on materials, Mintec could save you more than 3 million annually.
"We save a small proportion in a single negotiation using Mintec, but these savings can be significant when you spread it out across the year."

Mintec Customer
---
* Actual savings depend on several factors including the time frame over which the hedge was made and the volumes of materials purchased.