These are the most common questions asked regarding Mintec's Commodity Prices and Price Forecasts.
Well, the chart below uses Palm Oil and Rapeseed Oil to answer both questions.
What Happened?
In January 2022, with skyrocketing prices and against expert opinion, Mintec published its prediction that commodity prices would fall. Yes fall, despite opinion and evidence to the contrary, and that's precisely what happened—resulting in prices falling in line with Mintec's forecasts.
Why Does it Matter?
Well, a typical medium-sized manufacturer with a COGS of around one hundred million, following Mintec's hedging advice, could have avoided additional costs of over 3 million*. A significant level of costs that could make all the difference to profitability and competitiveness.
The two arrows on the chart clearly show that if you had hedged in January for more than 3-5 months (which we did advise to hedge in January for most commodities), you would have missed out on one of the most significant price declines in history.
Get in touch to see how +1000 of buying teams across a wide range of businesses are avoiding cost increases and optimising their buying time to maximise profitability using Mintec's Price Forecasts and hedging advice.
"Mintec forecasts mean you can buy early or hedge price risk before prices increase or avoid fixing prices to benefit from future cost reductions."

Tom Bundgaard, Chief Analysts Mintec.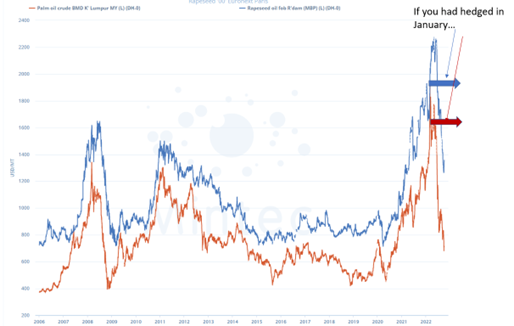 Why Mintec?
On average, our customers tell us they can typically save over 2-3% on their COGS.
Using Mintec data in supplier negotiations, they can control price inflation and reduce proposed price increases across branded and private-label goods.
That means for every 100 million you spend on materials, Mintec could save you more than 3 million annually.
"We save a small proportion in a single negotiation using Mintec, but these savings can be significant when you spread it out across the year."

Mintec Customer
---
* Actual savings depend on several factors including the time frame over which the hedge was made and the volumes of materials purchased.