In 2020, the COVID-19 pandemic paralysed the global food supply chain, including in the US. The turmoil continues in 2021 with the high shipping costs and lack of factory workers, disrupting US food supplies and inflating food retail prices. The food-at-home (grocery store or supermarket food purchases) Consumer Price Index (CPI) rose by 3.7% y-o-y in January 2021. Similarly, the US food-away from home CPI increased by 4% during the reported period.
Commodities such as pork, beef, chicken, soyabean and maize (corn) are key contributors to US food price inflation as they form a vital part of the US consumer goods basket. Pigs (hogs), cattle, and poultry farmers have been severely impacted by rising corn and soyabean prices since Q3 2020. US corn and soyabean prices continued to trend at a multi-year high level and reached USD 210/MT (up 42% y-o-y) and USD 524/MT (up 62% y-o-y) respectively on the Chicago Board of Trade (CBOT) on 10th March 2021. Robust Chinese demand for grains (to feed its expanding hog herds) supported both corn and soyabean prices. The highest corn and soybean prices in seven years have lifted the costs of feeding herds, exerting upward pressure on US meat prices. Consequently, US hog prices on the Chicago Mercantile Exchange (CME) reached USD 2086/MT, up 22% y-o-y on 3rd March 2021. Similarly, US chicken rose 7% y-o-y to USD 1782/MT on 3rd March.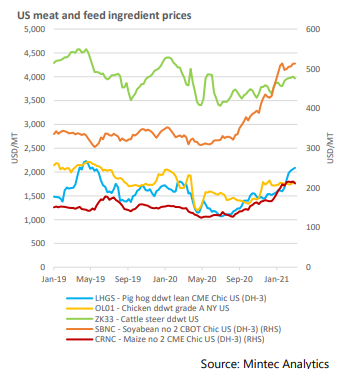 Some US farmers have reduced their herds, as profits decline due to skyrocketing feed ingredient prices. At the processor level, livestock and poultry operations have contracted y-o-y due to slim profits amid the pandemic, reducing supplies in the market. Thus, high feed ingredient prices are likely to discourage producers from rearing herds or pass on the added feed cost to consumers, in both cases supporting US meat prices. On the demand side, fiscal stimulus programs amounting to trillions of dollars is expected to boost consumer spending capacity. Also, the COVID-19 vaccine is likely to ease lockdown restrictions, facilitate social movement and revive lost demand from the foodservice sector, thereby supporting consumer prices.
With the US being one of a top suppliers of meat, the increase in prices is likely to ripple through the supply chains and result in elevated meat prices globally in the remainder of the 2021.