In the latest figures released in September 2021, the International Cocoa Organization (ICCO) projects a 230,000 tonnes global cocoa surplus for the 2020/21 marketing year (MY) (Oct '20-Sep '21), which is an upward revision from its previous estimate of a 165,000 tonnes surplus. The surplus, if realized, would be the largest since the 2016/17 MY, based on record high supply from Cote d'Ivoire and Ghana, respectively the world's largest producers. The prospect of plentiful availability outpacing demand growth may contribute towards softer prices at the major InterContinental Exchanges (ICE) terminals in London and New York, which exhibited bullish momentum through Q3 2021.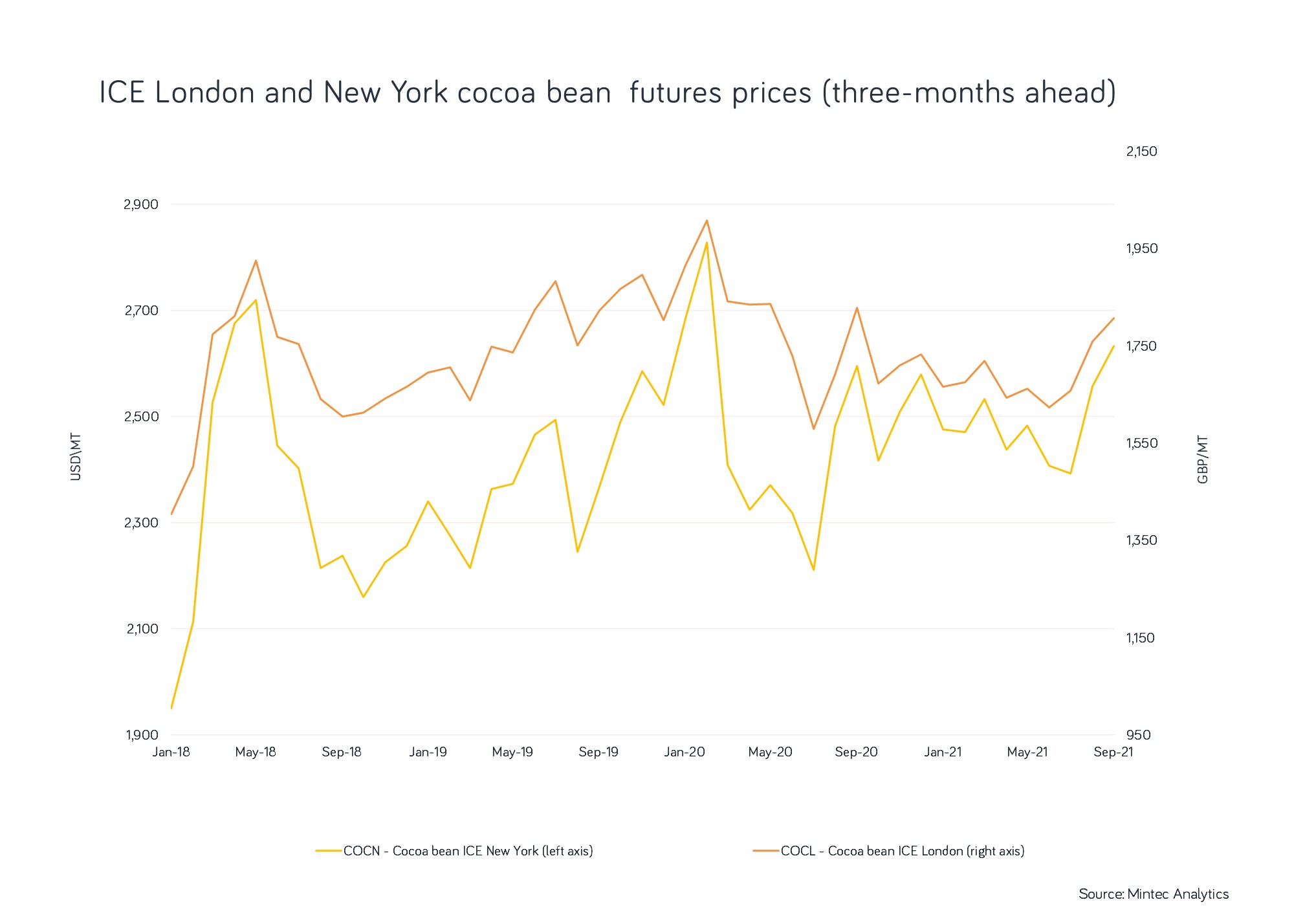 West African cocoa production benefitted from favourable weather conditions (plentiful rains interspersed with sunny, dry periods) during the 2020/21 MY, in addition to yield-boosting technological adoption. Indeed, Ivorian output for the 2020/21 season is estimated around 2.20 million tonnes, representing a year-on-year (y-o-y) increase of 120,000 tonnes (+5.7%), while Ghanaian production is seen around 1.04 million tonnes, representing an extra 240,000 tonnes (+30.0%) y-o-y. Indeed, the Ivorian government reporting that 2.46 million tonnes of cocoa were was sent to export terminals during the 2020/21 MY (+7.0% y-o-y), while the Ghanaian cocoa marketing association (Cocobod) reported that 1.03 million tonnes of graded and sealed cocoa was sent for export during the same period, from an estimated 770,000 tonnes in 2019/20.
The ICCO 2020/21 balance estimate is based on supply outpacing demand growth, which has gradually returned, as vaccine rollouts have helped to ease lockdown restrictions in key consumer markets. Data from the three major cocoa markets of Europe, Asia and North America, shows aggregated grindings for the first nine-months of the 2020/21 MY (October 2020-Jun 2021) increased by 2.7 % y-o-y to 2.07 m tonnes. This was mainly on the back of strong Asian grindings, which increased by 32,365 tonnes (+6.2% y-o-y) in the nine-months to June 2021, followed by European and North American grindings, which increased by 17,469 tonnes (+1.9%, ) and by 4,258 tonnes (+0.7%) respectively y-o-y during this period. Grindings figures for Q3 2021 will be released in mid-October 2021, which will be key in determining demand and prices going forward.