Mintec's 2021 Thanksgiving Dinner Index
As US shoppers make their food purchases towards celebrating Thanksgiving this year, Mintec has put together its Thanksgiving Dinner Index, which measures price fluctuations across key food commodities that make up a traditional Thanksgiving dinner. The index shows that while it has declined from the peak seen in May 2020, on average, the prices of the food commodities that make it to a typical Thanksgiving meal increased by 14.4% in the twelve months through October 2021. The surge in prices for both the main meal and dessert (pecan pie) drove this considerable increase.
Rising energy and haulage costs, coupled with labour shortages, have significantly impacted various parts of the food supply chain over the past twelve months.
Consumers face higher turkey and vegetable prices for the main meal, following a decline in turkey meat production and adverse weather in the key US potato and carrot producing areas. Firm wheat, pecan and sugar prices have also contributed to higher bread and pecan pie dessert costs.
This report reviews the price movements of the different components of the Mintec 2021 Thanksgiving dinner index.
Mintec's Thanksgiving Dinner Index comprises the main meal (meat, vegetables, bread, nuts) and the traditional pecan pie for dessert.
Chart 1: Thanksgiving Dinner Index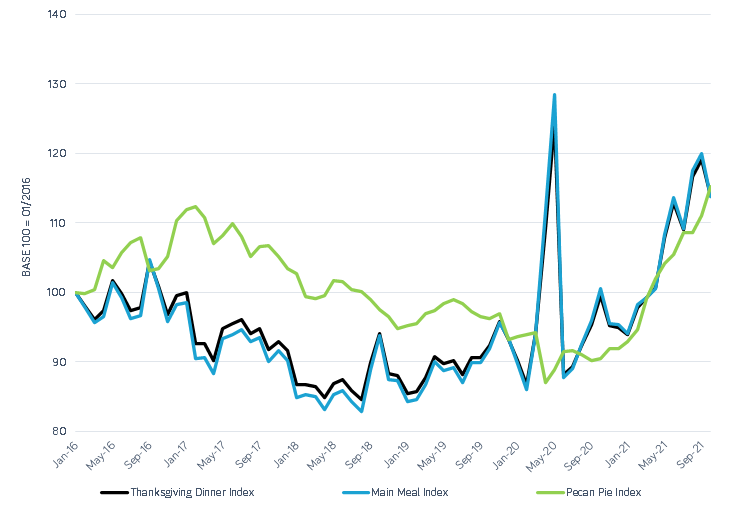 Source: Mintec Analytics
Breakdown by components
Chart 2: Main Meal Index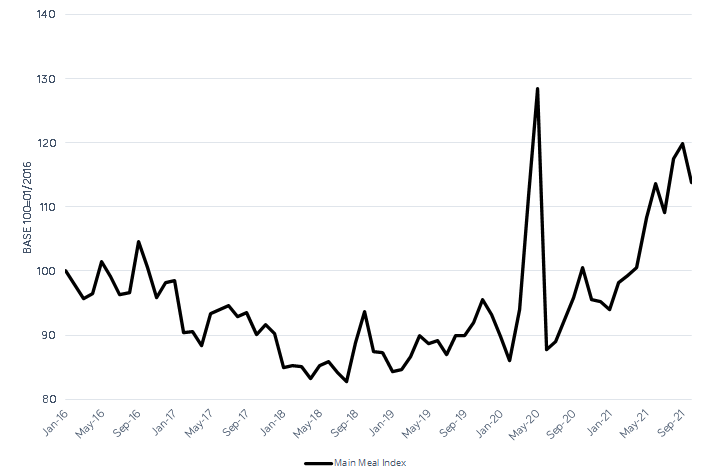 Source: Mintec Analytics
Turkey
The US monthly average price of turkey rose by 0.6% m-o-m and 15.7% y-o-y to USD 3.3/kg in October 2021, on the back of a decline in turkey meat production amid a lesser number of hens placed in August. Turkey hens take 14-16 weeks to mature, and the overall placement of turkey in August is a vital indicator of fresh turkey availability for Thanksgiving. Turkey-poult placements in August 2021 totalled 21.4 million heads, a slight increase on August of 2020, yet approximately 4% below the 3-year average for August. Turkey meat stocks in cold storage typically follow a seasonal pattern, meaning frozen stocks build up throughout the year until the fall (autumn). However, in 2021, this build-up has been slower than usual amid high demand for turkeys in the international market. At the end of August 2021, the National Agricultural Statistics Service (NASS) reported 425.6 million lbs of turkey meat in cold storage, a 20% decrease from the same month last year and a decline of about 10 million lbs from the end of July. The price of turkey in the US is estimated to remain firm for the rest of 2021, following a decline in year-end projected stocks to 195 million lbs.
Pork
The Mintec price of US pork has been trending downwards since July 2021 on the back of lower demand from China, one of the most prominent export destinations for US pork. In July, pork exports to China declined by 62% y-o-y and fell by 49% y-o-y in August. US pork prices fell in Q3- 2021, and the bearish trend continued in October when the monthly average price of pork loin and ham reached USD 3.3/kg and USD 1.1/kg, down 11.8% m-o-m and 13% m-o-m, respectively. However, the October price for pork loin remained 11.3% above the October 2020 price, pressured by lower-than-expected slaughter numbers, combined with lower dressed weights in August that continued to run below a year ago. Further price support came from increased demand from US consumers that substituted high-priced beef for pork. Overall, the price of US pork, mainly boneless pork cuts, could increase over the rest of the year, stimulated by Christmas demand. Also, the rising number of COVID-19 cases could result in labour shortages, thus resulting in limited availability of pork cuts which are labour intensive. The labour shortage issuecontinues to be an upside price driver for specific US pork cuts.
Potatoes
The Mintec price of US potatoes rose significantly y-o-y to USD 0.32/kg in October 2021, driven by a decline in production following a severe drought that hit key producing areas. The overall impact of the drought led to a supply shortage, causing a spike in prices in early August, with the upward trend continuing throughout the harvest (September-October) period.
Idaho, the main potato-producing state, was hit with record high temperatures throughout planting and the start of harvest (June-September). The United States Department of Agriculture (USDA) estimates show that potato acreage in Idaho increased by 5% y-o-y in October 2021, to 315,000 acres. However, excess heat caused a lack of deep soil moisture, which is critical for potatoes to grow. Therefore, farmers faced lower yields in 2021, with some market participants reporting a decline of 20% compared to the average production year. Moreover, growers reported quality issues and more smaller-sized potatoes.
In addition, growers have faced increasing input costs, including fuel, transportation, and labour, further driving up prices. As the US approaches the festive season, tight supply and strong demand expectations will likely keep potato prices firm.
Sweet potatoes
In contrast, US sweet potato prices declined slightly by 2.6% y-o-y to USD 1.14/kg in October 2021 amid abundant supply in the market. According to market participants in North Carolina, the largest sweet potato producing state in the US, the ongoing harvest for the 2021 season is plentiful. Good growing conditions led to high volume and yields to meet demand. In line with seasonal trends, sweet potato prices typically decline as growers harvest throughout September and October. As harvest continues, more supply is available on the market. Therefore prices are likely to remain on a downward trajectory.
The current challenges for growers are rising labour, fuel and freight costs which could contribute to long term inflationary pressures in the market. Labour costs are rising in the US amid a labour shortage following the pandemic, which deterred a large proportion of individuals from work. In the sweet potato market, the limited availability of long-haul truck drivers led to delivery delays throughout the harvest in October as farmers have been unable to transport fresh produce to the shelves. Despite robust supply, if growers cannot transport produce, there is a risk of wastage and thus tighter supply due to the backlog. Moreover, growers face increasing pressure to raise wages to incentivise individuals to work, driving production costs higher. The impact of rising input costs is likely to influence negotiations in upcoming contracts for the 2022 season.
Fuel, transportation and energy costs are expected to increase due to higher crude oil prices, which presents further upside price potential in all fruit and vegetable markets. If the current supply chain disruptions continue, manufacturers will inevitably pass higher costs along the value chain.
Carrots
The Mintec price of US carrots rose by 22.4% y-o-y to USD 1.14/kg in October 2021, in line with tighter supply following a severe drought. In California, the largest producing state in the US, temperatures were above average during the season due to a severe drought, which drove temperatures up on the West coast. Warmer weather led to supply shortages, which pushed prices higher y-o-y. Meanwhile, carrot demand has grown in 2021, driven by pandemic support schemes where the USDA bought excess supply to support farmers and prevent wastage.
In August, US water resource regulators introduced restrictions preventing farmers from diverting water from the Sacramento-San Joaquin Delta to the Oregon border. The action devastated farmers relying on water for agricultural irrigation to compound the heat. The overall impact on carrot production is unknown; however, it is clear that the severe heat combined with a water shortage has exerted upward price pressure in 2021.
Almonds
The Mintec Benchmark Prices of Californian almonds (standard 5% almonds FAS US) rose by 20% in the twelve months through October 2021, to an average of USD 2.21/lb. Prices rose on the back of supply concerns, following a severe drought in California and continued solid global demand. According to the Almond Board of California, shipments from California climbed to a record 2.9 billion lbs in 2020/21, 22% more than in the prior campaign, as buying activity soared amid low prices in 2020 and the first half of 2021.
Although a sign of robust global demand, the large increase in shipments during 2020/21 has meant that stocks in destination markets are currently ample, and demand has slowed. This is evident from the latest Almond Board of California data, with shipments down 13% y-o-y during September, at 228 million lbs. Subsequently, the average monthly price of standard 5% almonds declined by 10% m-o-m in October. This trend could continue in the short term.
Chart 3: Bread Index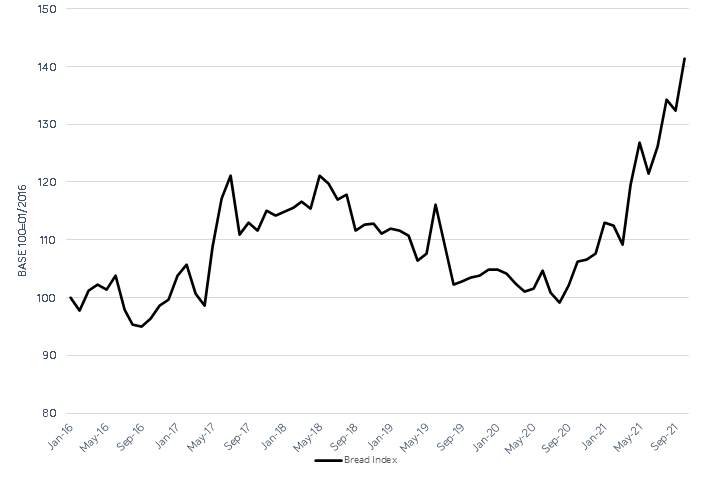 Source: Mintec Analytics
Wheat flour
In October 2021, the average price of US wheat reached USD 0.47/kg, up 8.1% m-o-m and 38.3% y-o-y. The price increase was due to concerns over harvest setbacks in major wheat-producing and exporting countries amid increased global demand. In addition, dry conditions in the US Northern Plains and Canadian Prairies are fuelling market concerns over potentially reduced yields in the upcoming months. As a result, the weather-damaged winter wheat crop will continue to weigh on wheat prices into 2022. Strong global demand for wheat products amid supply chain problems because of limited container availability, port congestions, partial regional lockdown restrictions and high shipping costs are likely to impact the availability and transportation of wheat. Farmers are expected to face higher prices for key inputs, such as fertilisers and energy. Therefore, wheat flour prices are likely to remain higher in the remainder of 2021 compared to the same period in the previous year.
Chart 4: Dessert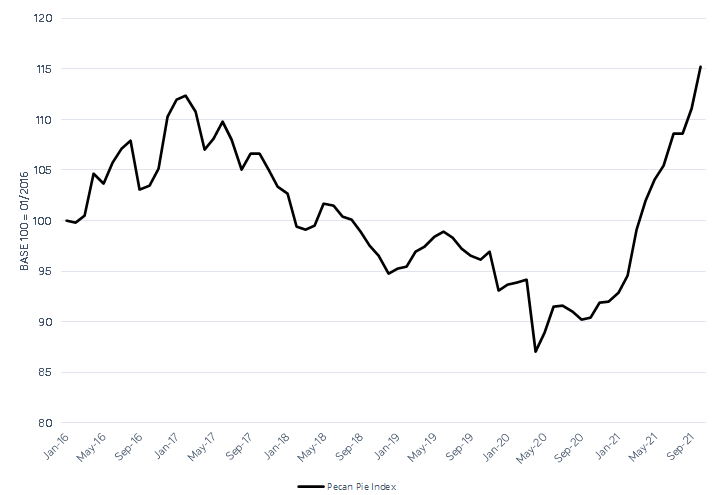 Source: Mintec Analytics
Thanksgiving meals are traditionally followed by a dessert of either a pumpkin pie or a pecan pie, and the Mintec dessert index is made up of a pecan pie recipe.
Sugar
At USc 37.06/Ib, the average price of raw cane sugar (#16) at the InterContinental Exchange (ICE) New York (NY) rose by USc 9.51/Ib, (+34.5%) y-o-y in October 2021. The October 2021 price represented a ten-year high, attributed to strong market fundamentals.
The relentless escalation of the NY sugar price, from a floor of USc 25.95/Ib in June 2020, is mainly due to supply-side factors. Poor weather, expensive farm inputs and low yields in some producing countries contributed to two consecutive years of global sugar trade deficits, which is expected to continue in 2021/22. Brazil, the major global sugar supplier, is expected to reduce output by 6.5 million tonnes (-17%) y-o-y in the 2021/22 marketing year (MY) to a decade-low 32 million tonnes due to both acreage and yield-losses.
Higher aggregate y-o-y production in Thailand and India is anticipated to offset lower Brazilian output, bringing global production in 2021/22 approximately 1 million tonnes above the previous year's total. The high-cost position of India's regulated sugar industry requires export subsidies to help shift domestic surpluses. However, the Indian government has removed the subsidy for the 2021/22 MY, potentiating the supply of more expensive Indian sugar onto the world market.
Other factors supporting the ICE NY sugar price include high crude oil prices stimulating the flow of sugar diverted into fuel ethanol. This is most pertinent to Europe, North America, and Brazil, although the Indian government targets 1.5 million tonnes of domestic sugar to be converted into fuel by 2022. Inventory depletion in sugar import markets is another key metric used to gauge demand sentiment. Markets tend to draw down domestic inventories of a particular commodity as its price rises, to minimise the import burden. This has reportedly been the case in North America and Europe through Q3-2021. Low stocks eventually need replenishing, thereby exacerbating upside price risk, particularly during trade deficit years. Freight and logistics bottlenecks also contributed to soaring seaborne trade costs, most notably for sugar delivered to the ICE NY from India, Thailand and other Asian exporters.
Pecans
The Mintec Benchmark Prices of US pecans (CFR EU) rose by 13% in the twelve months to October, to a monthly average of USD 5.55/lb. The market was buoyed by the tight availability of both halves and pieces in the US, as well as solid global demand. Additional support came from sellers trying to compensate for losses sustained when the market was subdued during the second half of 2020.
The baking industry consumes a large proportion of pecans, and the easing of COVID-19 restrictions in main consuming countries has helped boost sales in this sector. In addition, retail demand for pecan mono-packs has been robust, according to trade sources, due to the increased popularity of home baking during the pandemic and consumers snacking more frequently at home. US pecan shipments, an expression of global demand, soared by 86% y-o-y between 1st September 2020 and 31st August 2021, to 433 million lbs, according to data from the American Pecan Council.
Vanilla
The Mintec Benchmark Prices of Madagascan vanilla remained flat at USD 250/kg over the past twelve months, in line with the Malagasy government-regulated minimum export price. The government put the minimum export price in place in February 2020, initially at USD 350/kg, to protect the domestic vanilla sector from a price slump amid rising local supplies.
Madagascar is estimated to have produced around 2,150 tonnes of vanilla in 2021/22, an increase of 5% y-o-y. Demand for vanilla remains subdued due to previously high prices. Soaring prices between 2016 and 2019 resulted in some food manufacturers moving away from natural vanilla, reformulating their product recipes or reducing the natural vanilla content in their food products. However, global demand rebounded in 2020/21, boosted by the pandemic and the low pricing environment. The gains were driven by strong retail performance through higher sales of food products containing natural vanilla, as consumers have been snacking and baking more frequently at home. Consumers' inclination to spend more on luxury foods with some of their leisure activities or holidays restricted during the pandemic has also helped vanilla sales.
Butter
The October average price of US butter rose by 1.5% m-o-m to reach USD 3.97/kg. Prices have strengthened significantly since October last year, up 24.1%, due to the combination of lower butter supplies and higher domestic and international demand.
US butter production declined by 1.7% m-o-m in August 2021, bringing the butter production for the Jan-Aug 2021 period to 1.42 billion lbs, down by 2% y-o-y. As expected, butter production has been trending downward during Q4-2021 due to difficulties finding cream for butter making and labour shortages. Milk processors are channelling more milk to cheese vats, driven by the additional capacity that came online recently.
The butter drawdown season had an early start this year, with stocks falling by a larger-than-typical margin in July and August. There were 367 million lbs of butter in cold storage at the end of August, nearly 30 million lbs less m-o-m, a decline of 1.2% y-o-y. However, butter inventories remain ample and are available for near term commitments.
Also, US butter domestic consumption is forecast to grow by 1.7% y-o-y in 2021, driven by foodservice sales which held up relatively well during rising COVID-19 cases. Nonetheless, retail demand has been weaker. Ample US inventories and a prolonged period of US butter price competitiveness in the global market have boosted US butter export sales.
Concluding remarks
After the pandemic-induced challenges of 2020, including restrictions on large social gatherings, many consumers hope that 2021's Thanksgiving celebrations could provide a return to 'normality'. Nonetheless, it has been a turbulent twelve months. While the US economy has indeed recovered from the worst impacts of the pandemic, the economic recovery has come at the cost of soaring raw material and energy prices, labour shortages and logistical bottlenecks, among other things. The higher costs would most likely have been passed along the supply chain, leading to consumers paying more for their Thanksgiving meal this year.