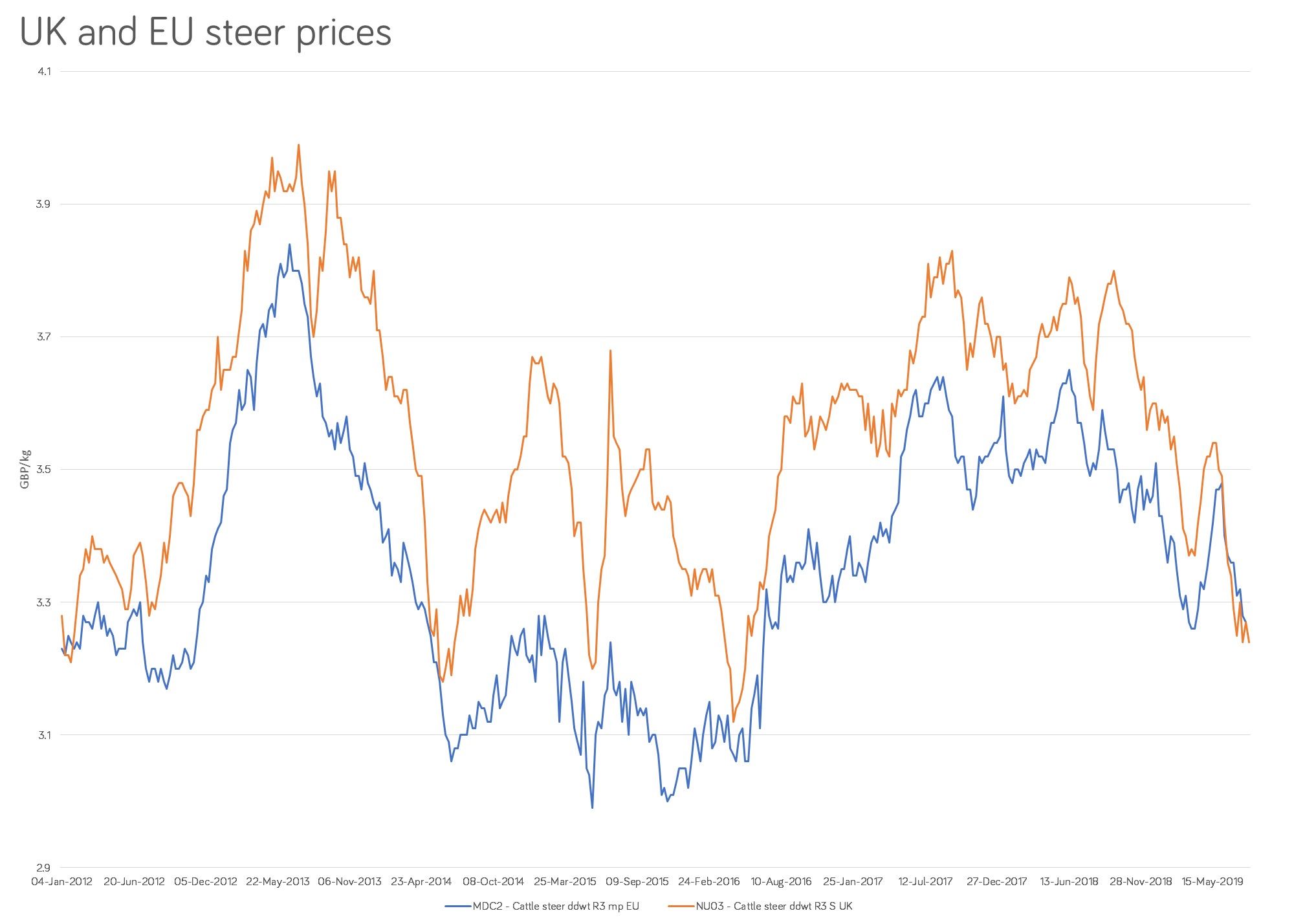 In July 2019, Mintec prices for UK deadweight steer R3 grade fell below the EU price for the same grade for the first time since 2012. The average July price for UK deadweight steer dropped 2.2% m-o-m and 6.3% against the average price in July 2018.
The uncertainty over the UK's departure from the European Union is a key force behind the declining prices of UK beef. The Brexit deal deadline at the end of October is quickly approaching, and fears of a no-deal Brexit are rising. In preparation for a no-deal Brexit, a scenario which could delay supply chains and increase import tariffs, typical EU buyers of UK beef have started to purchase meat from other producers to reduce their dependence on UK products. Furthermore, on the UK side, to mitigate the consequences of a no-deal Brexit, suppliers have filled cold store stocks to help with potential supply chain congestions and shortages as the October deadline closes in.
On top of Brexit uncertainty, UK production has been rising. In July, the slaughter of all cattle types in the UK dropped 3% m-o-m but total beef and veal production in the month increased by 2%, suggesting higher cattle weights. In 2019 so far, between January and July, 536,600 tonnes of beef and veal has been produced in the UK, a 0.9% y-o-y increase. The increased production rates have added downward pressure to prices.
The declining UK beef price has also been symptomatic of the falling prices of EU price, although at a faster rate. Increasing imports from outside the EU and reduced demand within the EU has triggered the slide in prices.