The USDA's latest global coffee report, released on 20th December 2021, estimates Brazilian Arabica and Robusta production at 35.0 m bags and 21.3 m bags respectively for 2021/22 MY (Jul-Jun). This brings aggregate estimated Brazilian production to 56.3 m bags for 2021/22, representing a decline of 13.6 m bags (-19.5%) from a record-high crop in the previous season. The estimate is unchanged from the USDA's previous coffee report, released in June 2021.
Pervasive drought-afflicted Brazil's arabica heartlands through the crucial flowering phase that started in late-Q3 2020, with 8-10% of 2020/21 planted acreage ruined, according to A Companhia Nacional de Abastecimento (Conab), the Brazilian crop marketing agency. The challenges of the 2021/22 'off-year' low volume arabica harvest were compounded by severe frosts through Jun-Jul 2021. However, the USDA reported that the frost damage mainly affected the leaves, as opposed to the beans, implying minimal output disruption. The agency also reports that most of the harvest had been completed by July, which is why the December 2021 estimate remained in line with the June forecast.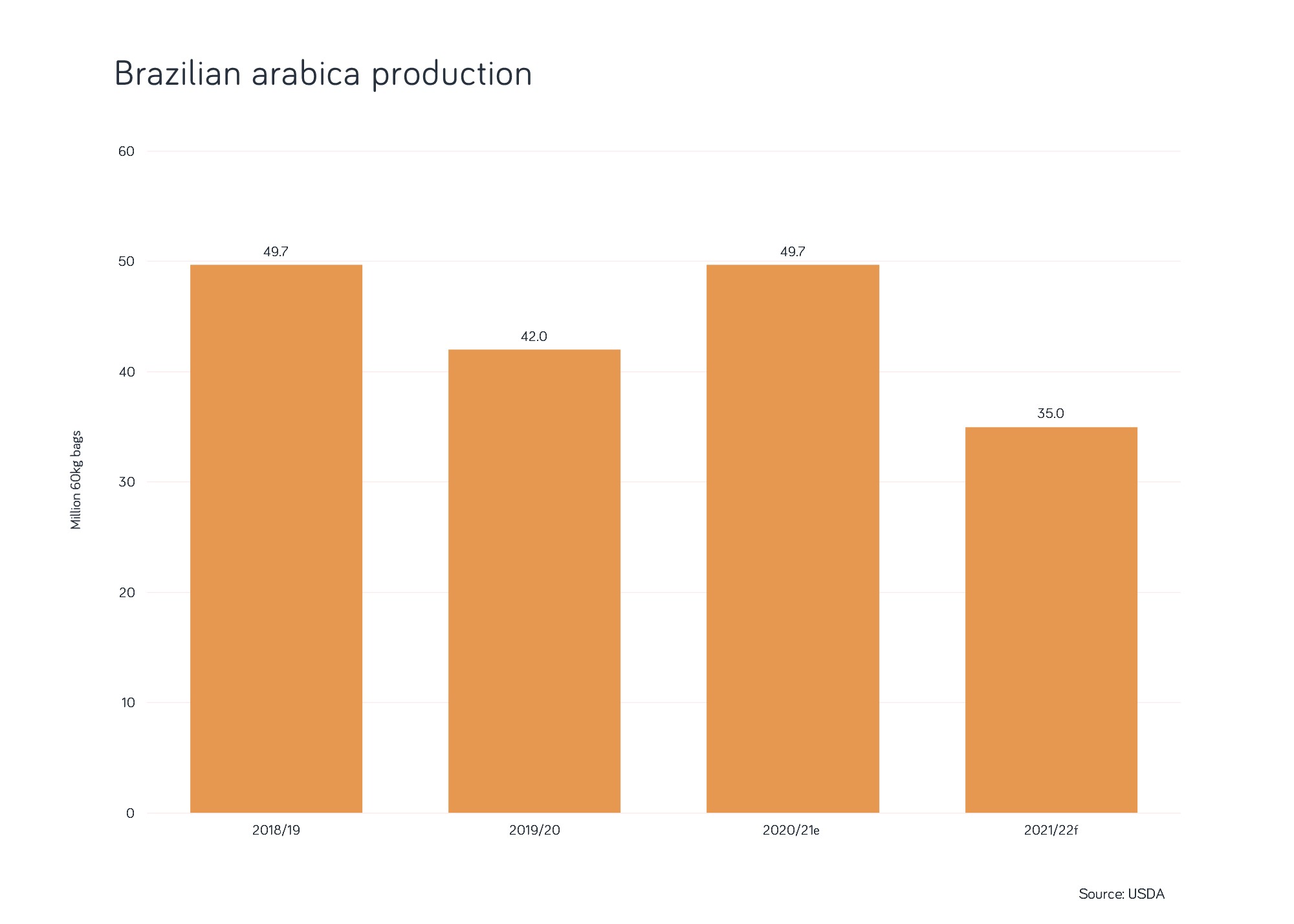 The main impact of the frost damage relates to the development of 2022/23 'on year' arabica crop, due to the extreme stress placed on the trees, particularly with plantations still recovering from a drought-afflicted 'off-year' in 2020/21. This was compounded by sub-optimal rainfall through August-September 2021. Favourable rainfall levels stimulated strong flowering through October and November, and improved soil moisture levels could help the 2022/23 arabica production to recover to 40-45 m bags, according to some industry experts. However, there is currently a little market consensus on the extent to which the 2022/23 arabica crop will be impacted by these factors with some spectators believing production may dip as low as 30 m bags, due to irreversible tree damage.
At USC 243.5/Ib on 8th December 2021, the weekly average arabica futures price (three-month ahead) at the InterContinental Exchange (ICE) New York (NY), the major global arabica price benchmark, peaked at a decade-high, driven partially by Brazilian supply concerns and reports of falling global inventories. The 2022/23 Brazilian arabica harvest is anticipated to commence around May 2022 with more accurate volume predictions expected in Jan-Feb 2022, as further cherry development ensues. These predictions will provide key indications for the NY benchmark price. Further analysis on the state of the global coffee market will be contained in the upcoming Mintec Global Coffee Outlook released on 10th January 2022.