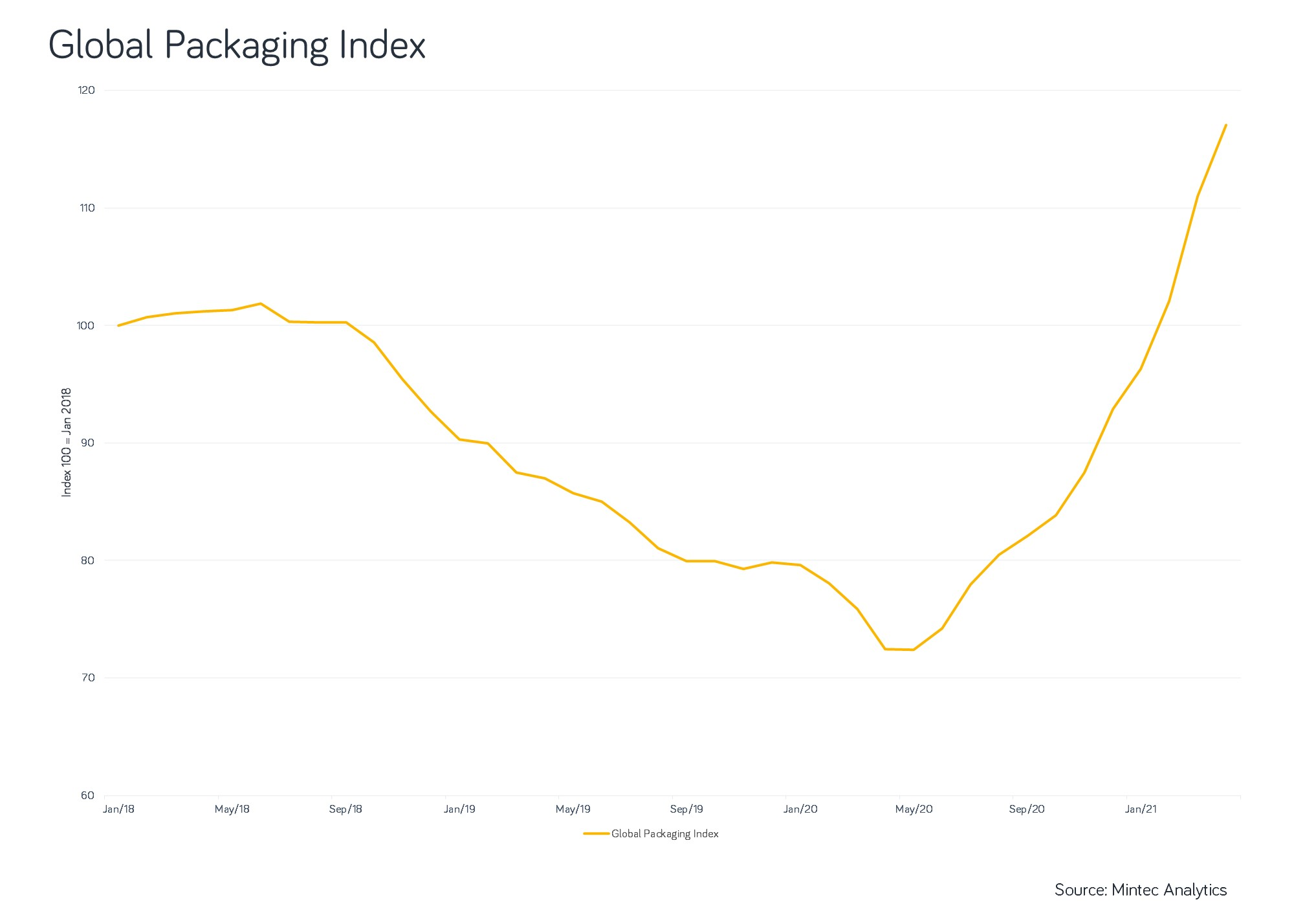 The Mintec Global Packaging Index reached another record in April, up 5.4% month-on-month (m-o-m) and up by 17 points on the index base. The index was driven by a rise in prices of all three constituents but with larger growths seen for metals (+9.2% m-o-m) and paper (+4% m-o-m), supported by continued tight global supply and robust demand for packaging materials.
Strong global demand, attributed to economic stimulus packages and economic recovery amid depleted inventories, continue to support metal prices. The monthly average price of steel hot-rolled coil (HRC) in Northern Europe reached an all-time high of USD 1,149.3/MT, an increase of 21% m-o-m and 124% y-o-y, supported by robust demand and limited supply. Aluminium prices also rose in April led by a rebound in consumer spending and manufacturing following the roll-out of vaccines. The LME (3-month) aluminium price reached a monthly average of USD 2,333.5/MT in April – the highest since August 2011.
Global paper prices continued to rise in April, driven mainly by a significant increase in corrugated prices across Europe and the US. The most significant surge in prices was seen for EU testliner and kraftliner grades, with the French testliner 2 average price rising by 10.5% m-o-m to USD 830.3/MT and French kraftliner 175g rising to USD 959/MT (+9.3% m-o-m) in April. Strong demand and tight supply conditions continue to be the main drivers behind the firm prices.
In April, US and Chinese polymer prices eased due to steadily increasing US PP and PE supply. Most resin plants have now restarted following their mid-February shut down due to winter storms across the Gulf Coast. The monthly average US contract price for polypropylene (PP) fell by 18% m-o-m to USD 2,629/MT in April. European prices remained elevated throughout April due to firm demand and reduced domestic production in line with Q2 scheduled maintenance. EU PP and LDPE prices climbed 15.8% and 18.4% m-o-m to USD 2,165/MT and USD 2,613/MT, respectively, in April.