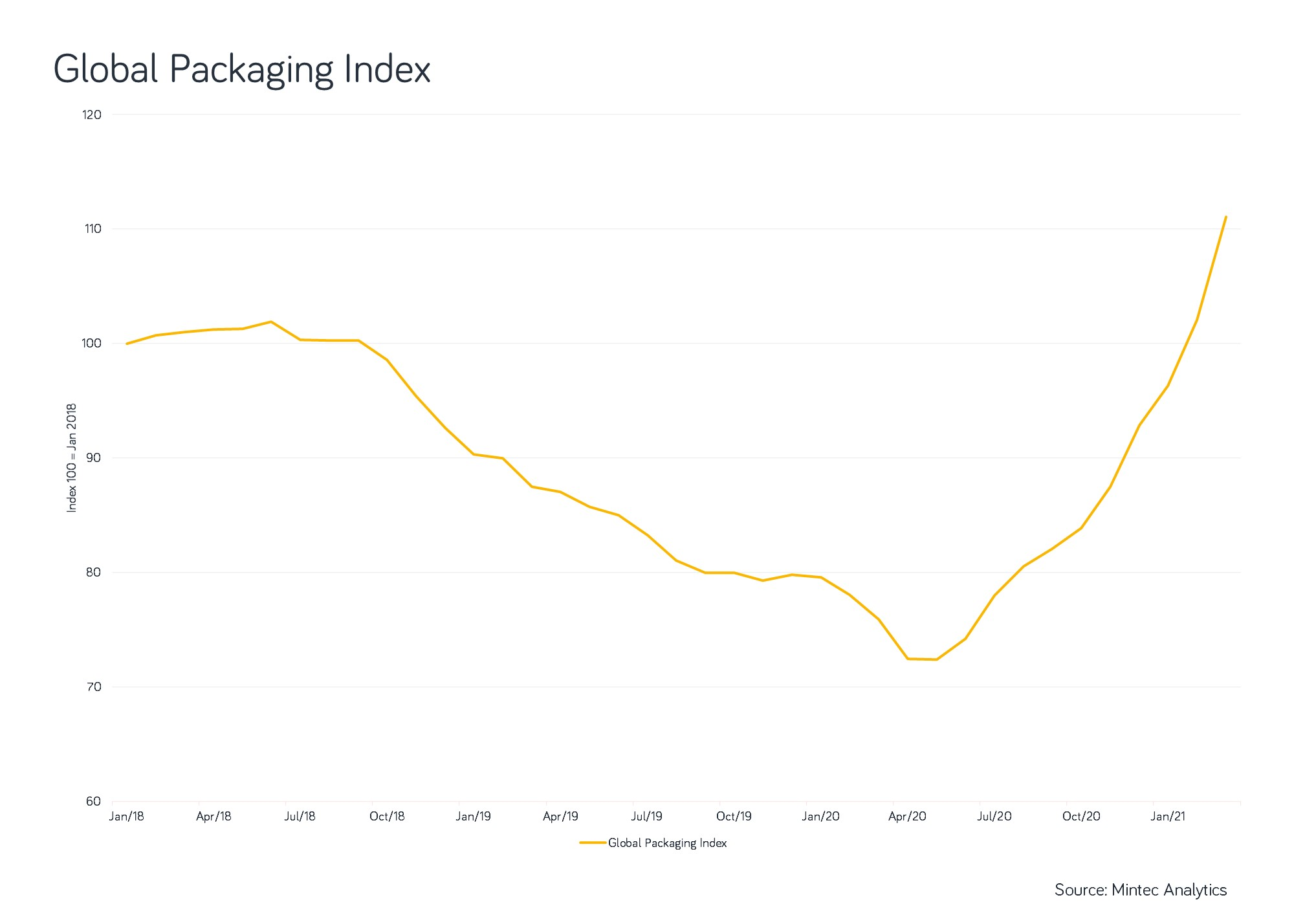 The Mintec Global Packaging Index continued on a steep upward trend in March, rising for 10 consecutive months. The index in March was up 8.8% month-on-month (m-o-m) and up by 11 points on the index base. The index was primarily driven by a rise in prices of plastics (+15.5% m-o-m) and metals (+7.6% m-o-m), both supported by tight global supply amid intense demand for packaging materials. The paper market, in contrast, was marginally pressured in March, with prices falling by 1% compared to February in USD terms. However, the market is in general on an upward trend due to supply tightness.
Plastics market
In March, the plastic market experienced a three-digit increase in absolute terms, with prices rising substantially in the US and EU as supply remains extremally limited in both markets.
Although some US plants are coming back online following the winter storms' impact in February, US resin production is operating at reduced capacity. Apart from that, there are still some forces majeures in place. According to market participants, although more than 80% of the contracts agreed are being met, there are still some bottlenecks and limited supply, especially in the spot market. The monthly average contract price of US polypropylene (PP) was recorded at USD 3,210/MT in March, a significant increase of 32.4% m-o-m.
Prices are expected to continue to increase in April, as supply is likely to remain tight since it would take considerable time for producers to back-fill orders and restock inventories.
Similarly, EU plastic prices surged in March, with significant increases in polyethylene terephthalate (PET) and polyethylene (PE) prices. According to market participants, producers' stocks are exhausted in Europe, and the start of scheduled maintenance turnarounds is projected to further weigh on supply during Q2 2021. Supply is likely to remain particularly tight as many US polymer plants are still in restart mode and not yet producing enough material for export markets, thus weighing on possible imports by the EU. As a result, many European polymer producers are again planning triple-digit price hikes for April. In addition, the recent Suez Canal closure is likely to exacerbate the already tight supply due to delayed imports. With the season for high beverage consumption approaching, demand for PET in particular is expected to significantly increase if the coronavirus spread continues to be contained and lockdown restrictions across Europe are lifted.
Metals market
Aluminium and steel prices rose sharply in March, with the most significant price increase seen across the US steel market as supply tightness continues. The March average price of US hot-rolled (HR) coil on the Chicago Mercantile Exchange (CME) rose by 20.2% to USD 1,391.9/MT compared to the previous month. Meanwhile, Northern European HR coil prices increased by a smaller magnitude of 8.6% m-o-m to USD 948.8/MT during the same period.
As of 17th March, US mill HR coil lead times were around nine weeks, well above the 10-year average of four to five weeks. Meanwhile, according to market participants, some European producers were reported to be sold out of HR coil until Q3 2021.
A lack of domestic supply has encouraged European buyers' interest in overseas material. However, Europe's anti-dumping and safeguard measures and the recent surge in seaborne freight rates have made the progress difficult. Nevertheless, according to the European Commission (EC), the Q2 2021 export quota of Indian HR coil into the EU was fully exhausted on the first day of the quarter (1st April). Despite the recent purchase, EU steel prices are expected to continue to rise, supported by material shortages and low stocks.
The monthly average price of aluminium on the London Metal Exchange (3-month) charted at USD 2,212.4/MT in March, up 6% m-o-m, as tight availability, logistics issues, and high freight costs have supported global aluminium premiums.
Paper market

The Mintec global paper index declined marginally in March. European corrugated materials priced in US dollar (USD) was 3% lower m-o-m on average as the USD appreciated against the EUR in March. However, in the native currency (EUR), a continued bullish trend was seen through March.
European prices for most grades of testliner and some kraftliner rose by EUR 20/MT in March, primarily driven by strong demand and high pulp and recovered paper prices. Growing consumption of corrugated packaging in the e-commerce and food segments is leading to robust demand, and as a result, most companies are operating at maximum capacity. According to market participants, delivery times for GD increased to eight to ten weeks. Scarce supply is being reported for most grades, in particular for brown kraftliner and semi-chemical fluting. As paper mills stop for scheduled maintenance in the spring, supply is projected to be further limited. Consequently, some European producers are reporting a potential price increase for April/May.
Meanwhile, containerboard prices in the US were stable in March, but prices are likely to increase in April. Containerboard plants are operating at reduced rates following the freeze in February. In addition, mills are expected to close for maintenance in April, and high freight rates are making imports into the country difficult, thus limiting available supply.