Data from the Sri Lankan Tea Board (SLTB) reports that domestic tea production increased by 1,107 tonnes (+5%) year-on-year (y-o-y) in January 2021 to 23,000 tonnes, in contrast to January 2020, where output fell by 1,270 tonnes (-5.5%) y-o-y to 21,938 tonnes. The production boost was entirely generated by low-grown elevation volumes, which increased by 1,600 tonnes (+12%) y-o-y to 14,900 tonnes, counterbalancing declining high and mid-grown production. Low-grown yields benefitted from favourable growing conditions and increased fertiliser usage, and place Sri Lanka on course to hit the government target of 295,000 tonnes of tea production in 2021.
At 278,489 tonnes, Sri Lankan tea production in 2020 hit the lowest levels recorded since at least the start of the century. This was partly due to social distancing, in addition to adverse weather and low industry productivity arising from a lack of investment. Lower regional output (Indian production contracted by 103,150 tonnes (-8%) y-o-y in 2020) contributed to prices edging up on the previous year's levels, as global consumers stockpiled supplies. The average annual Colombo auction price increased from LRK 552/kg in 2019 to LKR 635/kg in 2020, peaking at an all-time high of LKR 704/kg in May 2020.
Sri Lankan tea exports fell by 27,000 tonnes (-10%) y-o-y in 2020,to 238,500 tonnes. Higher y-o-y exports to Turkey, Iraq, Iran and Libya, were outweighed by lower shipments to Russia and China, amongst others. This trend continued into the new year with Sri Lankan tea exports contracting by 1,200 tonnes (-6%) y-o-y in January 2021 to 20,820 tonnes, despite higher y-o-y output.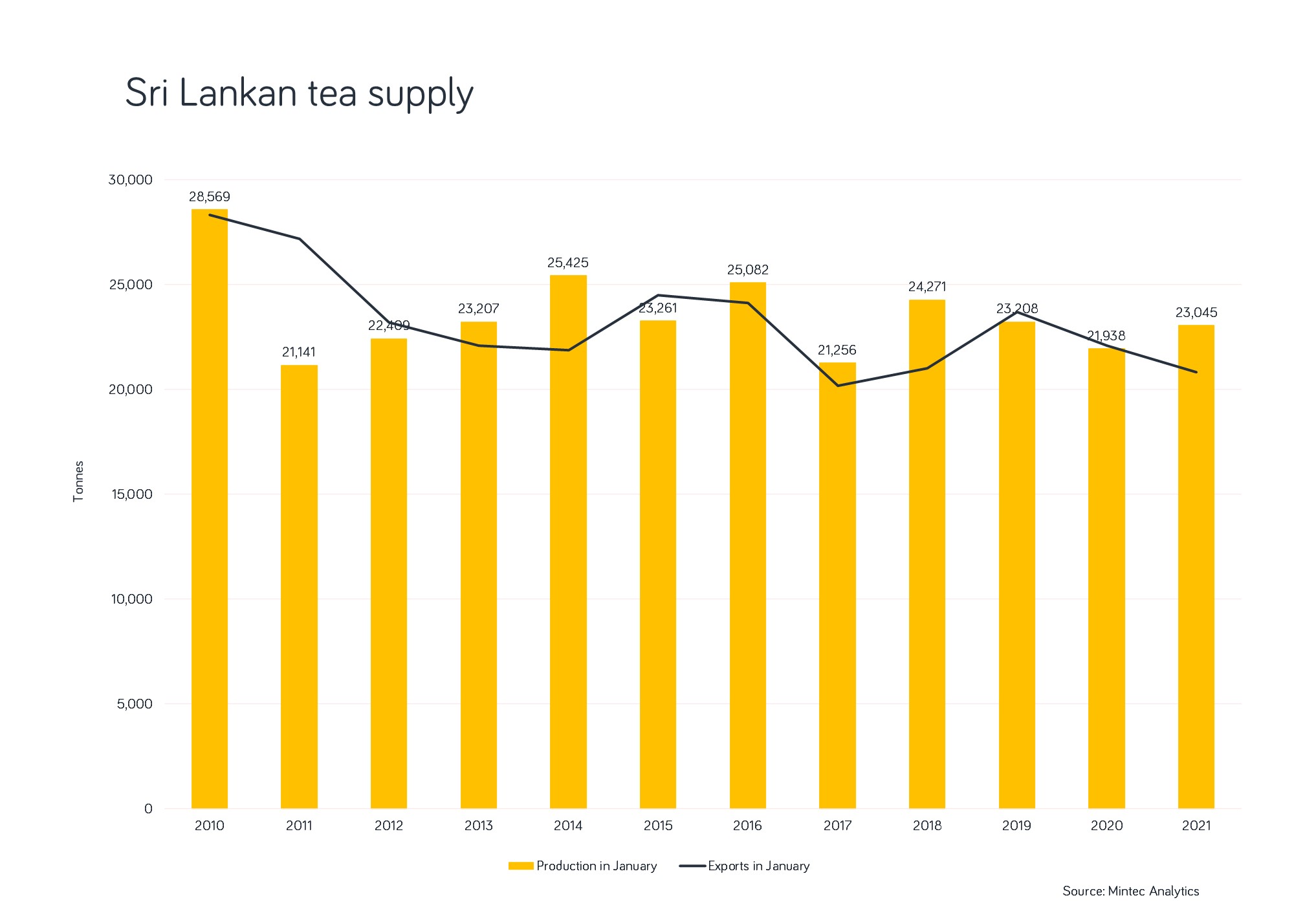 Notwithstanding, firm prices contributed to 6% y-o-y higher export earnings in January 2021 of LKR 19.2 billion (USD 101 million), compared to LKR 18 billion (USD 99.7 million) recorded in the corresponding period last year. SLTB is optimistic that a global demand recovery will support export volumes and prices during this calendar year and is planning to implement a global tea campaign to increase coverage of 12 key markets, including Russia, Ukraine and China
Amidst the optimistic outlook for prices, the industry continues to be challenged by continuous wage increases and lower rates of mechanisation, which would continue to undermine price competitiveness, due to higher average production costs than rival suppliers.