This report provides a category update on commodity price movements since the Brexit deal between the UK and EU on 24th December 2020. It shows that the agreement has had a muted price impact on most categories to date.
The EU-UK Trade and Cooperation Agreement (TCA) permits trade to continue across the English Channel without duties or taxes, to maintain the competitive position of EU exports to the UK and vice versa. This analysis focuses on key commodity categories, delving into the main challenges facing importers and exporters on both sides.

A consistent theme in the immediate post-Brexit era centres around customs and border delays, due to increased stringency regarding origin labelling and health certification, particularly for outbound UK shipments to mainland Europe. Additional documentation is now required for phytosanitary checks, as well as registration for VAT in both areas. Consequently, demand for customs brokers and freight forwarders has increased significantly, according to market participants. However, in the seven weeks to 10th February 2021, there's been minimal Brexit-related price impacts on the fruit and vegetable, dairy, oilseeds, softs, nut and dried fruits market categories. So far, these commodities' prices appear to have been influenced by more traditional fundamental drivers - supply, demand, and weather issues. The impact of COVID-19 and more recently, soaring shipping rates due to a shortage of containers and congestion at ports have also been key drivers of commodity prices. The global shipping rate for a 40ft container skyrocketed by 133% and reached USD 5,191/UNIT in the three months to 10th February 2021.


Global shipping rates for a 40ft container
With its unique conditions and perishable nature of the produce, the fish category continues to pose significant challenges for UK exporters. The impact of logistical bottlenecks has been particularly severe for the fish market, reflected in the price increases at the UK's key wholesale auctions. The meat category (UK beef and lamb) has faced similar admin-based price increases, with the export of all animal products and live animals requiring Export Health Certificates (EHC) and the need to pass through Border Inspection Posts (BIP).
It becomes tougher to differentiate between the direct Brexit price impacts in the other categories (grains and packaging) when considering the global pandemic's overlapping effects and various meteorological factors. However, Mintec expects that the 'Brexit' related price impacts should become increasingly evident in the coming months.


Analysis by Category
Fish
Wholesale market price of selected UK-landed edible fish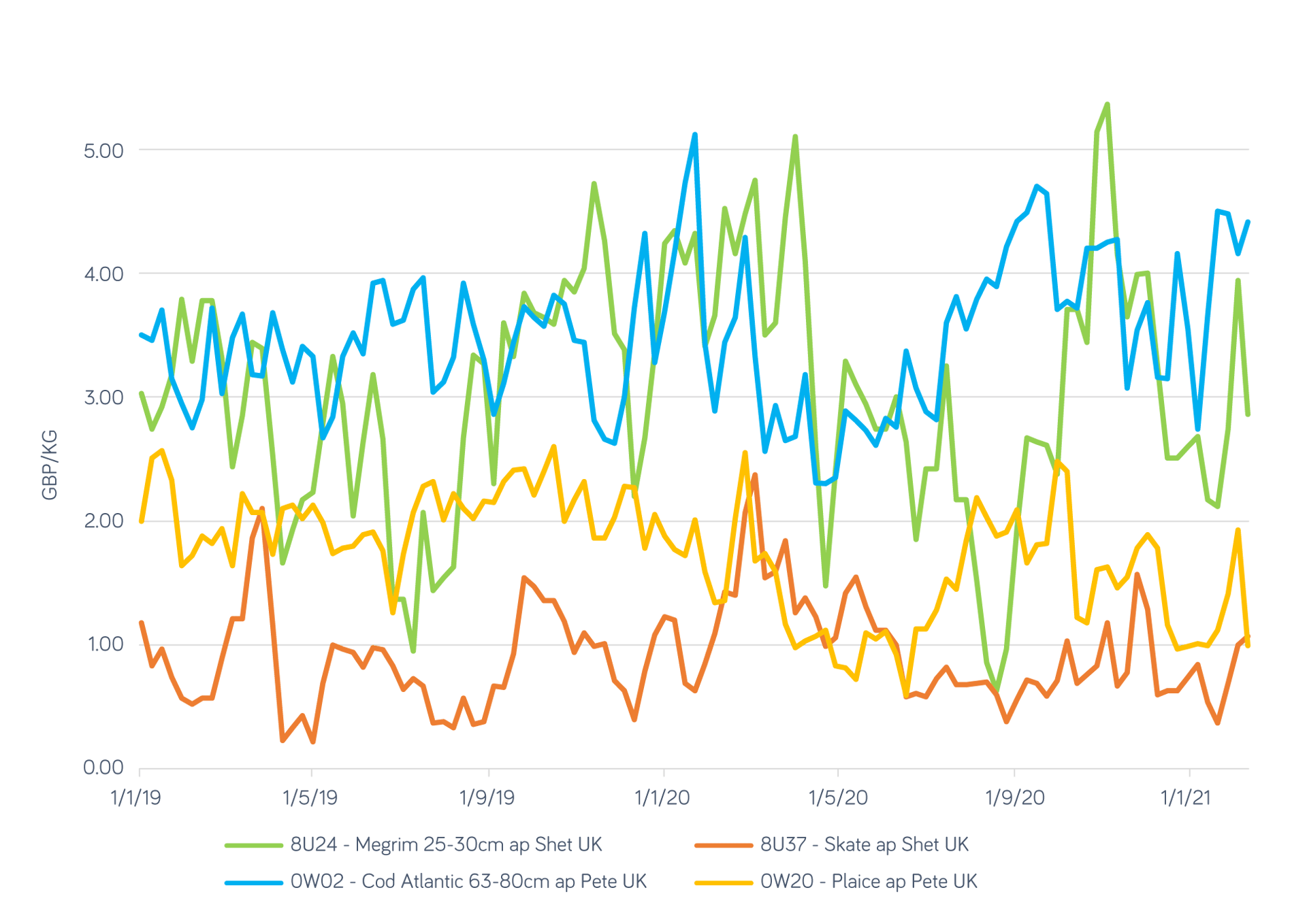 Fishing was a key hurdle during the Brexit negotiations, due to the political ramifications regarding shared catch quotas and sea sovereignty. Under the terms of the final agreement, 25% of EU boats' fishing rights in UK waters will be gradually transferred to the UK fishing fleet by 2026. After that, annual negotiations will determine fleets' catch quotas, with both parties able to completely withdraw or limit access to its waters. Fishing disputes between the UK and EU will be resolved via arbitration.
The fishing sector's unique conditions are posing considerable challenges for UK exporters in the wake of Brexit. Customs clearance times have increased dramatically due to British seafood's additional paperwork requirements to meet EU third-party certification regarding origin, quality, and safety. The perishable nature of seafood products is exacerbated by logistical bottlenecks, caused by incorrectly filled-out forms and batch mislabelling. The sunk cost of fish spoilt in transit has prompted a growing number of British fleets to either stall operations in protest or land catches in mainland Europe, to circumnavigate the 'red-tape'.
For some fish categories, auction prices increased during the periods immediately preceding and following Brexit. Prices were supported by a spike in demand, with both UK and EU buyers keen to secure volumes, in anticipation of potential supply disruptions. The average weekly auction price of plaice at Peterhead in Scotland – among Europe's largest whitefish ports – increased by GBP 0.96/kg (+99%), to GBP 1.93/kg during the six-weeks to 3rd February 2021. The average fresh cod price (63-80cm) at the same auction increased by GBP 1.42/kg (+52%) to GBP 4.16/kg during the four-weeks to 3rd February 2021. Similar dynamics are noted at the Shetland seafood auction, where the respective prices of megrim sole and skate increased by more than half during the six-weeks commencing 23rd December 2020. Both species are popular in mainland Europe, as is monkfish, which Mintec price data shows increased by GBP 0.34/kg (+71%) to GBP 0.82/kg in the four-weeks to 3rd February 2021.
However, prolonged clearance times associated with additional protocols and paperwork, have contributed to a glut of perishable goods within UK borders. Suppliers are subsequently forced to sell heavily discounted seafood to mainly domestic buyers, where demand is limited in comparison to the EU market. Mintec's average price for plaice at Peterhead fell by GBP 0.94/kg (-48.5%) w-o-w to GBP 0.99/kg during the week of 10th February 2021. The megrim sole price at the Shetland auction contracted by GBP 1.08/kg (-27%) during the same period, to GBP 2.86/kg.
Mintec anticipates contrasting price dynamics to prevail, as long as logistical problems continue to undermine domestic supply. A potential shortage of UK-landed fish poses bullish domestic price potential. These spikes are likely to be magnified in premium fresh whitefish and shellfish markets, where shorter shelf lives magnify time sensitivity to sell. Stronger price support is anticipated as lockdown restrictions ease, due to robust foodservice demand.
However, any gaps in UK supply will likely be filled with fish supplied from mainland Europe to both the UK and to the EU, due to the relative ease of the logistical process. Thus, market forces should act as a correcting mechanism, capping the potential for prolonged seafood price spikes.


Meat
UK beef and lamb prices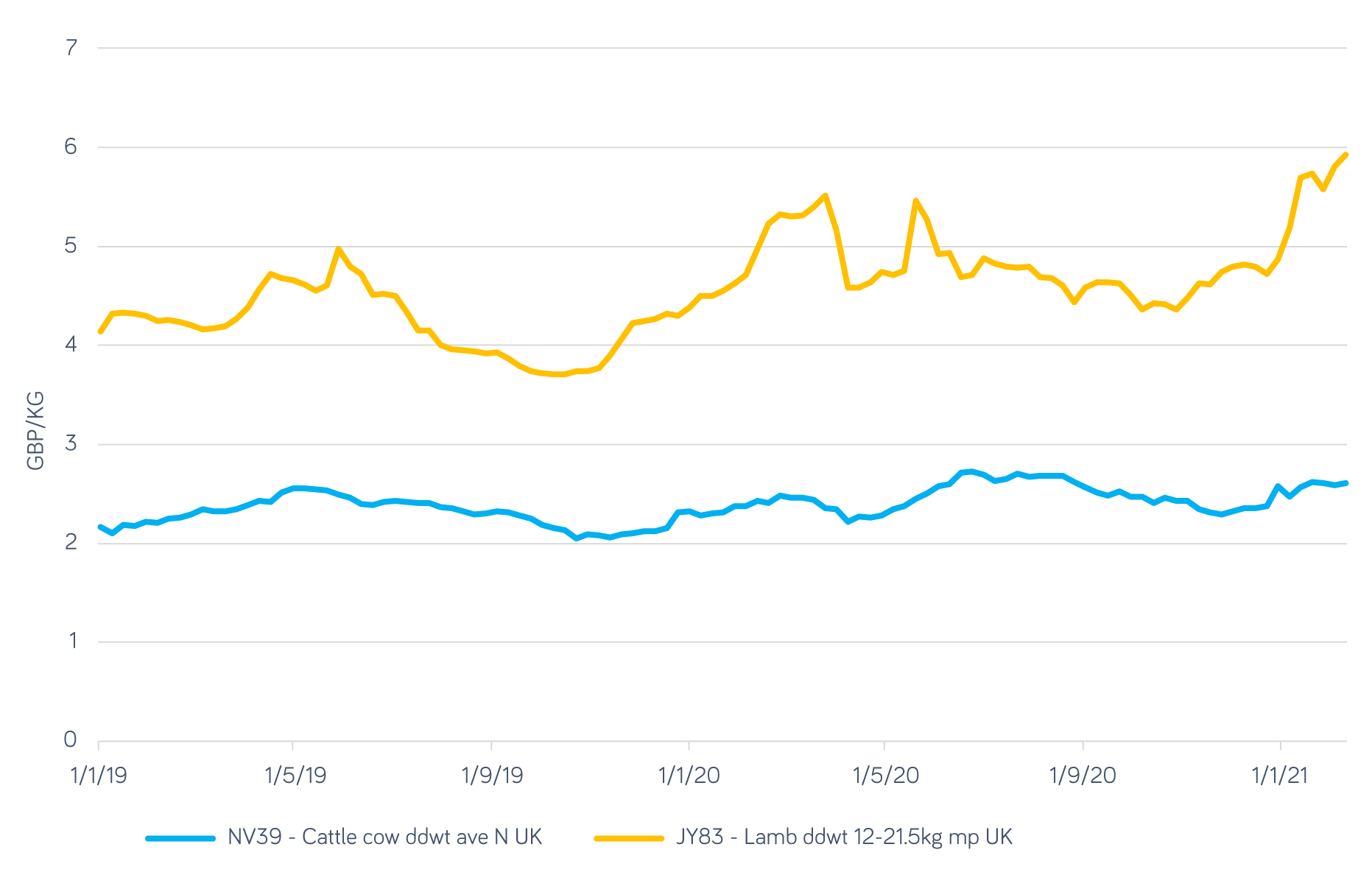 Beef accounts for approximately 40%, lamb and sheep 36%, and pork 20% of the UK meat export revenue. Under the Brexit agreement signed on 24th December 2020, trade between the EU and the UK remains tariff and quota-free. However, goods imported into the UK or EU from third countries will be subject to tariffs. The deal also introduced new customs checks and paperwork at the border. As a result, the UK and the EU meat sector has been facing challenging conditions with the transportation chaos caused after the Brexit deal.
Approximately 82% and 92% of the UK beef and lamb exports are destined for the EU market. UK meat exporters have been going through a testing time due to the extra paperwork they need to complete, following the Brexit transition period. Exporting all animal products and live animals requires Export Health Certificates (EHC) and must pass through Border Inspection Posts (BIP), to be signed by an official vet. As the process is relatively new, the required paperwork is subject to error, a reason for rejection or delay of the whole consignment. Delays at ports have also led to wastage of fresh meat, which has a shelf-life of five days. Additional post-Brexit checks and administrative procedures have resulted in extra logistics costs for UK beef and lamb exporters. As a result, the UK cattle and lamb prices increased by 10% to GBP 2.6/kg and 26% to GBP 5.9/kg respectively between 23rd December 2020 and 10th February 2021.
From the EU exports perspective, Irish exporters have reported a 40% increase in exports cost immediately after Brexit, due to new customs and sanitary/phytosanitary (SPS) processes, delays and disruption in logistics and direct transport cost increases. However, the extra cost due to logistical issues has not been reflected in the Irish beef prices. The Mintec price of beef in Ireland increased marginally by 1% between 23rd December 2020 and 3rd February 2021 to EUR 3.8/kg.
Nonetheless, Mintec expects supply and demand issues amid COVID-19 to contribute equally towards the volatility of the EU beef prices. The social distancing measures due to the pandemic led to lower processing in the meat manufacturing plants, resulting in tight market supplies. As a result, the Irish beef price rose by 10% between September 2020 and February 2021, a greater increase in price compared to rise reported immediately after the agreement. Other meat commodities such as EU pork and EU chicken prices have not been affected by the Brexit deal. EU pork prices have been mainly influenced by weak trade due to the African Swine Fever (ASF), whereas the Avian Influenza outbreak impacted EU chicken prices.
Furthermore, from 21st April 2021, all-composite products containing Products of Animal Origin (POAO), which were not required to be listed as an ingredient previously will need to be accompanied by a veterinary certificate. This could add extra costs to EU beef exports, reducing its competitiveness in the UK market. However, 78% of UK beef imports are from Ireland, resulting in high lamb prices in the UK market. Also, along with extra freight charges, other costs such as additional labour and wastage could be factored into meat prices. The meat processors may adopt risk management strategies to minimise the impact of lost business due to wastage caused by delays at the ports. This could exert upward price pressure on UK beef and lamb arriving in the EU and vice-versa.
Overall, Mintec expects firm beef and lamb prices in the UK market in the short to medium term. A similar price movement is likely to be seen in the EU market over the same time frame. With optimism around COVID-19 vaccines, demand from the foodservice sector is projected to recover, adding further upward pressure on the UK and EU beef and lamb prices.


Fruit and vegetables
UK vegetable prices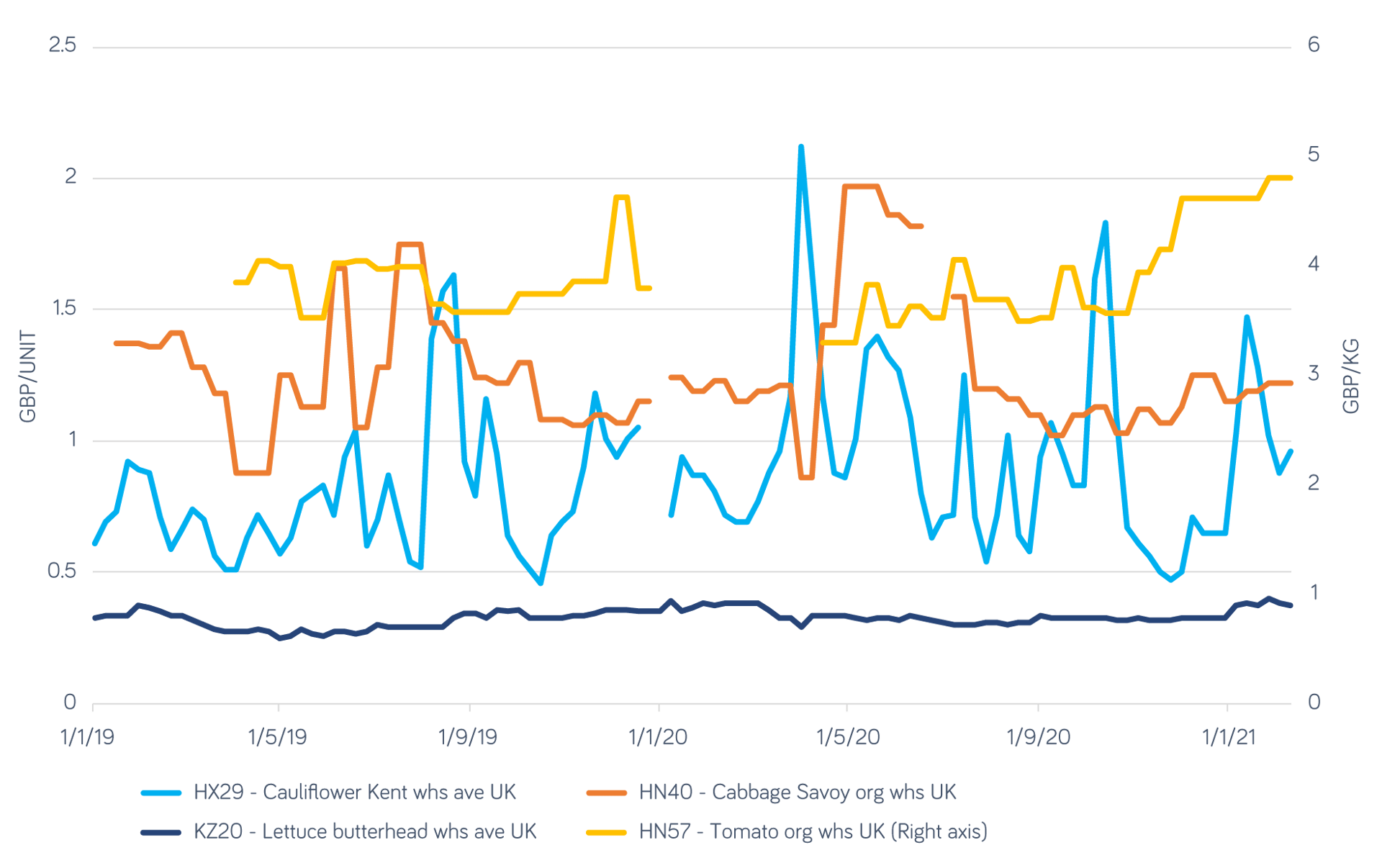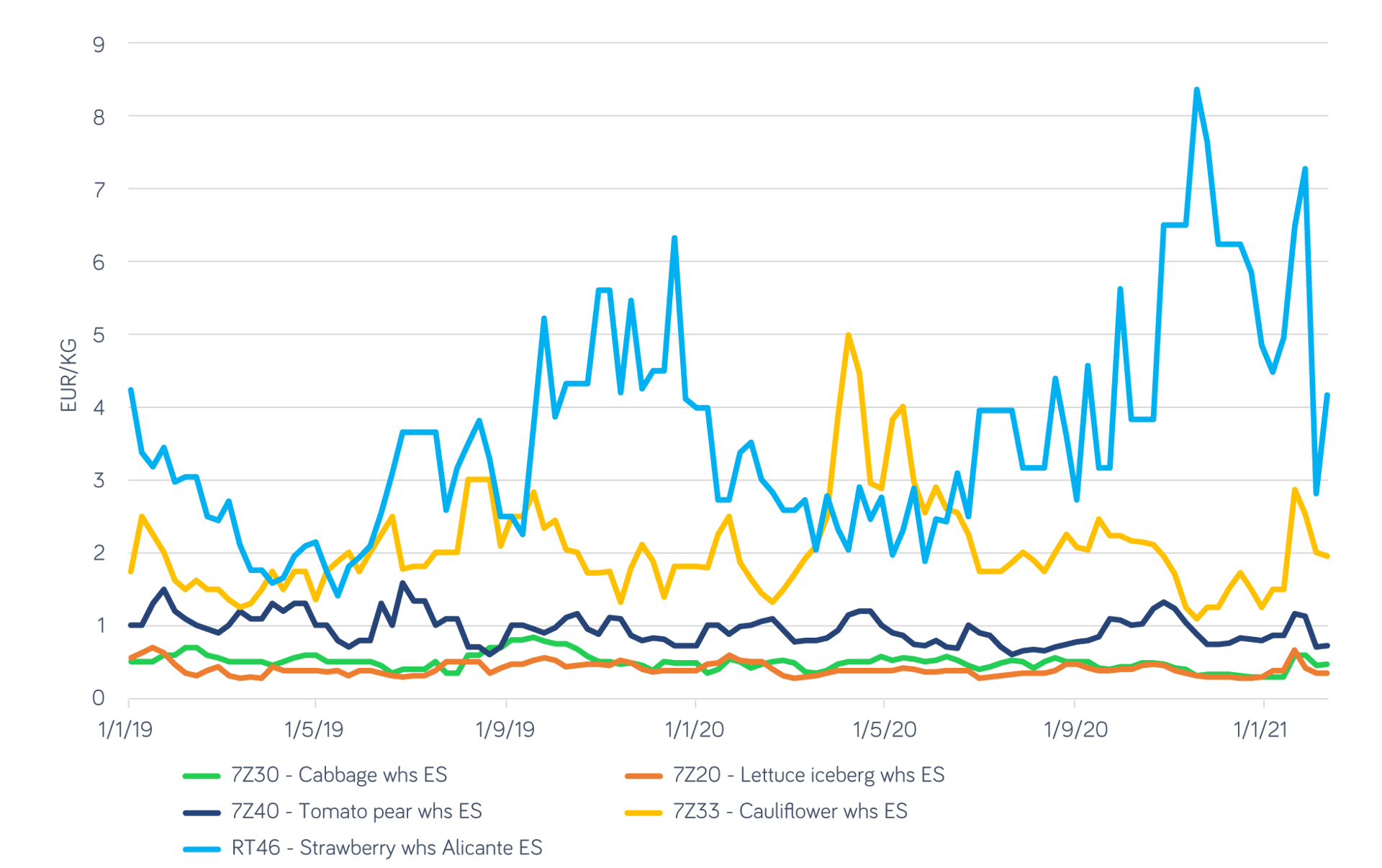 UK and EU fruit and vegetable prices appear to have been mostly unaffected by Brexit since the EU-UK trade agreement. Despite the additional Brexit related costs (custom checks, custom agents fees, extra transport costs and internal administrative red tape), more traditional factors such as weather, supply, and demand fundamentals, amid the ongoing COVID-19 pandemic have determined UK and EU fruit and vegetable prices in the seven weeks to 10th February 2021. Furthermore, improvements over the last seven weeks in efficiency with documentation and border custom/phytosanitary checks have reduced import friction, limiting the price impact.
The UK fruit and vegetable markets are reportedly facing additional costs of Brexit of EUR 400-500 per truck. However, it is currently challenging to verify and quantify the exact impact on UK commodity imports due to Brexit's additional costs, amid a backdrop of COVID-19 and extreme weather conditions across Europe.
Mintec previously expected fruit and vegetable prices in the UK such as; cabbage, cauliflower, lettuce, strawberries, and tomatoes to be affected by Brexit in January 2021. Also, reports of fruit and vegetable shortages at the retail level, due to a combination of Brexit and COVID-19, created additional price uncertainty. Accordingly, Mintec data shows that these commodities' prices have risen throughout January 2021; however, the gains are mostly attributable to fundamentals, rather than Brexit itself.
Seasonality is key to the trade volumes between the UK and EU. The UK becomes a net importer for certain products in the winter, whilst it becomes self-reliant in the summer. Taking these seasonal trade flows into consideration, there's no real price increase in the UK produce (lettuce, cauliflower, strawberries, tomatoes, and cabbage), attributed to Brexit since 24th December. In the seven weeks to 10th February, prices increased by 47% to GBP 0.96/kg for UK cauliflower, 15% to GBP 0.375/kg for UK lettuce and 4% to GBP 4.81/kg for UK tomatoes. In contrast, the UK cabbage price declined by 2% to GBP 1.22/kg for the same period. As stated earlier, the UK prices for these commodities have been impacted by the more traditional supply and demand factors.
Meanwhile, European prices indicate a hike since 20th January for most commodities, a clear indication that prices are affected by other fundamentals and events, than Brexit. The Mintec price of European cabbage increased by 57% to EUR 0.47/kg in the seven weeks to 10th February 2021. Similarly, the price of European lettuce and cauliflower rose by 29% and 30% in the same period to EUR 0.35/kg and EUR 1.95/kg. The Mintec price of European tomatoes and strawberries, fell by 11% and 29% during the same period to EUR 0.73/kg and EUR 4.17/kg. Adverse weather conditions have shaped commodity price movements in Europe over the last few weeks, most notably Storm Filomena, impacting production in Spain. Storm Filomena is reported to be the worst snowstorm to hit Spain in the last 50 years, and its record low temperatures affected key growing regions.
The UK fruit and vegetable sector is set to face significant additional costs of Brexit in Q2 2021 and Q3 2021, due to the full-scale rollout and need for new operational procedures, inspections, and bureaucracy. Reports suggest that EU exporters struggle to adapt to new practices, such as the rules concerning origin to export and re-export to the UK.
Mintec projects that UK fruit and vegetable commodity prices will remain unaffected by the full impact of Brexit until the entire flow of business operations are implemented and once the sanitary and phytosanitary (SPS) certifications and controls are introduced in Q2 2021. Furthermore, the re-opening of the foodservice sector, amid the coronavirus vaccine's rollout and the easing of extreme weather conditions in Spain, will provide a far more accurate effect of Brexit on commodity markets in the coming months.


Dairy
UK cheddar prices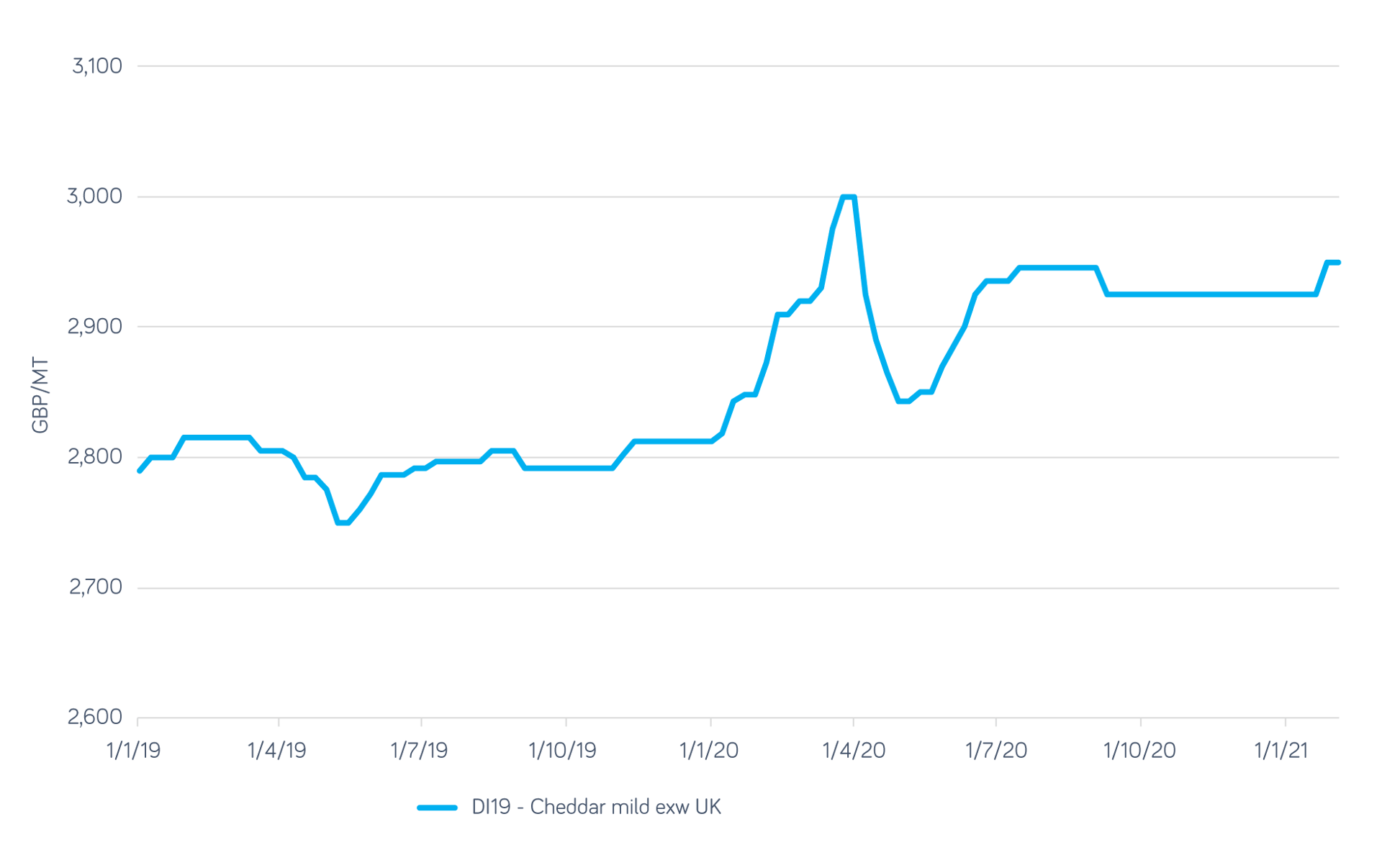 After India, the European Union (EU) is the second-largest milk producer globally, accounting for a quarter of the global milk production. However, the EU is not self-sufficient in some dairy categories such as butter and cheese and is the main export market for UK dairy companies.
Likewise, the UK is the primary dairy market for some EU exporters, particularly Ireland. According to Ireland's Minister for Agriculture, in 2020, Irish dairy exports value to the UK fell by 13% y-o-y, to reach EUR 831 million. The decrease in the UK foodservice caused by the lockdown was the main contributor rather than Brexit contingency planning.
The trade agreement allows for duty and quota-free trade in dairy products; thus, the best possible deal for both sides. The EU has a positive trade balance with the UK and the deal allows the EU to maintain the UK's access to its main export market. On the other hand, the trade deal will lead to increased costs and bureaucracy associated with custom procedures. The only area where an agreement does not appear to have been reached is that of recognising dairy geographical indications, although there is potential for possible further discussions.
Currently, dairy companies have to prepare an Export Health Certificate (EHC) for every order, which requires a vet to certify the milk used, and a certificate of origin to prevent the UK from becoming a hub for exporting products from third countries to the EU. This means that products shipped from the UK, which are granted duty-free access to the EU, must be manufactured in the UK without any significant content from third countries. These new red tape requirements add GBP 190 to issue EHC and budgeting workforce to handle the extra paperwork. This is commercially unpractical for shipping small orders, particularly short-life dairy products such as cream and skim concentrate.
The threat of a no-deal meant most businesses had purchased their product in advance to avoid any border chaos in the early weeks of 2021. Trade delays were reported in the first few weeks of January as the new IT and custom systems came into effect, but delays were more of the exception rather than the rule.
Butter and cheese are the main dairy categories traded by volume to both areas. Both commodities have experienced an upward price trend since 24th December 2020. Cheddar cheese, the main cheese traded between both sides, increased slightly from GBP 2,925/MT to GBP 2,950/MT between the 24th December and 3rd February, and the butter price reached GBP 3,075/MT, up 5.1%. These price increases were not mainly driven by the new trade deal's bureaucratic cost but also the low supply of milk in Europe. The real impact of Brexit on dairy prices will only be realised in a few years, as the UK gradually opens up to highly competitive third countries.


Oilseeds and Vegetable Oils
There's been minimal Brexit impact on oilseed prices since the deal was struck as trade continues to be tariff-free. The Mintec Category Index (MCI) for UK Oils and Fats rose by 1.5% to GBP 693.33/MT in the week to 30th December, maintaining its upward trajectory. Prices across the oilseeds complex continued to be driven by global supply and demand factors rather than Brexit. The trend is also reflected in the European Oils and Fats MCI, which rose by 0.8% to EUR 814/MT over the same period.
UK and European oil prices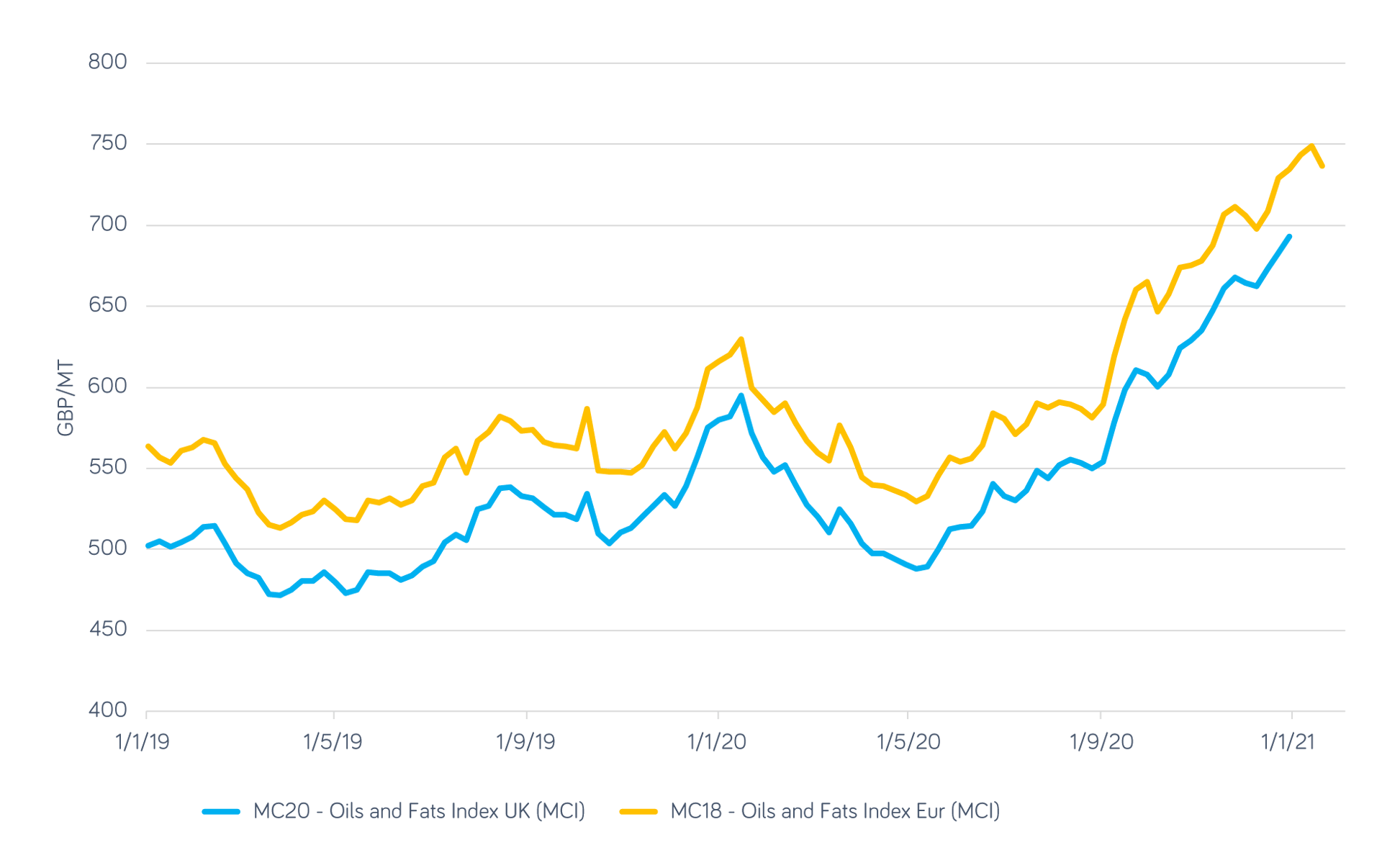 The impact of Brexit on the oilseeds market come from small bottlenecks in logistics due to increased paperwork between the two regions, with all oilseeds related goods needing additional documentation and phytosanitary certificates that were previously not required. However, EU market participants remain optimistic that these hiccups are mostly short term and will be resolved as more robust and efficient procedures are put in place in the long term.
The UK may benefit from its departure from the single market. There is potential to deviate from EU policies that previously restricted oilseeds and vegetable oils trade, particularly palm oil and rapeseed oil.
Firstly, there may be a more favourable outlook on palm oil usage within the UK, following positive comments by Jon Lambe, UK ambassador to the Association of Southeast Asian Nations (ASEAN). ASEAN countries are now an "extremely high priority" for the UK as part of a "Global Britain" campaign, which will inevitably pave the way for more talks between the UK and the main palm oil producers - Malaysia and Indonesia. The EU had previously pledged in 2018 to phase out palm oil usage due to deforestation and sustainability concerns in the producing nations, which has limited the UK's exposure to palm oil. However, the UK's outlook is now optimistic, as there is strong domestic demand for palm oil-based products and willingness to avoid conflict in favour of working together with Malaysia and Indonesia to form more sustainable supply chains. This narrative is bullish for global palm oil prices on the back of strong potential demand. It is essential to mention that the soaring Asia-UK freight rates (which have increased almost fourfold between November and December 2020) may provide headwinds to this ASEAN optimism as costs for traded goods will remain elevated.
UK rapeseed production is anticipated to begin recovery this year following years of low yield with crops damaged by cabbage stem flea beetles amongst other factors. In January 2021, the UK government reversed the 2018 EU ban on thiamethoxam, the neonicotinoid primarily used to treat rapeseed and sugar beet seeds, despite significant pushback by various environmentalists due to its adverse effects on wildlife. With the neonicotinoids being used on a case by case basis, rapeseed crop could also benefit from this change in policy due to it being the primary use case before the ban along with significant lobbying by farmers following years of frustration with damaged crops. A Scottish government survey had previously shown that over a third of Scottish rapeseed farmers blamed the ban on thiamethoxam for the extensively damaged crop, with other EU and UK farmers echoing this sentiment. As a result, UK rapeseed production could rebound leading to softer prices overall, though this shift will have to happen over the course of several crop cycles to get back to output levels of 2 million tonnes seen 5 to 6 years ago. This will mean that the UK will likely remain reliant on the EU for short to medium term supply, which has also been declining, with 2020/21 production estimated the lowest in 12 years at 16.8 million tonnes, according to the USDA.
For the time being, the oilseeds complex remains bullish primarily on the back of COVID-19 recovery expectations, tight supplies and robust demand. Under the new red tape, the temporary supply delays may further push up prices for EU produced oilseeds products such as olive oil, rapeseed oil, and sunflower oil. In the medium to long term, the UK's opportunities mentioned above may begin to impact market prices, with new trade agreements being set up.


Grains
Prices for most grains in both the UK and the EU continued to rise following the trade agreement on 24th December 2020. The rise is mainly associated with the COVID-19 pandemic, projected tight supplies and unfavourable weather conditions. The Brexit impact has been negligible. Indeed, the Mintec Category Index (MCI) for UK cereals rose by 4% to GBP 218/MT in the four weeks to 20th January; meanwhile, European MCI for cereals increased by 10.4% to EUR 218.5/MT during the same period.
UK and European Cereals Index (MCI)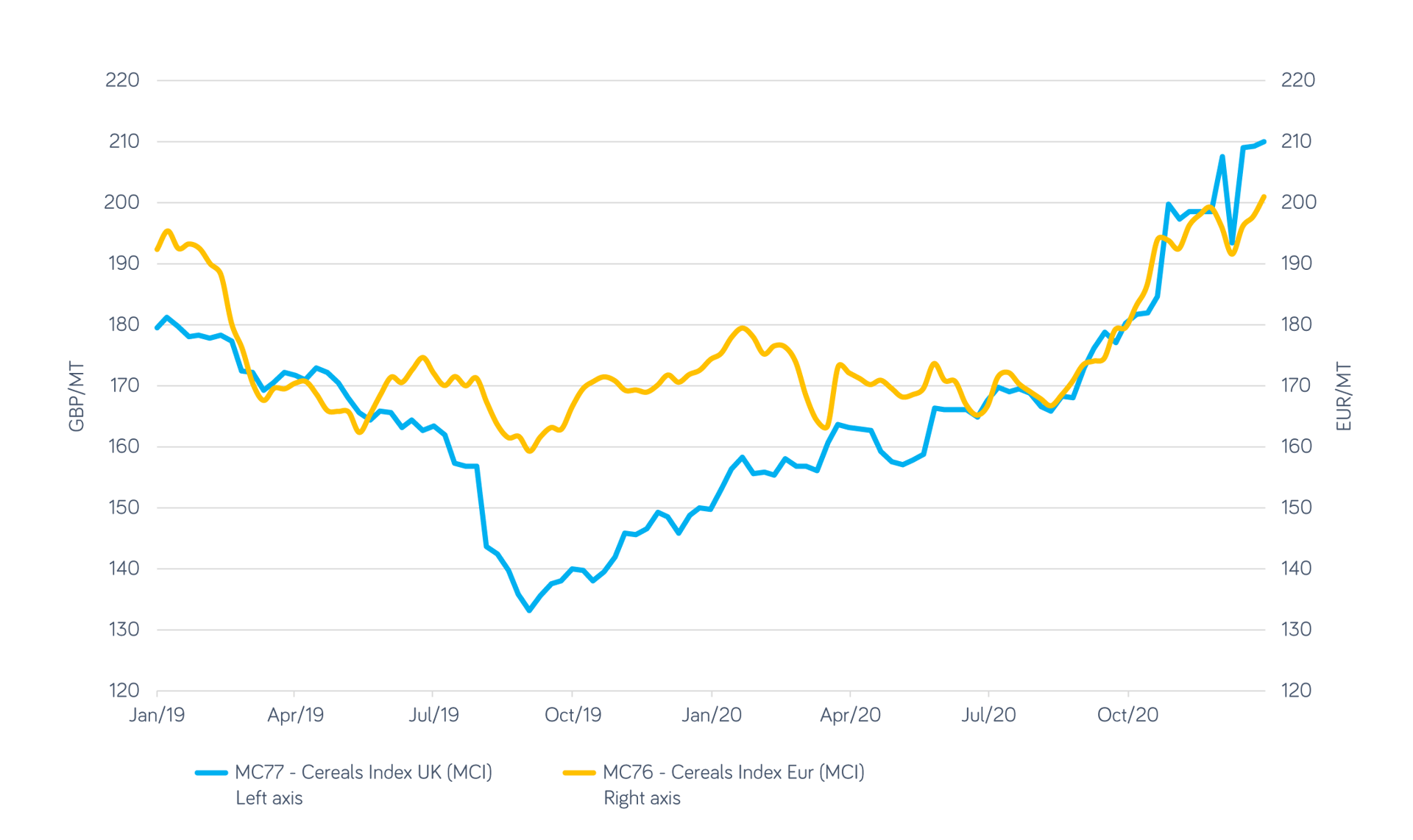 Strong Chinese demand amid projected tight global supply due to export restrictions imposed by main suppliers such as Russia and Ukraine, and unfavourable weather conditions resulting from the La Nina phenomenon continue to support global grain prices. The impact of these drivers is reflected in both the UK and EU prices. As a result, Euronext maize (corn) and wheat prices increased substantially, by 11% to EUR 213.7/MT and 5% to EUR 219.3/MT respectively, in the seven weeks to 10th February. Furthermore, the lowest wheat crop since 1980 has impacted UK wheat prices. As of 3rd February, the weekly average price of UK wheat (bread quality) EXF was trading at GBP 221.2/MT, up 33.9% compared to the previous year.
EU wheat and maize prices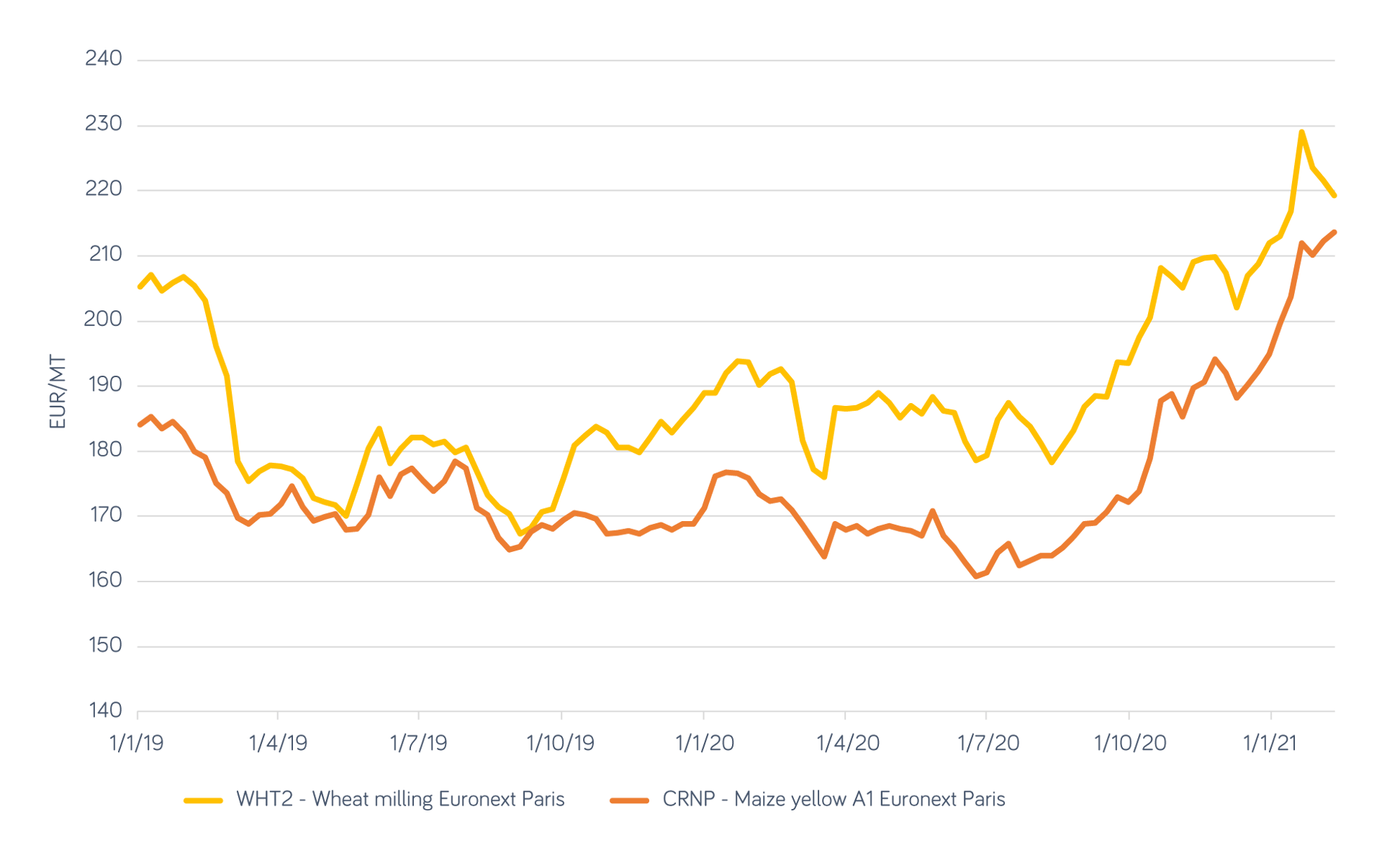 The TCA removed potential hefty tariffs on many food products traded between the EU and the UK. The EU may benefit from ample exports of high-quality milling wheat, rice and maize to the UK; meanwhile, British barley and feed-wheat exports to the EU are likely to remain competitive. Nonetheless, complexities are still expected due to additional paperwork and physical checks.
The Rules of Origin specifies a maximum of 15% of wheat from third countries is permitted; otherwise, a EUR 172 per tonne tariff will be applied. This is expected to be a fundamental problem for the Irish Bakery sector, which imports 80% of its flour from UK millers. Most British flour is partly made of North American wheat, particularly of Canadian origin.
Presently, most Irish producers are willing to pay the additional import duty, but some bakers are trying to avoid the new tariffs less gluten and protein than normally used by Irish bakers and German supplies are by building new supply partnerships with millers from France and Germany. As Ireland is one of the main buyers of UK flour, shifting from the UK to other major providers would lead to an oversupply on the British market, weighing significantly on domestic wheat flour prices. However, a shift is not expected to occur soon as French flour is generally a more expensive alternative to British flour.
Overall, the EU-UK trade dynamics is not projected to change in the short term. However, both regions may seek new trade partnerships to remain competitive in the global market in the long term.


Nuts and Dried Fruit

EU and UK sultana prices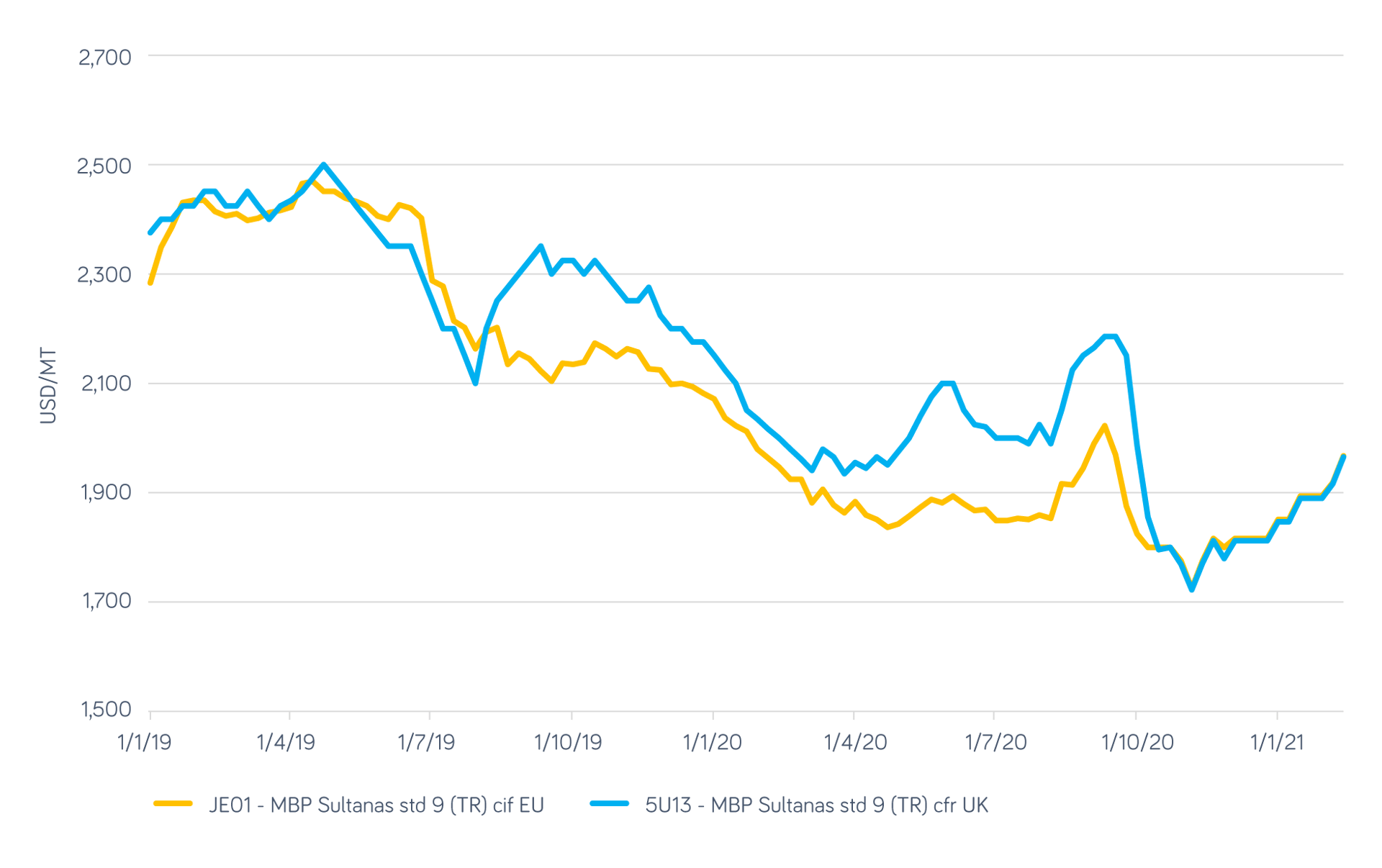 EU and UK nut and dried fruit prices have been mostly unaffected by Brexit, except for currency re-adjustments through the strengthening Turkish lira, partly because of the new free trade deal signed between Ankara and London at the end of December 2020.
Both markets are not significant producers of nuts and dried fruit, apart from Spain (almonds), Italy (hazelnuts and small volumes of walnuts, almonds and pine nuts) and Greece (currants). Products from these countries occasionally make it into the UK market. However, both markets supply each other with nuts and dried fruits imported from third countries.
The continuity agreement signed in December 2020 between the UK and Turkey, a key supplier of sultanas, raisins, hazelnuts, dried apricots, and dried figs, has had some implications for nut and dried fruit prices, mainly through exchange rate fluctuations. In the wake of the new trade deal, and further fuelled by personnel changes on the post of the Turkish central bank governor, the lira has strengthened significantly against the dollar since November 2020, from 8.52 on 6th November to 7.08, to the dollar on 9th February.
The gains in the lira have driven prices up for Turkish nuts and the dried fruits. The Mintec Benchmark Prices (MBP) of Turkish hazelnuts delivered CFR EU increased by 4% since 25th December, reaching USD 7,100/MT on 11th February. Mintec UK prices for Turkish hazelnuts gained 5% in the seven weeks to 11th February, climbing to USD 7,350/MT. The EU and UK sultana MBPs (standard type 9) rose both by 8% in the seven-week period to 10th February, to USD 1,968/MT and USD 1,965/MT, respectively. Mintec UK prices for Turkish dried apricots were up 7% in the seven weeks to 10th February, to USD 4,200/MT.
Aside from the strengthening lira, the impact of Brexit on prices of nuts and dried fruits in Europe has been mostly negligible.
However, similarly to other industries, the UK nut and dried fruit sector has experienced various EU-trade-related issues since the transition period. The industry continues to face a rise in transportation costs as hauliers increased haulage charges on exports from the UK to the EU due to the Brexit red tape, mainly concerning border delays and risks arising from insufficient paperwork. According to market participants, additional costs for customs declarations, certifications, and higher premiums for freight insurance can make UK nut and dried fruit exports uncompetitive in the EU.
Traditionally, the nut and dried fruit sector works with relatively low-profit margins. The import tariffs are a cause for concern as well, especially for tariff-qualified-products in both markets. In this case, a UK trader who sources import-tariff-eligible product from a third country, and wants to re-export that product into the EU, faces an additional import tariff if the product is also duty-eligible in the EU. The same applies to EU businesses selling into the UK. The second import tariff can erase any profits that businesses would typically make.
In an attempt to overcome the new obstacles in the EU-UK trade, it would not be surprising to see UK nut and dried fruit companies setting up subsidiaries in the EU for their EU-related business activities. Similarly, EU businesses supplying the UK market might have to consider shifting their activities into the UK to stay competitive.
Softs
ICE London three month ahead futures prices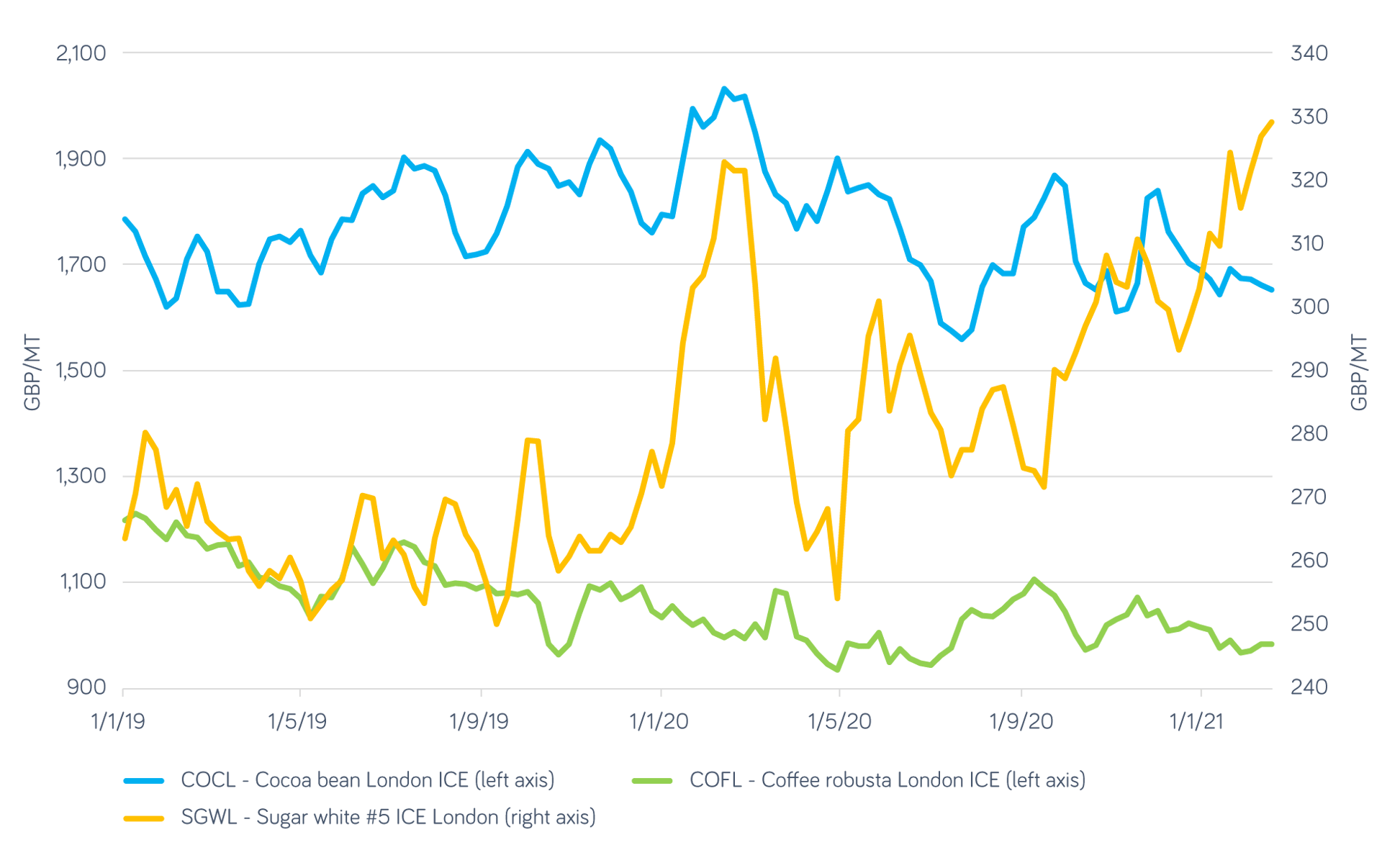 ICE London futures prices of Robusta coffee fell by GBP 39/kg (-3.8%) to GBP 984/MT during the eight-weeks starting 23rd December 2020, while the cocoa bean terminal price contracted by GBP 51/kg (-3.0%) to GBP 1,672/MT during the same period. By contrast, the ICE London white sugar price increased by GBP 31/MT (+10.6%) to GBP 321/MT during the same eight-weeks. There has been minimal Brexit impact on softs terminal prices, in contrast to speculation regarding weather conditions, currency exchange rates, and supply and demand peaks and troughs related to the global pandemic. Futures-traded markets facilitate a mix of risk-hedging and procurement strategies that are not replicated in spot markets. Additionally, the UK is a net importer of cocoa, coffee and sugar, sourcing most of these goods from outside the EU with minimal volumes re-exported. This limits the potential for Brexit-related logistical bottlenecks to fuel firm prices.


Packaging
The EU-UK supply chain for packaging materials has been significantly impacted since the agreement signed at the end of December 2020. Packaging material prices are rising globally, driven by increasing shipping costs, limited supplies and strong demand mainly derived from the effects of COVID-19 pandemic. This trend is also reflected across the UK and EU packaging markets. Nonetheless, increased customs check and paperwork resulting from Brexit, exacerbate current problems in the packaging market, supporting prices.
Brexit has resulted in longer waiting times at customs for shipments of goods to and from the UK, with exporters reporting delivery problems, particularly for corrugated materials and plastic packaging grades. As a result, lead times for the industry rose substantially from days to weeks, with some customers unable to source boxes at all.
The COVID-19 pandemic is significantly impacting the recycling sector. Exporters of recovered or 'waste' paper (usually shipped to France, Germany, the Netherlands and Belgium) have reported difficulties in shipping to the EU due to increased paperwork and requirements impacting clearing times. As a result, Mintec's data shows that EU corrugated paper increased by an average of 20% m-o-m in January to EUR 524.8/MT, driven mainly by a rally in recovered paper prices which jumped by as much as 70% m-o-m to EUR 29/MT.
Corrugated paper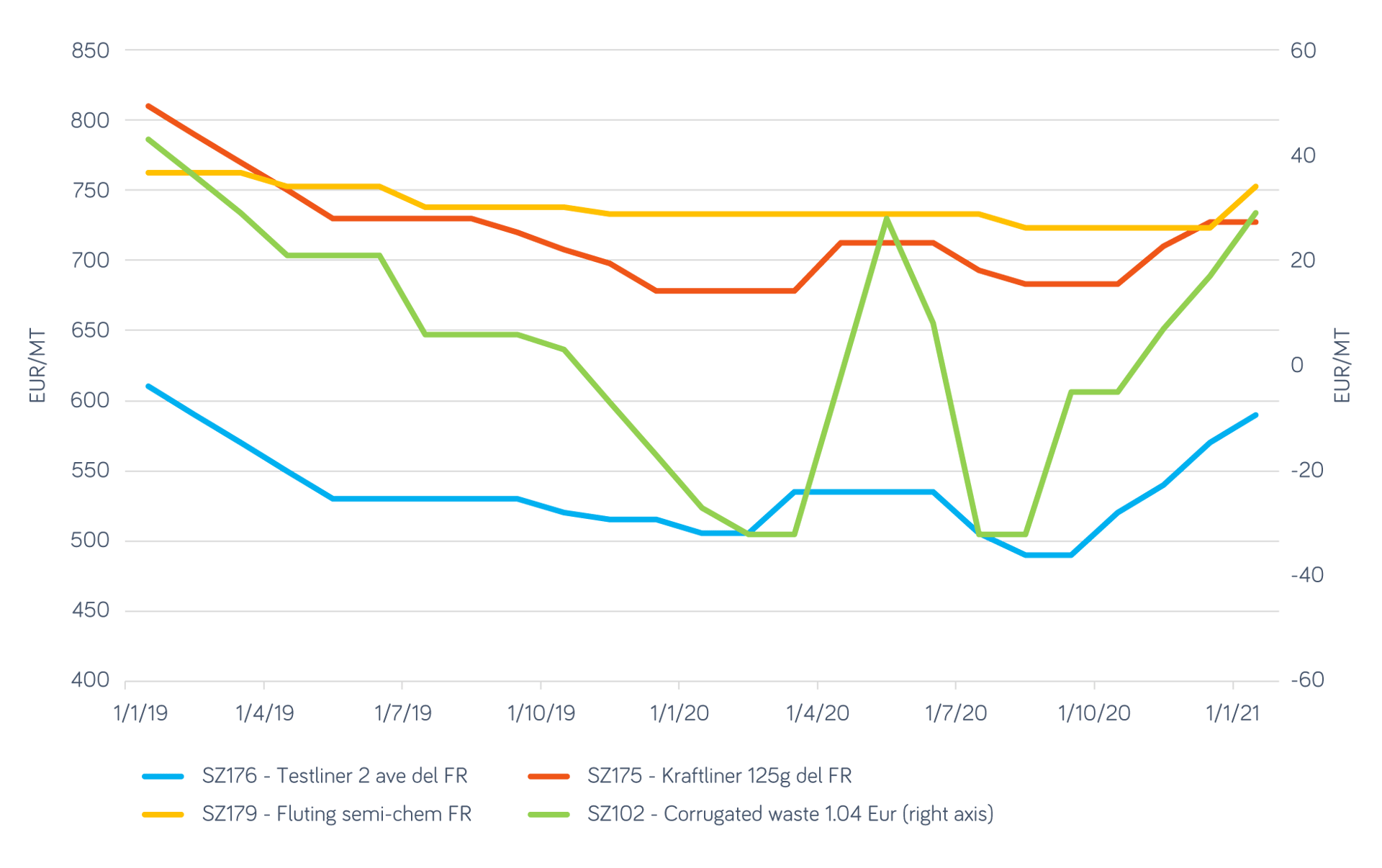 Due to the significant increase in corrugated case material in January some GD board producers are announcing plans to increase prices in the next couple of months.
Similarly, the plastics market continued the upward trajectory since December, driven by continued tight supply amid increased demand for plastics for packaging applications, aggravated by Brexit. According to market participants, exports of PE, PS and PP to Europe were delayed due to continued uncertainty over import and export regulations.
The metals sector is also reporting problems in moving goods across the border, a significant issue for the UK, as the region is a significant exporter of aluminium scrap and scrap products to Europe. Despite such problems, global aluminium and steel prices continue to rise mainly due to China's rapid economic recovery and a shortage of supplies. Nevertheless, the steel industry is facing issues under the new agreement.
Despite a tariff and quota-free trade agreement signed between the EU and UK in December 2020, the UK steel industry is still subject to a 25% export tariff on steel to the EU above a certain quota, which is yet to be decided by the EU. This is due to a protective measure implemented by the EU in 2018. Approximately 70% of UK steel is exported to the EU, which means a quota tariff would significantly harm the UK steel industry. Due to the Northern Ireland Protocol, steel exported to Northern Ireland will be included in the quota, thus minimising the availability, which market participants expect to run out during Q1 2021. Currently, there's been no direct impact on steel prices following the agreement at the end of 2020. Steel producers appealed to the British government for renegotiations to be made with the EU, but no changes have been reported so far.
Overall, UK-EU trade challenges are expected to persist for the next three months, putting pressure on EU and UK packaging supplies. However, minimal disruption is anticipated in the long term, as bottlenecks and delays are expected to settle and supply-demand to adjust.

Concluding remarks
There's been minimal price impact on the key UK and EU commodity prices following the Brexit trade agreement. However, some categories' niche challenges provide bullish price momentum, reflecting the added costs of supply bottlenecks and/or additional administrative requirements. Each category is underpinned by sector-specific supply, demand, and weather issues, making it challenging to gauge the impact of Brexit in isolation. The recent intensification of lockdown restrictions across the UK and EU has impacted prices amid global commodity price increases due to strong demand from China, extreme weather events, and supply disruptions. While there's a consensus that there's been additional Brexit costs, the extent to which these have directly translated into higher commodity prices, remains to be seen.
In the long term, if Brexit related costs increase and compromise business profit margins, UK companies may establish subsidiaries in the EU for their EU-related business activities, to incentivise trade and ensure competitive pricing. Similarly, EU businesses supplying the UK market may consider shifting their activities into the UK to reduce cost and remain competitive. Alternatively, companies in both the EU and the UK may seek new trade partnerships to stay profitable and competitive in the global market.
Mintec expects most commodity prices to remain minimally impacted by Brexit until the entire flow of business operations is implemented and the sanitary and phytosanitary (SPS) certifications and controls are fully introduced in the next few months. Furthermore, the foodservice sector's re-opening will provide a more accurate Brexit effect on commodity markets in the coming months amid the coronavirus vaccines' rollout.