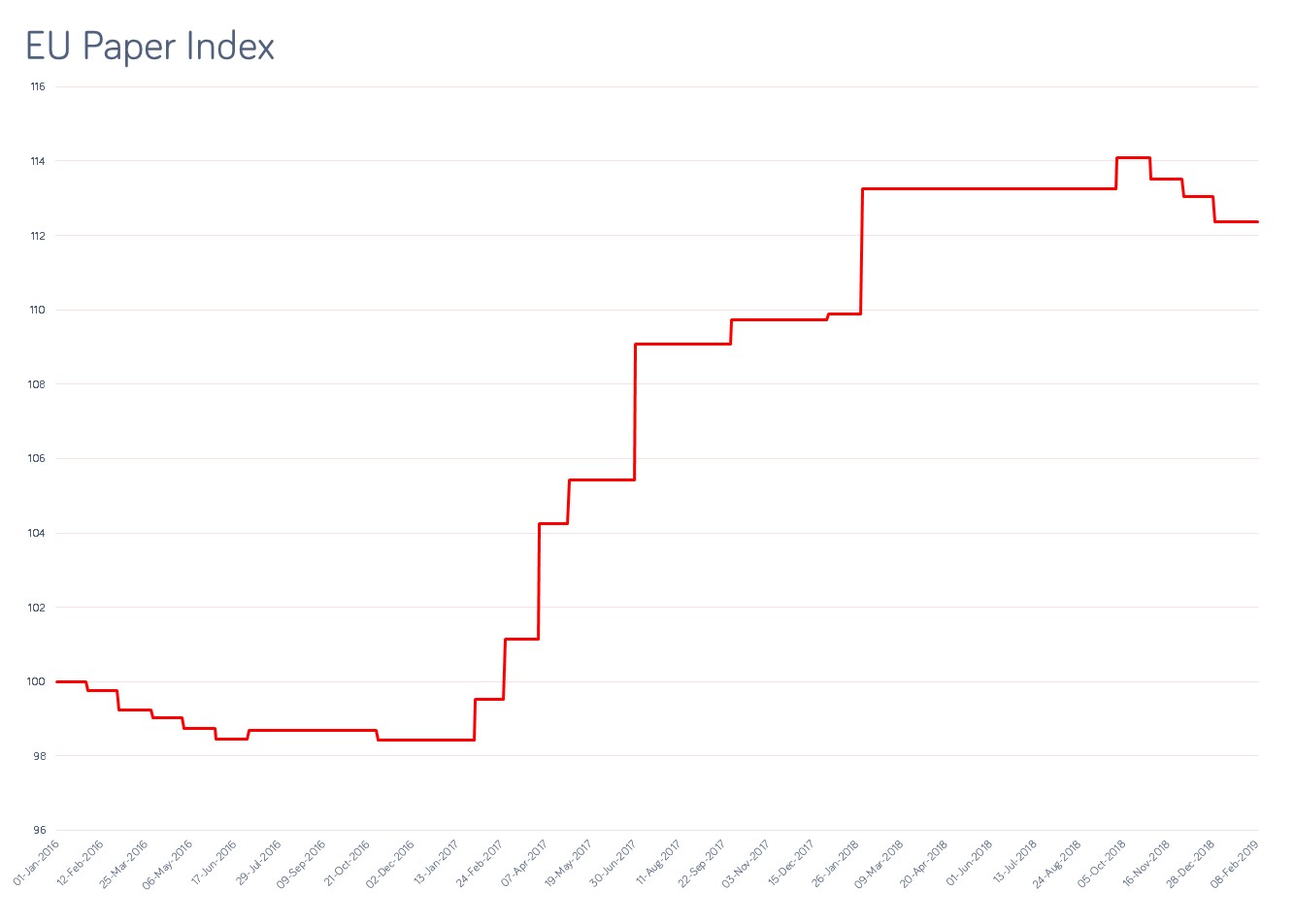 Low capacity utilisation among countries in Europe, new players from North and South America entering European markets, and inventories building-up during the holiday season have contributed to pushing paper packaging price downwards. The Mintec Paper Index showed a decrease of 1% q-o-q.
Testliner and Fluting
Mintec European testliner and fluting prices show a decrease of 5% and 4% y-o-y respectively.
Depression in the global recovered paper demand from the last quarter in 2018 has pushed corrugated board manufacturers to lower recovered paper prices, used as a feedstock for testliner and fluting. In Germany, some manufacturers retroactively reduced their November 2018 prices.
This demand dip can be attributed to the in Europe in 2018 as well as the usual seasonally low-level demand during Christmas. Throughout 2018, demand has been affected by the absence of buyers from China following the import ban, pressuring European recovered paper export prices downwards. Demand from China could however, bounce back after the Chinese New Year in the following weeks.
Kraftliner
The Mintec Krafliner price is showing a large downward trend, falling by 3% since November 2018.
This price decrease has been attributed to falling feedstock costs, as softwood and hardwood pulp prices in Europe have been decreasing since November 2018. The Mintec prices for softwood pulp have declined by 5% q-o-q, mainly driven by the high-level inventories across the continent.
Cartonboard
The Mintec cartonboard price for Europe increased in November 2018 against the decreasing trend of recovered paper prices but has since started to follow the general paper packaging trend in December, decreasing by 1% m-o-m. This slight price decrease can be attributed to good European supply availability even though France production levels are lower than the average for the same period of last year.