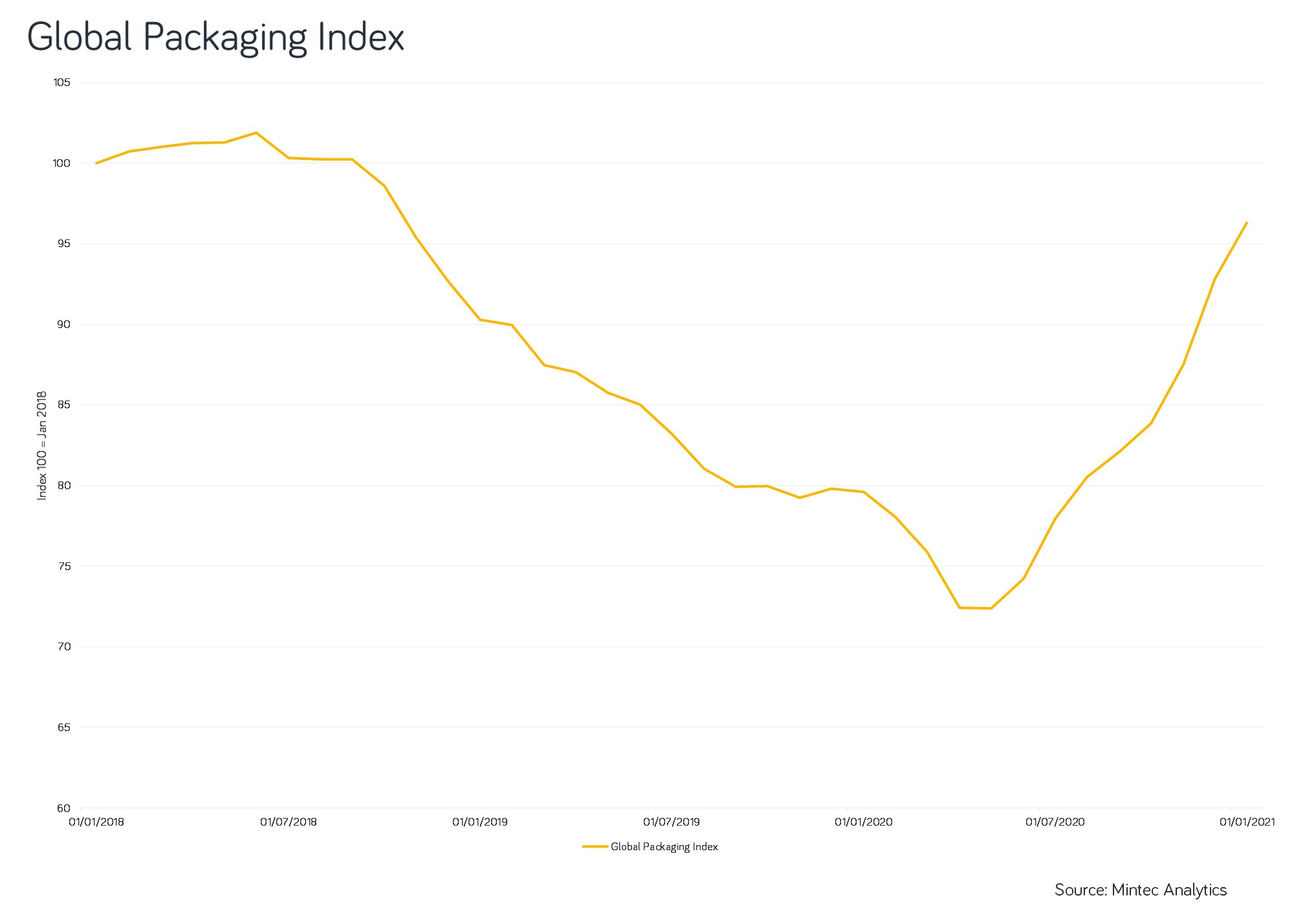 The Mintec Global Packaging Index rose for another month, up 4 points to 96.3 in January, driven by global supply shortage partly due to intense demand for packaging materials. The global packaging blend reached an average of USD 1,215.6/MT in January – the highest since October 2018. The significant increase was seen across all three markets (metals, paper and plastics) with the most considerable impact seen on the plastics market, up 6.1% month-on-month (m-o-m) to a monthly average price of USD 1,440.13/MT.
The upward price trend seen in the global plastics market since December continued into January, driven by persistently tight supply due to force majeure declarations, maintenance, low inventories, and plant outages. Also, demand for plastics for packaging applications remained high across most regions because of the coronavirus pandemic. Brexit also had a negative impact on both the UK and EU markets. According to market participants, low materials have been entering the EU from the UK due to port congestion resulting from stricter customs checks and paperwork, leading to significant delays in exports of PE, PS and PP resins. As a result, EU HDPE and LDPE prices rose significantly in January, by 8.3% m-o-m to USD 1,520.8/MT and 9% m-o-m to USD 1,708.9/MT, respectively.
Meanwhile, PE and PP supplies remained tight in the US following Force Majeure conditions in late 2020. In addition, the recent surge in shipping costs from Asia largely impacted the import arbitrage, reducing the incoming flow of material to the Americas. Ongoing production disruptions coupled with robust exports to Latin America, further supported bullish prices. Consequently, US PP prices rose by USD 297.6 to USD 2,127.4/MT in January.
The global metal market was mainly driven by steel prices, with huge increases seen across both the US and Northern European steel markets. The upward trajectory seen in European steel prices continued in January, with the prices for cold-rolled (CR) coil in Northern Europe ascending to their highest levels since May 2011 and up 14.7% m-o-m to USD 951.2/MT.
The market continues to be dominated by supply issues amid strong world demand, and high freight costs contributed to bullish global steel prices. As a result, the US CR coil prices surged in January by USD 163.6 to record levels of USD 1,234.6/MT.
According to market participants, prices have reached a resistance level and should start to correct, in the near term as supply-demand balances out.
Similarly, the global paper market continued to rise in January, driven by increased linerboard prices in both China and the EU. Strong demand for corrugated materials and cardboard mainly due to a surge in home deliveries and an increase in e-commerce demand, attributed to the COVID-19 pandemic amid maintenance scheduled by paper mills resulted in supply shortages, supporting prices. In addition, the reintroduction of lockdown across most of Europe led to reduced recyclate, exacerbated by Brexit. According to market participants, UK exports of recycled materials to the EU have been limited due to port congestions, and strict customs check, which led to a surge in corrugated waste (1.04) prices in Europe, by EUR 12/MT (+70.6% m-o-m) to EUR 29/MT in January. As a result, many major supermarkets were seen temporarily switching to plastic boxes for eggs, due to the shortage of cardboard boxes.
Strong demand from Europe and high global shipping costs caused corrugated materials price in China to increase by 6.3% on an average to USD 715.8/MT. However, trades in the Chinese paper market are expected to soften as a result of the Chinese New Year.
Prices for used cardboard and mixed papers are expected to remain high in the next few months, driven by supply-demand imbalance and increased virgin pulp prices.