After peaking at a four-and-a-half-year high of USc 20.57/Ib in late-August 2021, the average Intercontinental Exchange New York (ICE NY) benchmark price for raw cane sugar (three-month ahead) retreated to USc 18.79/Ib by the week of 10th September 2021. This latest price, which represented a five-week low, coincided with renewed optimism regarding supply expectations from Brazil and Thailand, respectively, the world's top-two exporting countries. Data from Unica, the Brazilian Sugarcane Industry Association, showed domestic sugar production increased by 20,678 tonnes (+0.7%) y-o-y in August 2021 to 2.95 million tonnes. During the week of 10th September 2021, Thailand Sugar Millers Corp predicted Thai sugar output would climb by almost half y-o-y, to 11 million tonnes during the 2021/22 campaign.
In addition to the supply factors, non-commercial activities weighed on the ICE NY price, as various investment funds liquidated long positions (sold their futures contracts) amid weaker demand signals. The lower demand is attributed to revised consumption forecasts due to escalating COVID-19 Delta variant cases across key global markets, while soaring freight rates were also factored in.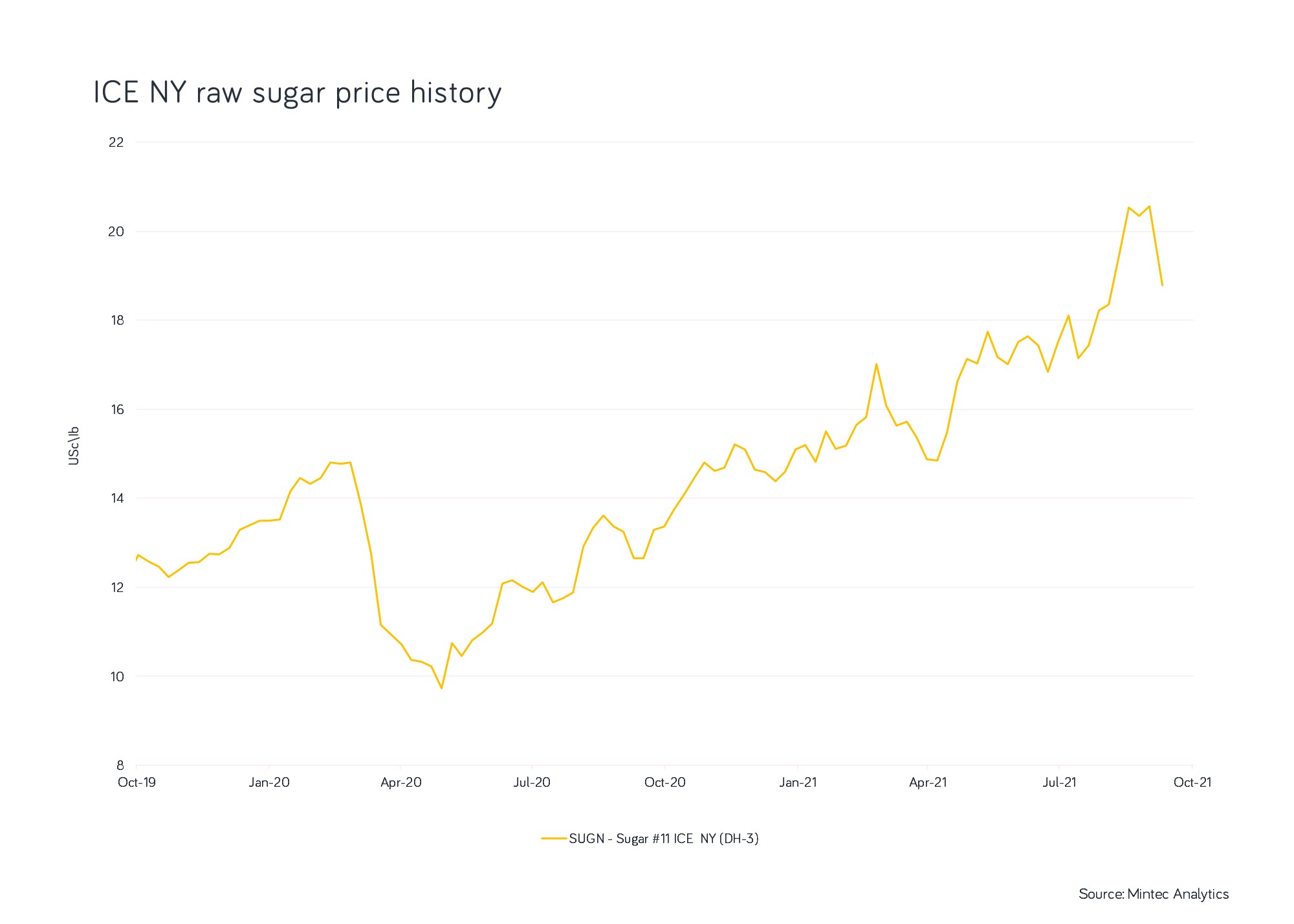 Prior to the most recent decline, the monthly average ICE NY price sustained a 17-month rally from USc 15.45/Ib in March 2020 to USc 19.99/Ib in August 2020, supported by weaker fundamentals, most notably low yield and harvest expectations attributed to poor weather and pest damage in Brazil and Europe. High Brazilian fuel ethanol prices provided further impetus, as more sugarcane was diverted away from sugar production towards ethanol. However, the frost damage appears less severe than previously anticipated, thus supporting Brazilian output. However, it remains to be seen whether the latest price movements will be a temporary dip or herald more sustained downward momentum.